Story
How often do you stand in front of the dried-up remains of your plants and wonder what went wrong? Too much water? Too little? Wrong spot? Just like us humans, plants are living and sentient beings. It can be hard to understand exactly what they need and to decrypt all those silent messages they send us. The key to helping our plants survive and thrive without speaking the same language? It's all about finding smarter, deeper ways to connect. This is why we developed the FYTA Beam.
The FYTA Beam is a small sensor that connects your plants with your smartphone so you know when they need more water, fertilizer, or a different ambience.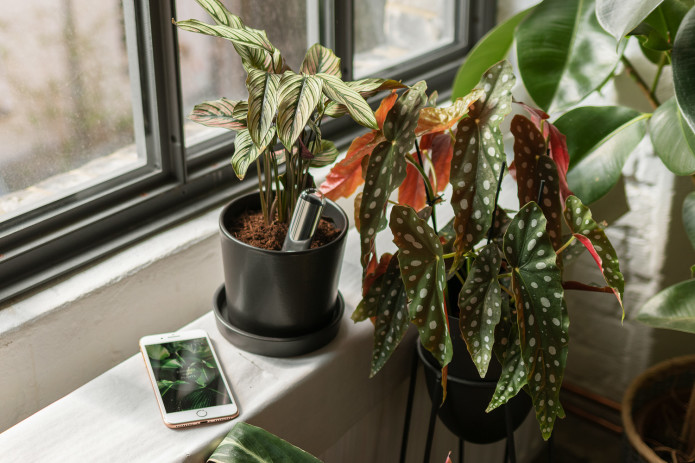 How does the FYTA Beam work?
The FYTA Beam measures critical factors for a plant's wellbeing, including
- soil moisture
- nutrition levels
- light intensity and
- temperature.
Just insert it into the soil next to your plant and install the FYTA app – intelligent insights will be sent your way instantly via Bluetooth.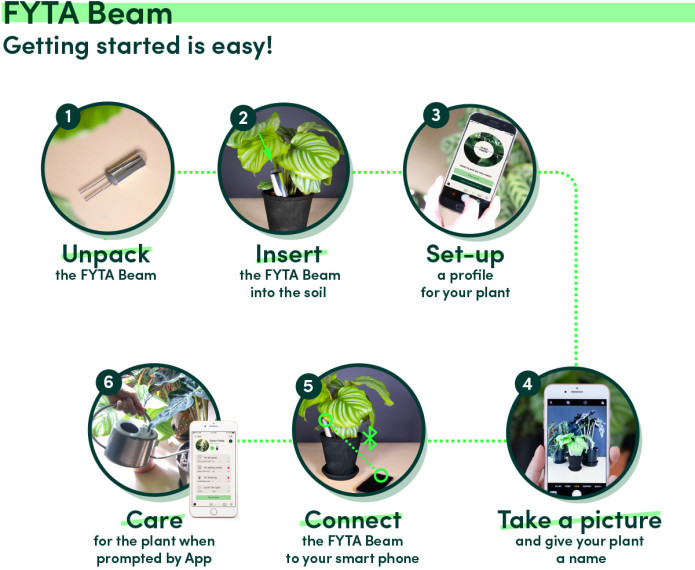 The FYTA Beam will seamlessly monitor the plant's living conditions to ensure that it stays within the correct limits for the type of plant that you have. And when it's time for action, you'll get a simple notification on you App. No more guess work, lots more "it works!".
If you have several plants, you can connect several FYTA Beams via Bluetooth with each other to create a network of up to 100m transmission range.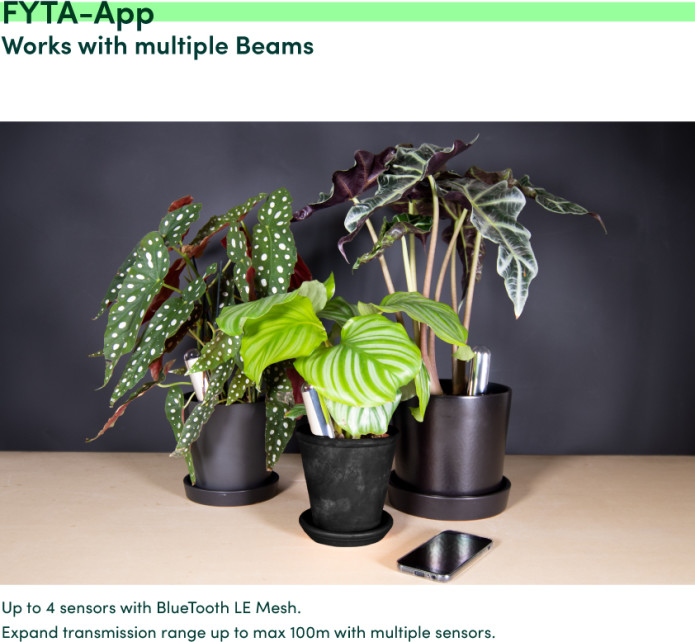 The FYTA Beam: better than smart
We couldn't find a smart sensor that worked the way we wanted it to. Many existing sensors only measure one or two important parameters, have little design functionality, or are so badly designed that they look like they crash-landed from Planet Fugly. We wanted to do a better job!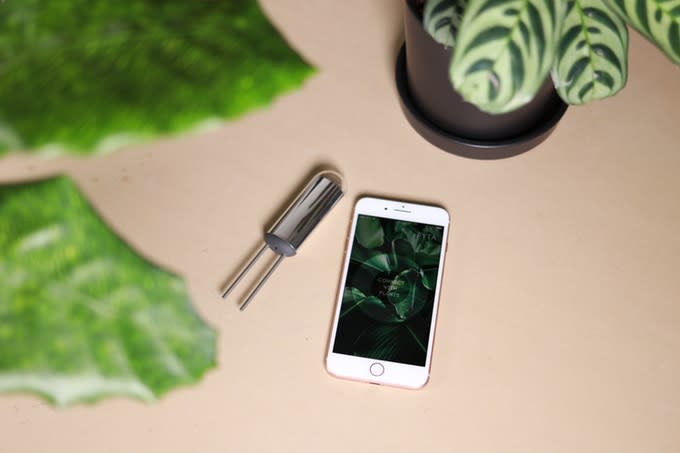 This is what makes our FYTA Beam different from other plant sensors:
- Discrete: The FYTA Beam is small and has a reflective glass casing. It almost disappears in your planter.
- Eco-friendly: It's powered by a built-in solar cell that extends the life of the CR battery every day. All components are detachable so they can be recycled separately.
- Accurate: It measures voltage across the entire length of its stainless-steel probes. This way it collects more data and calculates highly reliable values.
- Adjustable: Have large plants? No problem. The probes are detachable and will be available in different lengths.
- Customizable: Fancy a different feel? There will be different casing colors and designs available soon.
- Good value: Did you know that many of our houseplants could easily outlast us if they received proper care? The FYTA Beam probably costs as little as your phone case - and is packed with really smart technology that will make your plants last longer.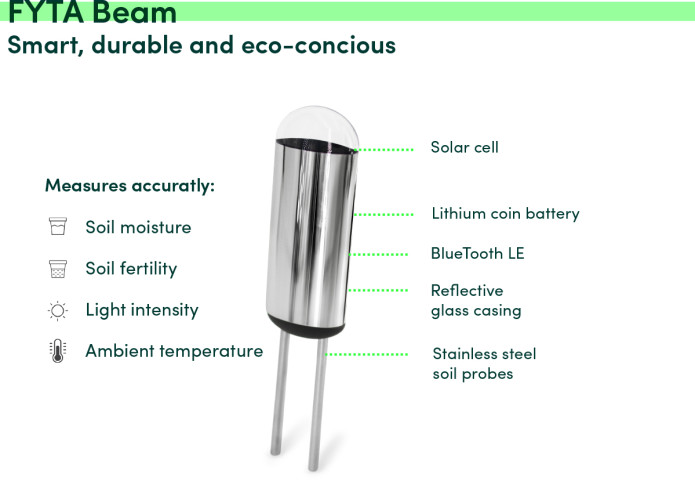 ​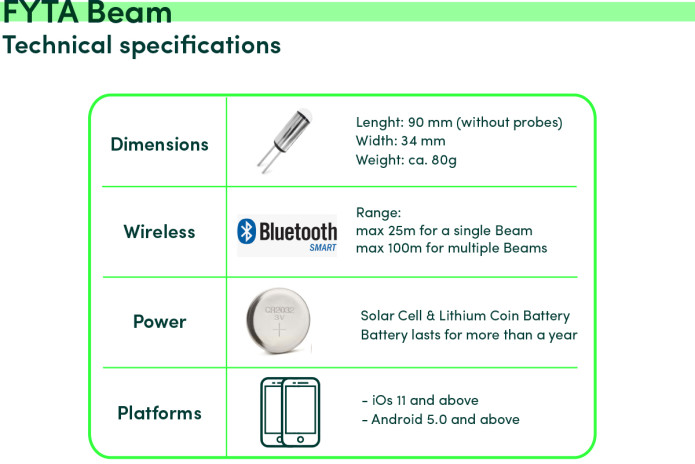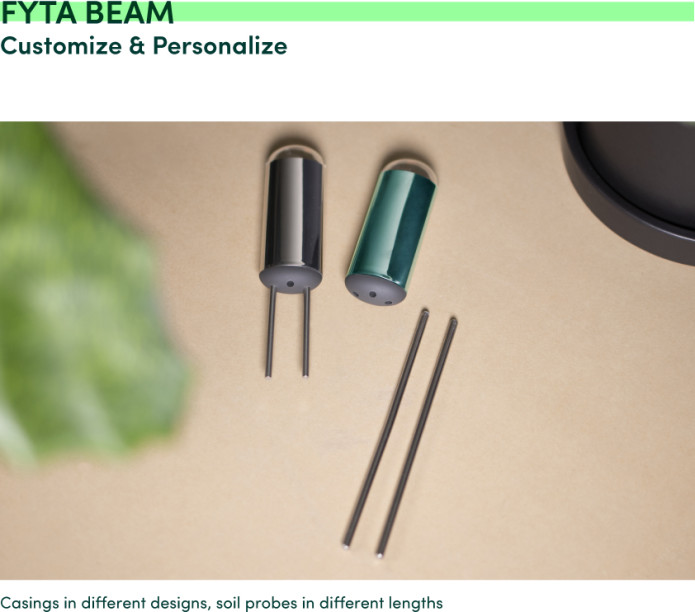 The FYTA App: more than a messenger
The FYTA App does more than just check on your plants and nudge you in the right direction – it digs up a whole host of smart insights to help your relationship flourish in new ways:
- Plant identification: Do you know what plants you actually have? No? Well, the app is here to help you identify them!
- The FYTA plant library: Our plant library includes plant care instructions for all common houseplants. It keeps all plant information handy and in one place. Simple.
- Virtual Garden: Create personal profiles for your plants and organize them in a virtual garden. Perfect if you have many to look after!
- Customized notifications: Let your plants nudge you whenever they need something or simply choose how often you'd like to hear from your plants.
- Tutorials: Enjoy fun tutorials that show you how to take better care of your plants. You'll even learn how to make plant babies. Yes, you read that right.
All of these features come together to help you do one spectacular thing: better understand your plants and eventually connect with them device-free.
The FYTA Base: check on your plants while you're away
Leaving your beloved plants behind? Don't fret. With the FYTA Base, it's easy to check in on them while you're away and share care instructions with a friend or neighbor, for instance via email.
The FYTA Base is a WiFi hub that
- connects all of your FYTA Beams to your home WiFi network, extending their range way further.
- helps you manage multiple sensors with greater ease and security.
- constantly monitors all FYTA Beams and uploads data to a secure cloud, allowing you to access critical insights whenever, wherever.
- provides better notification and sharing options through the FYTA App.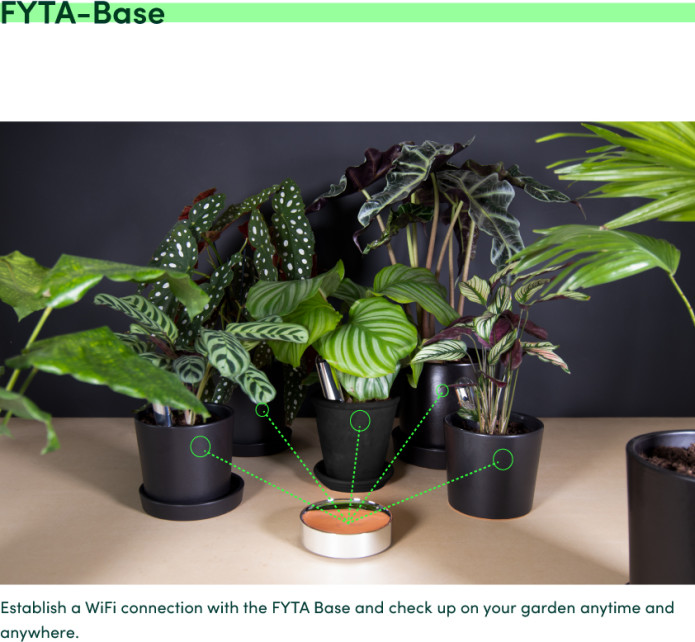 Prototyping
We've been working for over 12 months on creating the FYTA eco-system: The FYTA Beam, The FYTA Base, the App and the cloud back-end.
Developing the FYTA Beam was fun but challenging. A few things were straight-forward such as building an NTC-Thermistor into the microcontroller to measure temperature. In order to measure light intensity, we chose to use the current generated by a solar cell instead a photoiode ( which is commonly used). This approach helps to to prolong battery life. The most challenging part was to develop a capacitive soil moisture sensor which also measures the salinity of the soil. Finally, we had to figure out how to have the sensors interact in a Bluetooth Mesh Network.
Over time we built several generations of sensors to test different aspects of the electronics and the Bluetooth communication. The following picture shows several of our prototypes: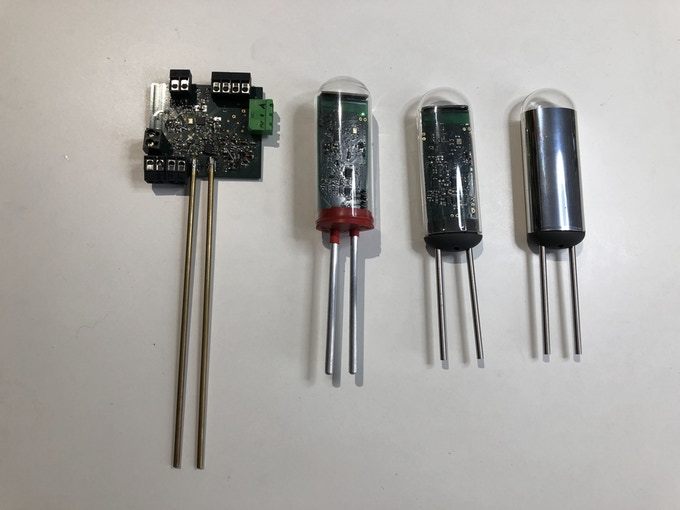 Eventually, over the course of months and three generations of prototypes, the FYTA Beam became what it is today. In this video, our engineer Jacob is demonstrating the basic functionality of the sensor within a Mesh network with the help of a third party Bluetooth application.
Another important part of the process was the parameter calibration which we did with the help of a solar simulator (for light intensity). To calibrate the soil parameter, we used an array of soil samples with fixed values for moisture and salinity to derive the interdependency of both parameters. Finally, we compared our results with measurements taken with highly sensitive, professional measurement devices.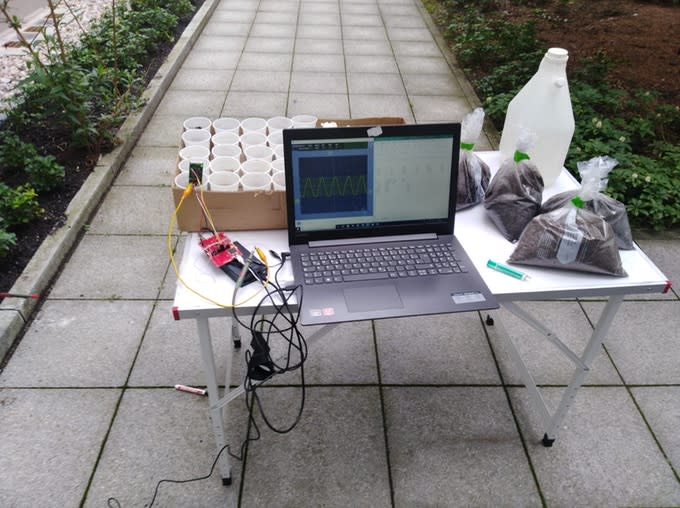 Current Status and Next Steps
Hardware development and programming is now complete. We have visited several manufactures in China and entered into an early stage cooperation with an experienced high-quality producer.

We have a demo version of the App and are now working on connecting the devices to the FYTA App and FYTA server (about 50% done). We are aiming at completing this stage by end-July to have sufficient time for further testing and calibrations before we order the first batch of products.
Why Indiegogo?
We have sufficient funds to complete the development process of the FYTA Beam. We have successfully collected funds on Kickstarter to finance the tools required for mass production with our manufacturing partner and run a test production of the alpha units. We are now taking pre-orders for the first production batch which we like to deliver to a dedicated group of early adopters that help us
· to improve the FYTA Beam eco-system with the help of your feedback.
· to connect people to plants all over the world
Perks
Our perks include the following products:
The FYTA Beam System
The FYTA Beam System consists of the FYTA Beam, the FYTA App and the optional FYTA Base. Our rewards include single Beams, as well as three different bundles (Plant Lover, Plant Addict, and Plant Nerd) to meet different needs.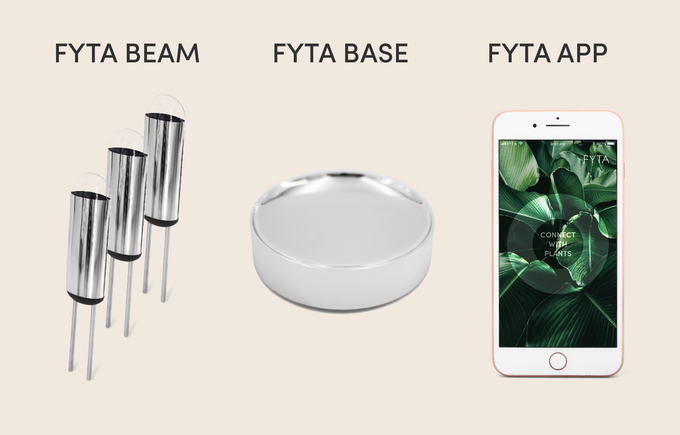 Soil pH Test Kit
Plants need to sit in the right potting mix to to grow and thrive. If your plants sits in wrong or poor quality soil, even the most accurate measurements and best care schedule won't prevent your plant from stunting. This is why each perk will come with a complimentary soil pH test kit. This test kit will help you to determine whether your plant needs different soil. The FYTA App will lead you through the process and advise you.