Story
The digiNow SuperCharger v2.5 is the most advanced, safest, and most rugged charger available. It was designed to be small enough to fit on Zero Motorcycles. Now we have tested it in offroad cars, winning the Baja 1000 with Fenix Motors. We have been working towards going full production in for 4 long years of R&D and product iteration. Now it is time to move up from pre-production and R&D here in our factory in Carmel, California, to producing chargers in a scalable, global, team environment!
The Necessity of SuperCharging!

In 2011 Brandon Nozaki Miller, CEO of digiNow Inc., began hacking his electric motorcycle for racing. One of the first things he realized is to get as much track time as possible he needed to charge the bike FAST. Unfortunately for Brandon, none of the products available on the market could charge his bike fast enough to allow for a full day's racing. From this was born the need for SuperCharging.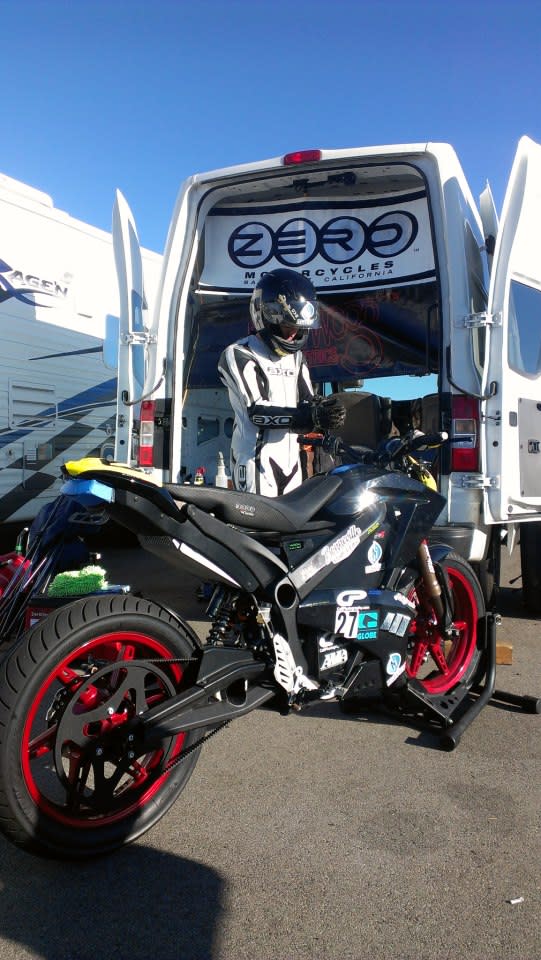 After a few iterations of chargers for use at the track Brandon's friends, like famed Tourmaster Terry Hershner, took notice of his cool charging setups and tools; they wanted the same for themselves, so Brandon built his friends faster charging setups. It didn't take long until more people recognized how awesome SuperCharging was, and Brandon decided to make the SuperCharger available as a product.

He started building SuperChargers in his living room and then moved to his garage as he needed more space. From there Terry Hershner introduced him to the inventor of the motorcycle fairing, Craig Vetter, who has since assisted in finding a more adequate facility for digiNow to grow, prototype, and build the first production units. Over the past year Craig's help has been invaluable to digiNow. But, now it's time to move on to the next level and utilize partners in China to move the current small-scale production to full-scale manufacturing.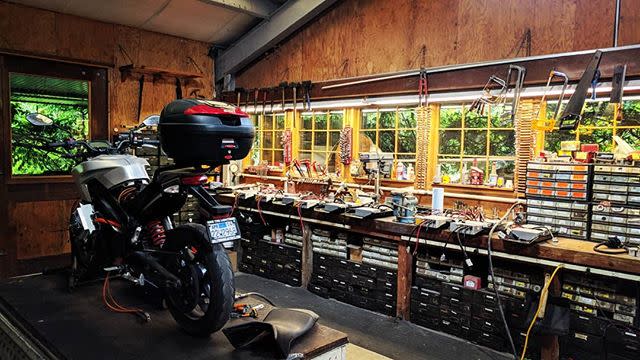 The demand for our chargers is so great right now that we can not produce them fast enough in our current facility. The design is solid enough now that, with your help, we can move manufacturing into a facility with the tools and expertise to build SuperChargers quickly and in large enough volumes to supply the world.
What is SuperCharging?

SuperCharging is a means of charging your bike, or other electric vehicle, really really fast! More than that, it is intelligent charging. SuperChargers communicate with your battery to monitor information vital to your battery's health, including C rate, temperature, voltage, and cell level data. Not only do they monitor, but the chargers react accordingly as conditions change.

In the end all of this adds up to being able to charge your vehicle at speeds of 3C safely. We keep it limited to 1C for riders of Zero motorcycles that want to keep their warranty, though. Over 1C, even with our fancy algorithm, is limited to advanced users.
Features:
Full system integration with Zero Motorcycle's Battery Management System (BMS) to ensure battery longevity, safety and maximum charging speeds.
Powerful charging options upto 10 kW providing over 7.6x faster charging than Zero's standard 1.3 kW onboard charger.
0-80% charge in as little as 36 minutes with 10kW SuperCharger (based on Zero Motorcycle 13.0 kWh models).
Lightweight and compact design allowing either modular 3.3 kW charge bricks (FX) or 10 kW unit to fit in the same location occupied by Zero's 1.3 kW onboard charger with included SuperCharger belly pan.
Automatically adjusts charging speed based on battery voltage and temperature to ensure long term battery health.
User configurable option to dramatically increase the motorcycle's battery life by allowing user to hold charge at a desired percentage (i.e. only charge to 80% every night, similar to Daily/Trip charging options in Tesla vehicles). Zero Motorcycles currently does not offer this option so the motorcycle always charges to 100%, which is not ideal for keeping your battery healthy longer.
How do these things work?

Plug the EV station, or any other source of power into your bike and let the charging begin! US versions come standard with J1772 inlets, and EU versions come with full 3 phase Mennekes Type 2 support. You can also use an Android or iOS device to adjust max power and voltage. Set your bike to only charge up to 80% for extra longevity. You could also have your charger hold your bike at 60% for long term storage if you really wanted.

The short answer, though, is that you just plug it in.
Production & Backer Perks
DigiNow needs $195,000 USD to move production to a shared facility with TC Charger, Di Long Technology, and DuoSida in China. TC Charger has been a key player in the Chinese EV industry, producing reliable and highly durable for EV manufacturers all over the world. Di Long Technology is one of the most respected and trustworthy facilities for charger development and is focused on helping startups like digiNow make an impact in the EV market. DuoSida is a behind-the-scenes manufacturer of EV charging stations and parts for many other manufacturers with certifications of the highest quality. Di Long Tech was recently awarded the High-Tech Enterprise by the Hebei Provincial Science and Technology Agency. With the help of these partners we have made a product rugged enough for the most challenging of scenarios, and small enough that it fits not just in any car, but also on any motorcycle.

With our latest design we have finally come to a final product which we are already building and delivering in a small scale in Carmel, California. With our partners' help we have been able to source suppliers for parts and materials to build not only our high powered electronics, but also our mounting brackets, PCBs, and EV power inlets.

The funding we collect will be spent on setting up and building our production process and quality checking at the facility in China of 3 Phase & Single Phase supporting chargers to comply with international infrastructure. The 6 places this funding will be used most will be :
Reducing product cost (complete)
10kw charger small enough to fit on a motorcycle (complete)
Skid pan or bash pan strong enough to support motorcycle riding (complete)
High power inlets and adapters for around the world (complete)
Assembly of all parts into a final product
Packaging and logistics for product safety during shipment
The Perks we are offering, for your support in this, are designed to give you exclusive access to the latest products with the highest quality. We understand that a lot of you may already have our v2.5 SuperChargers which were manufactured here in the states and have the same amount of power. For users who already have our v2.5 we have added in stickers, bike tuning, track days, custom rides with Brandon and Terry, or even training from Brandon directly. And, if none of these sound amazing to you, but you still want to support this awesome company and its progress in the EV industry, you can always hit the pink "BACK IT" button in the upper right side of this page to show us your support without one of the perks too!

For those of you who are still slow charging with just the Zero onboard charger, or charge tank, we have perks that get you everything you need and more for SuperCharging and Zero Touring training.

More Than Meets the Eye

Supporting this product and production process not only ensures that SuperChargers will be available for users across the globe in a timely fashion, but also ensures that the digiNow team can have a little breathing room to develop new products to better your EV.

Currently there is no other company coming up with products as safe or game changing as digiNow. We do it because we love EVs and our passion allows us to see the problems we and others have, and come up with fun, innovative solutions for them. We are more than happy to keep building the products in house ourselves, but we would much rather get our products made with our partners' help so we can keep making awesome solutions for everyone!
International Testing

In an effort to insure the highest quality builds, we have tested all our pre-production products for over 1 million miles in :
United States
Germany
Netherlands
Belgium
Denmark
United Kingdom
Mexico
New Zealand
Australia
Japan
Indonesia
Thailand
Bahamas
Risks & Challenges

So far, in our 4 years developing the SuperCharger, we have faced MANY risks and challenges. Sourcing quality parts and finding trustworthy vendors has been very difficult. We have had vendors switch product quality on us, and even vendors trying to sell our tech to other companies. We have had to learn about all the individual charge station companies, their choices in implementing the charging standards, as well as international oddities about charging.

Having worked with our partners since 2016 and developing a relationship with their teams, we feel confident we finally have a good set of partners we can rely on. Our teams have good communication, and when we run across difficulties in sourcing materials, parts, or simplifying complicated solutions, we are able to work to successfully overcome any challenge we've come across so far.​
Community Support

We greatly appreciate support from users, like the amazing Terry Hershner putting the chargers through their paces on cross country motorcycle trips with his trusty companion "Charger" the Moto-Husky, and Ben Rich Electric Biker riding from Florida to Maine in all the trecherous weather of the East Coast.
These guys really help us with testing and knowledge-transfer that needs to happen for newer customers who aren't Seasoned Veterans of Electric Touring.

We also have had help with interim documentation from riders such as Brian T. Rice and Kelly Cash. Their help in keeping the community informed on how to use their chargers until this point has been immense and no amount of thanks could ever suffice for their efforts in documenting not just the hardware, but also the apps and how to control your chargers from your phone. Now, with the production units ready, we can finally take full advantage of the community service provided here for official documentation.
But, most importantly, we need to thank members of the community like DoctorBass who helped us design and bring the v2.5 pan to a production ready state. DoctorBass started the project of his own accord after discussing with me what we were working on. His skill and expertise with military-grade products lead to fascinating teamwork and testing which has brought not only a better charger to market, but has allowed us to improve upon Zero motorcycles dramatically.

Finally, a big thank you to Luke Workman and the other members of the Electric Wizards Association (EWA, straight out of Santa Cruz). We cannot thank EVERYONE in the community enough for their individual support in all the ways they have provided it.

Thank you.
Other Ways You Can Help
Some people just can't contribute, but that doesn't mean they can't help:
Ask folks to get the word out and make some noise about this campaign.
Remind them to use the Indiegogo share tools!
Thank you all for all of your help!