Nybble is not only a robotic cat that walks, it's a new type of pet - an advanced robotic kitten that YOU bring to life with a small computer, customizable software, a basic components kit, and whatever upgrades you can imagine!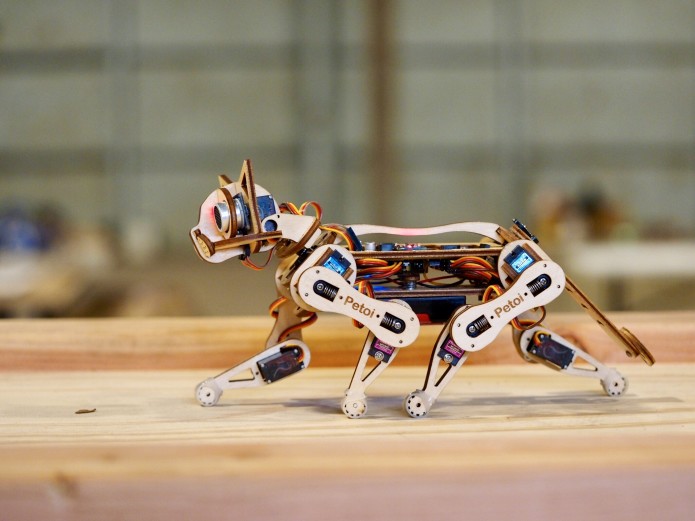 Nybble's motion is driven by an Arduino compatible micro-controller. It stores instinctive "muscle memory" to move around. An optional AI chip, such as Raspberry Pi can be mounted on top of Nybble's back, to help Nybble with perception and decision. You can program in your favorite language, and direct Nybble walk around simply by sending short commands, such as "walk" or "turn left"!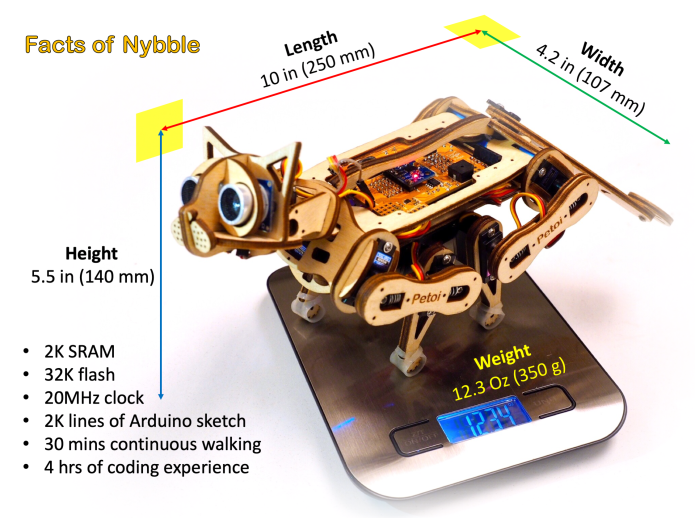 Follow the instructions, or don't.
You can check the most current tutorial. We also have a tutorial playlist with detailed instructions.
Stick with the included software, find hacks and customizations from the worldwide community, or push the envelope and write your own mods.
Think up your own look and bring it to life with paint, craft supplies, 3D printing, or whatever else feels right.
Join our growing community on our website www.petoi.com, make friends, challenge each other and each other's kittens.

WOW! Look at all the press our little kitten has gotten! TechCrunch! IEEE Spectrum! Steemhunt! MagPi!
e are also very grateful to Indiegogo for helping us reach our goal and featuring us in their newsletter!
Features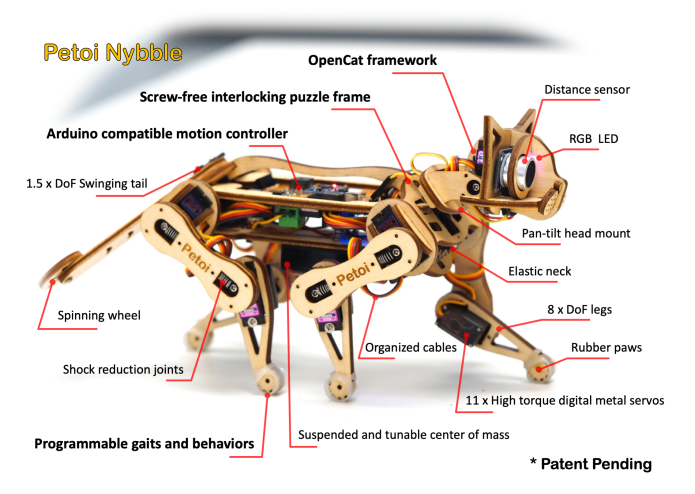 3D puzzle frame
Nybble's frame is an easily assemble-able puzzle. The wooden frame is a retro design in honor of its popstick framed ancestor. The wisdom of traditional Chinese woodwork was borrowed to make the major frame screw-free. Detailed assembling instructions will be available. Or...challenge yourself and try to solve the puzzle on your own!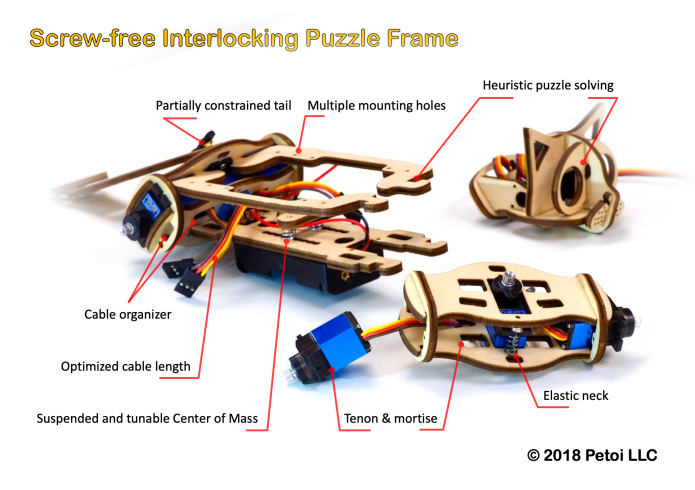 NyBoard
We have designed an all-in-one controller we call the NyBoard V0 to ease the wiring and future development. Besides the ATmega328P chip (the same one on Arduino Uno), we used a faster crystal and added external EEPROM for storing more instincts. It has on-board power management with tunable output, various communication and controlling ports, and an optimized layout.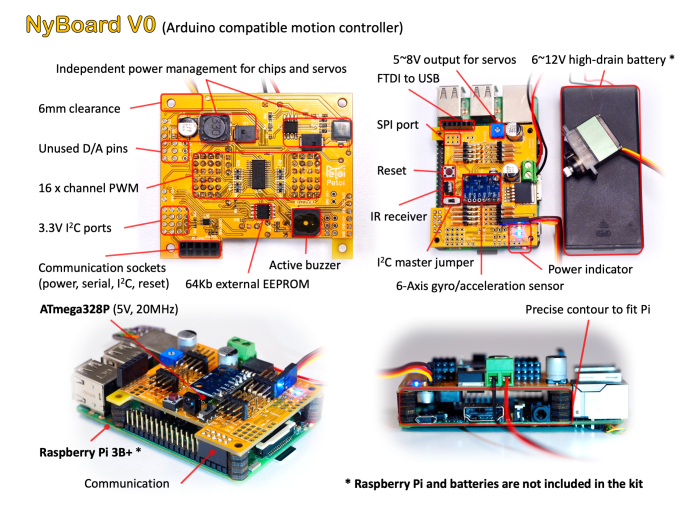 We pushed the layout precision to 0.25mm, to fit the geometry not only for Nybble, but also for Raspberry Pi and your favorite extension boards. It was designed to avoid all the tall components on Pi that may conflict with installation. Its 2x5 communication socket accepts the pins on Pi. It powers Pi, listens to Pi, and there's a jumper switch for changing I2C master. If you have another preferred chip to ATmega328P, just take full control of the board! The on-board chip can still watch the battery level for you. The blue chip has to be soldered based on your favorite orientation. We'll be offering variables in our detailed instructions.
You do need to design a mount if the optional screw holes don't match your board. By attaching a Pi or other AI chips, you will be able to add more talents to Nybble, make it listen, see, and think.
NyBoard is in its second version. The third version is still at PCBA services and the color or arrangement subject to change. Our NyBoard has to go through FCC and CE certificates and that will be the major challenge to have Nybble delivered on time but we'll be doing our best! Check out the user manual here!
Joint tuner
Nybble is adorable, but it's still a precise instrument. To make it walk, it takes patience and precision. To help you through the challenges, we also include a nice gadget, the "L" tuner for calibrating your Nybble at times. Just turn Nybble to calibration mode and align the observation windows, type proper calibrations and Nybble will remember them at once.
Learn programming with Nybble
After assembling Nybble, some entry level computer skills are required to upload the code and tune Nybble to walking order. You'll need a little willingness to learn and teach it new tricks!
The bigger picture behind Nybble
Over the 2.5 years' evolution of OpenCat, a rough framework is becoming clearer. It started from a Raspberry Pi kit, introduced an Arduino as the central pattern generator, and will accept any extensions that's needed. As long as you have a precise and powerful actuator, you can scale Nybble up to a dog, a horse, or even an elephant!
Check out our GitHub repository at https://github.com/PetoiCamp/OpenCat and you're invited to build it together!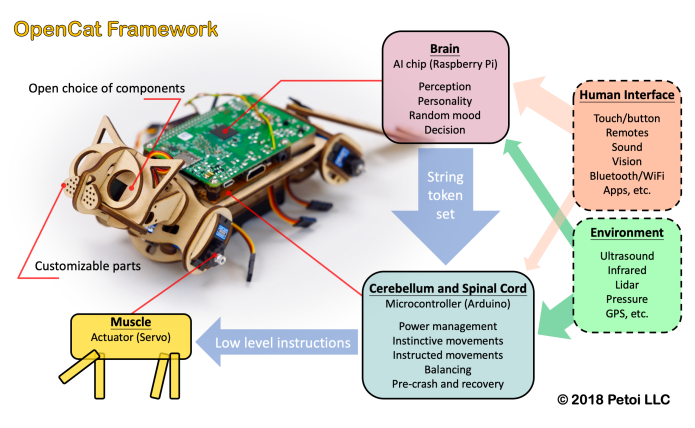 Nybble is for everyone! If you like graceful cats, tiny computers, hackable software, customizable models, or connecting with new friends around the world, back this project!
If you're flying solo and just want to enjoy making Nybble yours, you can hack, reprogram, paint, decorate and pose your Nybble in any way you can imagine. If you're looking for a fun and meaningful group project for your family or classroom, this tiny kitten brings out the best in people, unlocking curiosity and joy.
We know that with Nybble, we can break the barrier between those million dollar quadruped robots and individual makers. Nybble will also be less intimidating to kids who want to learn about robotics, programming, and making in general.
Impressed with Boston Dynamics robots? Why not try Nybble first?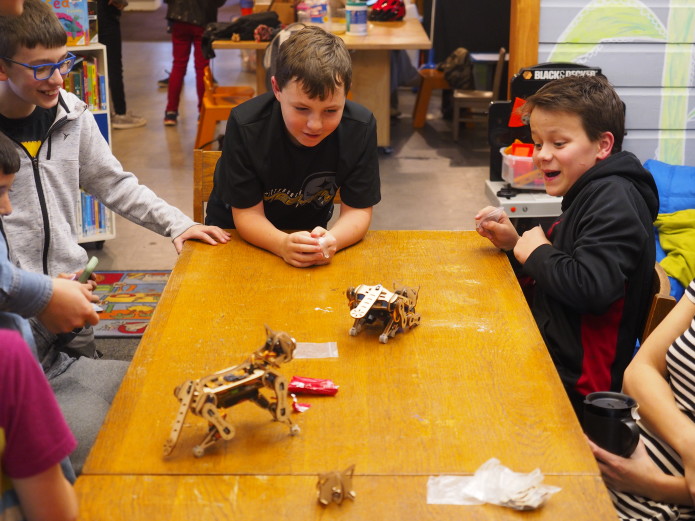 Nybble is a small step that an individual maker takes to overcome obstacles and bring his creation to the world. Nybble is also a bridge to fuse cool technologies, and connect the developers around it. Your support will define Nybble's future!
We need your help! Nybble can accomplish great things if given the freedom to do so. This is a one time investment with a worldwide community always adding its values.
By starting out on Indiegogo, we're avoiding a lot of the problems that companies usually have when they start something new. We are highly interested in your feedback in how you train Nybble, how you customize your kitten, and how you hack it!
We don't want to tell you what Nybble is. You tell us.
Indiegogo is also a platform that reaches many different kinds of people with varying interest. In order to get a full assessment of what Nybble can do and what it can become, we need everyone to pitch in and give their feedback. From the highest levels of engineering to the youngest kids playing with Nybble, we can't wait to see the outcome!
We would like to scale up production, bring down manufacturing costs with higher order volumes and smarter processes. The more Nybbles find a home, the more affordable we can make our kits!

Below is a snapshot of Nybble kit. Nothing special, right? Note some parts may subject to change as I finalize every bit, such as color, length, and number of screws.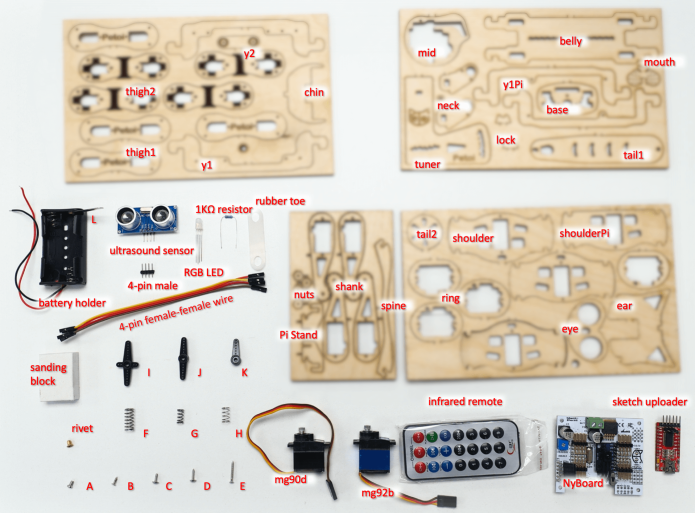 Parts not included are mini USB to USB cable (make sure you google mini USB and micro USB and understand their difference), 2 x 14500 3.7 V Li-ion batteries and a smart charger. Be careful with fake batteries that claim more than 850mAh capacity. I also noticed that batteries with overcurrent protection would cause NyBoard to reboot, because the peak current drawn by 11 servos can be very high! I've been using EBL 14500 3.7V 800mAh batteries and they work well. If you are out of US and find a working battery in your area, please share your knowledge with our community!
More sets of batteries will allow you play longer with Nybble by swapping. I usually keep programming all night with one pair of batteries, but they would die out quickly if you just play with Nybble as a remote controlled toy.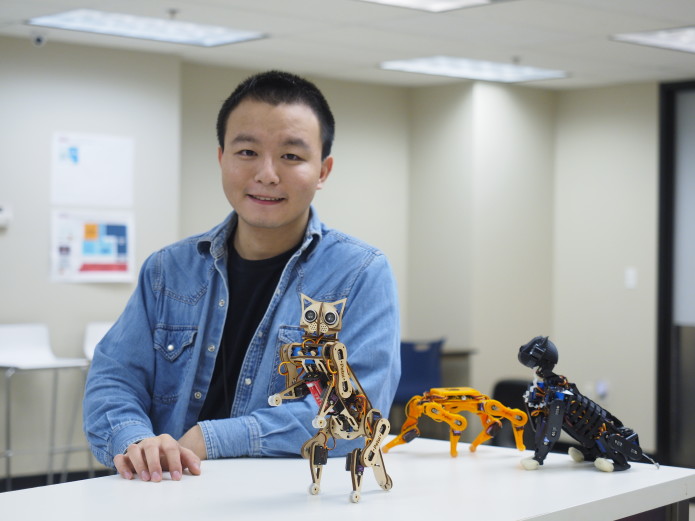 Rongzhong (Rz) Li
Founder and CEO
Rz is a physics PhD and computer science master. He was previously an educator at Wake Forest University.
Rz is a maker, photographer, poet, interdisciplinary explorer.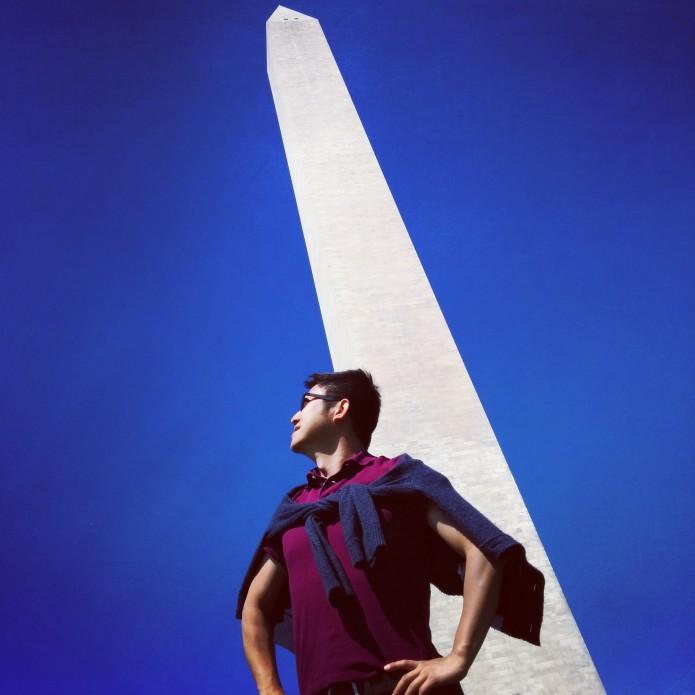 Wenxiao Huang
Co-founder
Wenxiao is a PhD in physics and master in computer science. He is currently a researcher at Stanford Univeristy. Nothing special, just a crazy scientist.
Jian Yu
PCB designer
PhD student in computer vision.
Jian has a ton of experience working in the embedded system industry and skilled in hardware design and has strong interests in robotics.