Story
In the current industrial robots, delta robot is the champion of execution speed. There have been many startups that create desktop robot models simulating the shapes and outstanding features of the industrial articulated arm robot. However, no one has ever done it with the delta robot.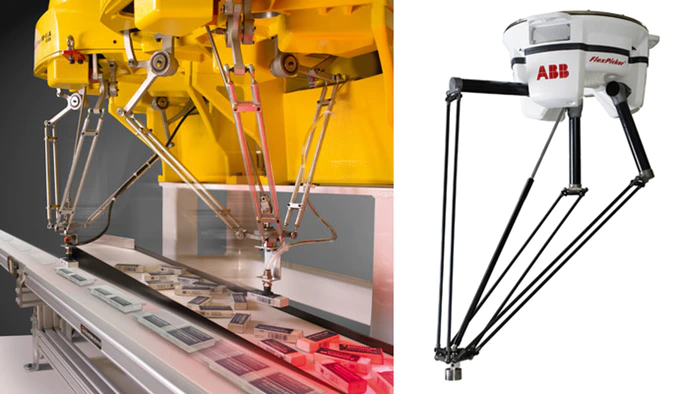 The delta robot really intrigued us of its speed and versatility. We therefore created the Delta X - a robot project for the community.
Delta X is the world's first open source delta robot kit with mechanical hardware designed for easy 3D printing and assembly.
The firmware is optimized to be able to run on the Arduino board. All electric components are common for community.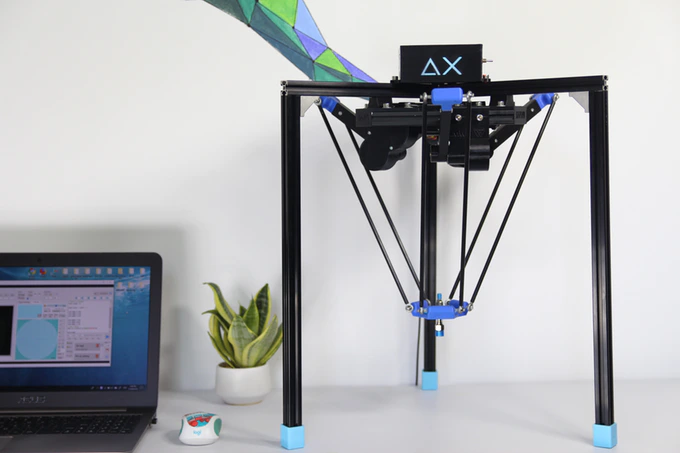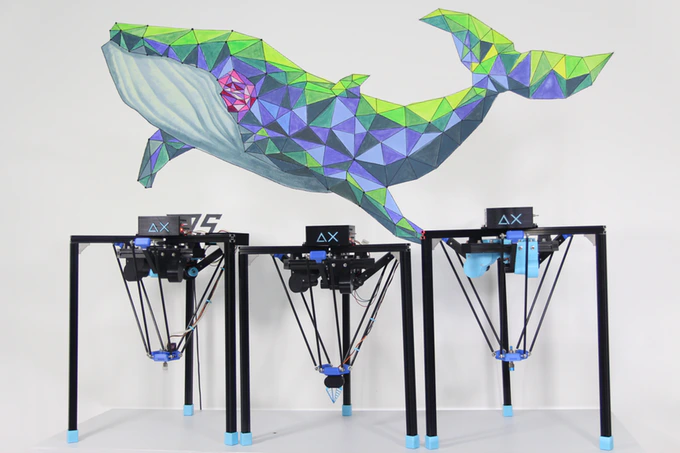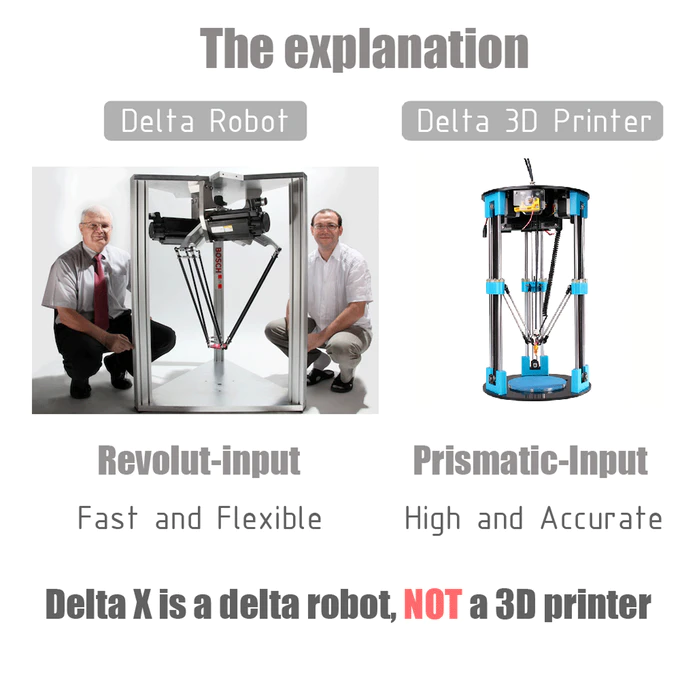 Delta X is both a complete desktop robot and a modular kit. Delta X can be combined with a lot of end effectors to do a lot of tasks. In addition, the difference of Delta X with other robot models is the ability of speed and flexibility in working area.



With a suction cup, Delta X performs very fast and continuous suction actions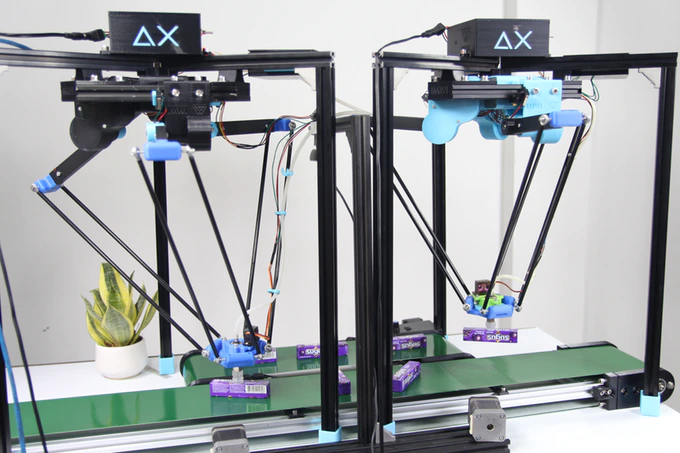 Mount Delta X anywhere, for example above the conveyors for manufacturing tasks.
The use of a laser head for delta robots is really crazy, but you can do it with Delta X. Although Delta X is not exactly specialized laser machine, we can still do a lot of practical applications with Delta X laser engraver.
For example, hard paper cutting. Create your own memorable laser-engraved photos.
Delta 3D printers is only suitable for Prismatic-Input delta robot. Revolut-input delta robot lacks precision, just suitable for picking and placing. We are surprised that Delta X can do 3D printing job despite the fact that the quality of product is not as good as normal 3D printers.


We do not recommend you to do this but you can use Delta X to cheat applications on smartphones.

We can control Delta from many control devices such as computers, smartphones, programming boards, etc. via wired and wireless connections such as bluetooth and wifi.



Delta X is a unique desktop robot for those who love robots.

Delta X is a great tool for robotics research from high to low levels. Among industrial robots, delta robots have the highest academic difficulty.
Delta X has a lot of features but it is super cheap so everyone can access it.
We think every robot laboratory and maker space should own a Delta X.
Usually, to solve the kinematics math issues for robots, especially with the delta robots, it will require more calculations, people often use strong boards such as embedded computer, FPGA, ... But we decided to use the Arduino mega 2560 circuit board to make the controller circuit for Delta X because the Arduino is popular with everyone. We have been working for a year to optimize the embedded programs so that it can work well on Arduino.

We also use always ramps shield to connect to other modules. The electric part of Delta X is exactly the same one used on a RepRap 3D printer.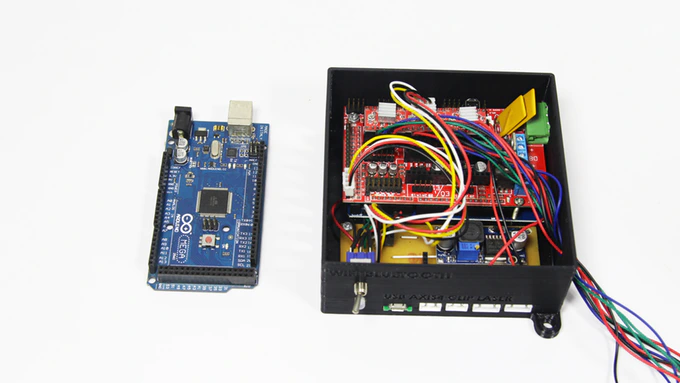 People can find easy purchases of such electric parts to replace or install themselves a Delta X. As for the additional circuits we will provide the principle diagram and PCB for everyone.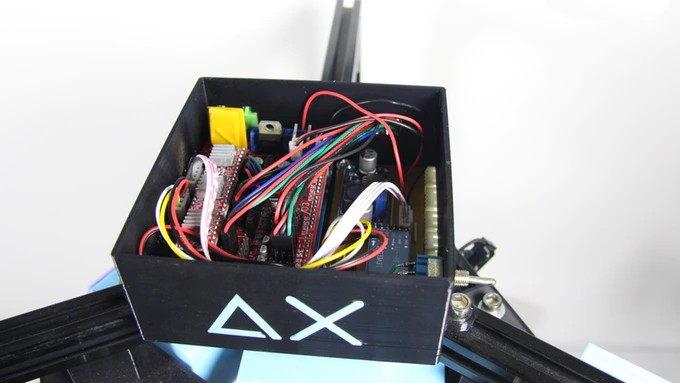 Coming with Delta X, there is an open source software written in C ++ on the Qt framework with the features similar to industrial robotics software. When researching the open source of the software coming with our documentation provided, you will learn a lot about C ++, Qt, 2 libraries that are very difficult and important with robots like OpenGl and OpenCV.

Because of being written on the Qt framework, the software can be run on all three operating systems: Windows, Ubuntu, and MacOS.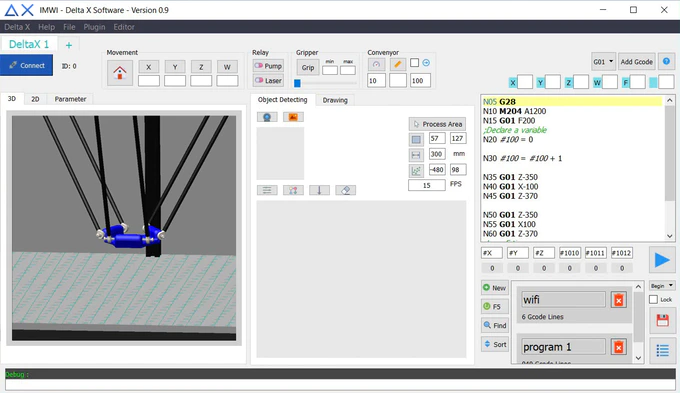 Delta X is packaged as a CNC machine, only receiving G-code commands sent to the serial port (UART). So we can control Delta X from many control devices such as computers, smartphones, programming boards, etc. via wired and wireless connections such as bluetooth and wifi.
There are three reasons for us to create Delta X:
- When doing projects that require an arm with speed and flexibility, people often choose delta robot models and have to rebuild from the beginning such as designing hardware to solving kinematics problems, write executable codes, ... These things take too long so people often can not focus on the main features of the projects. There are too few documents and sample projects about delta robots on the Internet.
- There are too many desktop robots that mimic common arm robots, but none of them have simulated how the delta robots, a really cool industrial robot, works.
- We are from Vietnam, a country with a proud history. But in terms of science and technology, we still have many limitations. Most of our automation products have to be imported from abroad. With the desire of localizing most of the domestic industrial machines, we decided to research and produce our own robots. So our beginning was to create Delta X, a robot capable of performing manufacturing tasks. Since there was no initial funding, we decided to build the software for the robot first, designing a low-cost delta robot optimized for hardware design to test the programs. We look forward to the success of Dela X so that we can afford to build a complete delta robot of mechanical hardware that can be used in the factory production environment.
Risks and challenges
- Challenges:
+ With the goal to create an open source robot close to our community, we chose Arudino Mega 2560 to be the main control circuit board for Delta X. This is really challenging because the delta robot needs the chip which is faster and has more memory than the other robot models. We also have to build firmware programs in C ++ with clear codes so that everyone can understand. Over the past year, we have continually optimized and improved the program so that all algorithms and subprograms can run smoothly together, utilize all memory, execute speed and control the mechanical part to its limits.
+ Delta X is a cheap robot that anyone can make for their own, so designing to reduce costs but still achieve efficiency is really a challenge. We have gone through many versions to achieve this final one.
- Risks:
The next product will be called Delta X Pro, an upgraded version of Delta X in hardware and software. Delta X Pro will be a high-end desktop robot and an affordable industrial robot. However, we are running out of money and may only have a few more months if Delta X fails. If Delta X succeeds, Delta X Pro will be fundraised on Kickstarter in December next year. We hope to build a robot ecosystem for our country. Hope it will come true! Thank you everyone!