Story
Wind under your clothes? Blow from behind the neck? Yes, NECOOL can even be used even when wearing a spacesuit.
# Have you seen a portable fan that blows this much out of your clothes?
# You worry about getting your hair sucked, don't you?
Try NECOOL now!!
# Have you seen a fan with winds coming out when the front and back are blocked?
If a fan is covered by hands, the fan would blow nothing but noise in general, but NECOOL is different.
# Isn't the noise loud?
NECOOL is a low-noise design portable fan that can be used without stress caused by noise.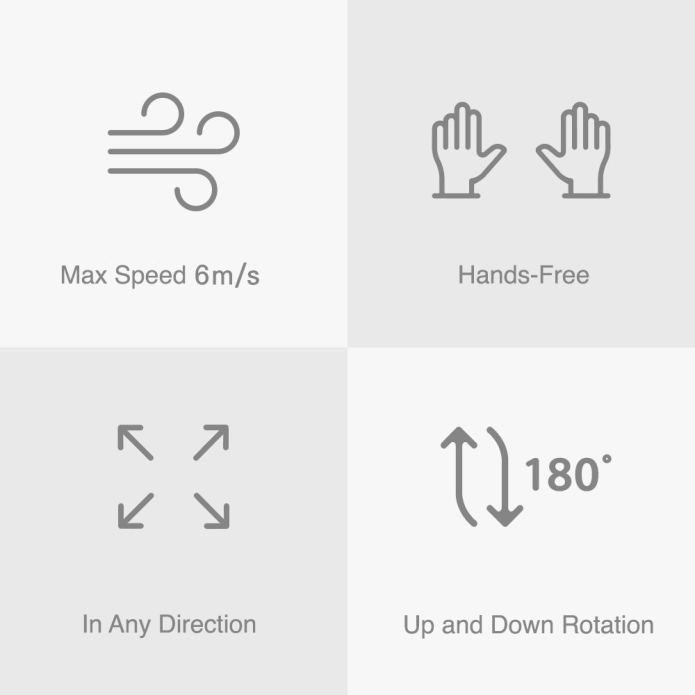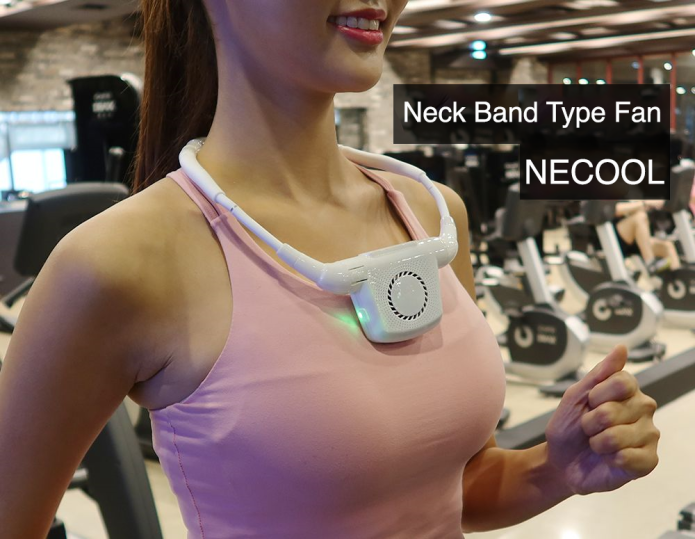 Have you ever suffered this while using a portable fan?
"Is there any way to get rid of sweat in the back neck?"
"Too much sweat under clothes?"
"Isn't there a fan that can be used when lifting a big box and running?"
"What about free usage on a table?"
"Risk of damage from dropping objects (a portable fan, a mobile phone and etc)?"
"The Trouble caused by hair getting sucked into a fan?"
"Dry eye syndrome and Dry skin trouble?"
"Inconvenient to use in a dynamic environment?"
"Dissatisfaction with the weak wind?"
"Being concerned about stability?"
If you suffer anything above, it's time to pay attention to NECOOL! NECOOL is a new neck band type fan, that eliminates all of these shortcomings.
In fact, I remember dropping my smartphone while holding a portable fan and the phone in my hands. Of course, it was damaged LCD. Something came to my mind then. On a hot summer day, a portable fan is a must, but nothing is good to use now.
| First, Remove The Limitation of Use.
Usually, 'portable' means the small size and convenience to carry and use.
"But why should a portable fan be held by hand while in use?" We have so much to do with our hands. Probably most of the day you will use your hands.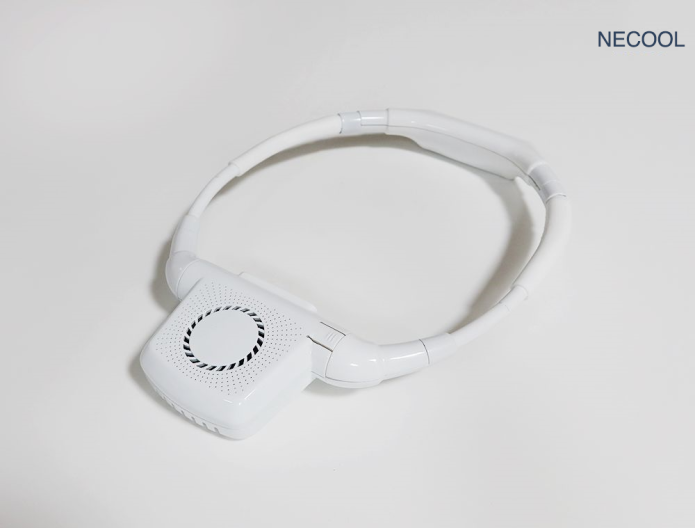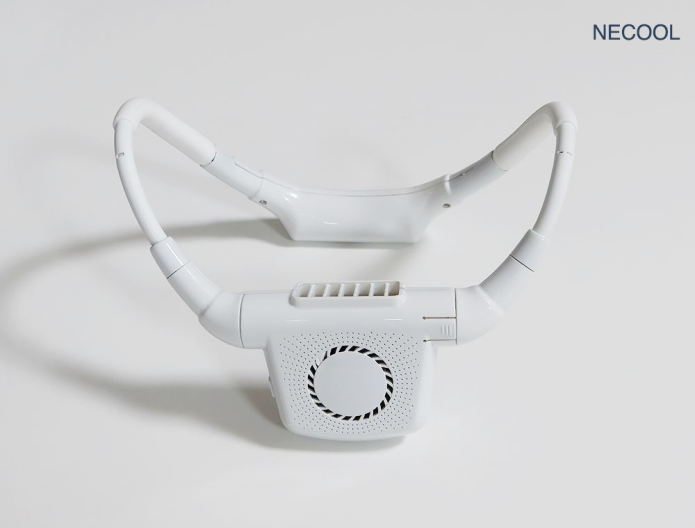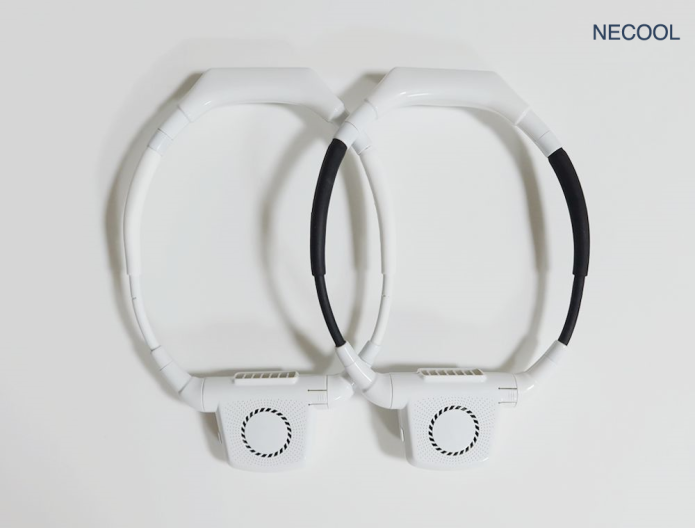 NECOOL Portable Fan White / Black
NECOOL is a portable hands-free fan that can blow a strong wind in any direction as you wish. As a neckband type, NECOOL is a removable fixed one so that it does not come off easily!

These photos are about the group test that has been conducted by classifying users since 2018. (express delivery drivers, exercise enthusiasts, mechanics, parenting moms, beekeepers, anglers, travel guides, climbers, sprinters, cooks…)
How about NECOOL as a gift?
# What about hair? You don't have to worry about getting your hair sucked even if you wear NECOOL on your neck!
NECOOL is suitable for any job and any environment.
When you should use your hand, you can ask yourself "Where do I put the fan I am holding?" No worry about that anymore.
If you wear NECOOL once, then no need to hold that.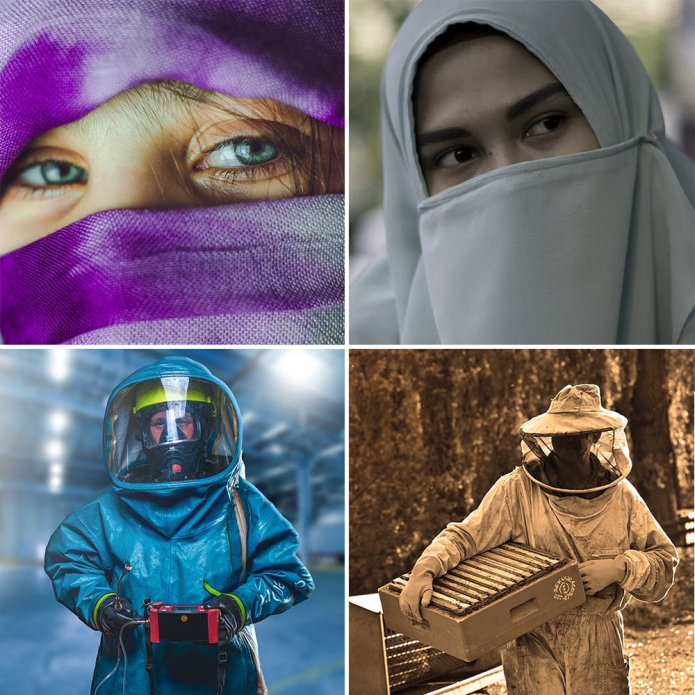 Yeah! It can even be worn inside hijabs and protective clothing.
| Second, Design
As it is hands-free, stability when wearing NECOOL is very important.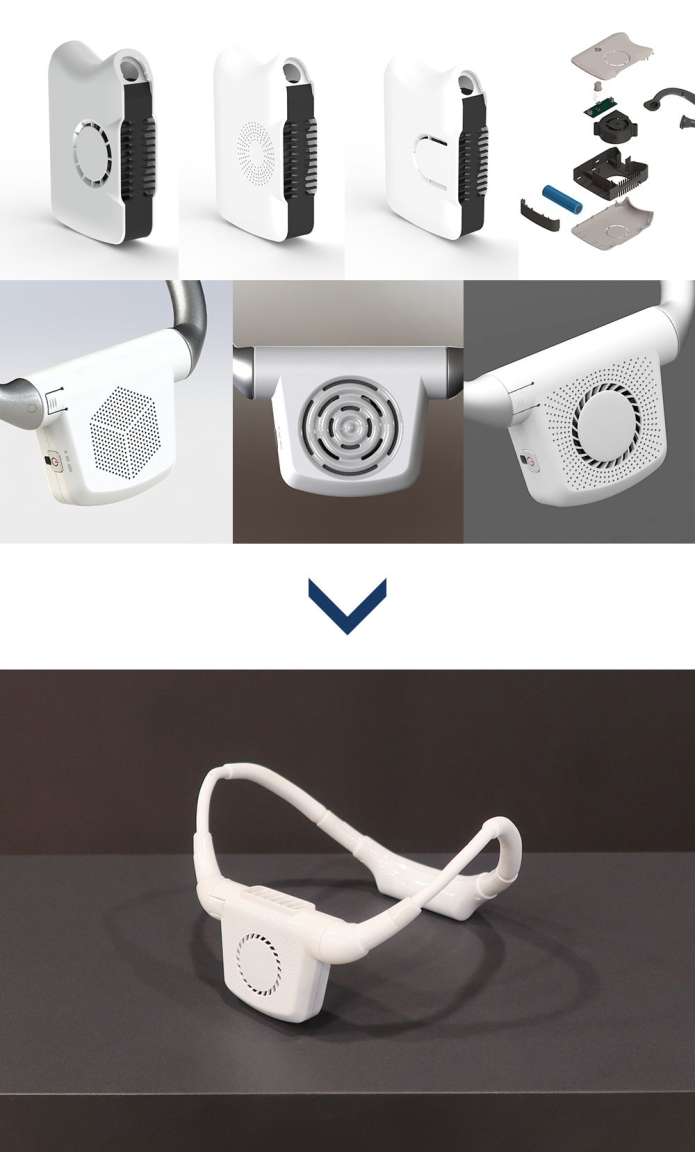 It took about 2 years from the prototype to the completion of NECOOL. Looking back, I sketched and made NECOOL countless times. After making the prototype, we split the test groups to get feedback, reflected again, and kept repeating.
Repeating this process, we decided on the size, grip, and location of the wind holes, and tackled the overall stability!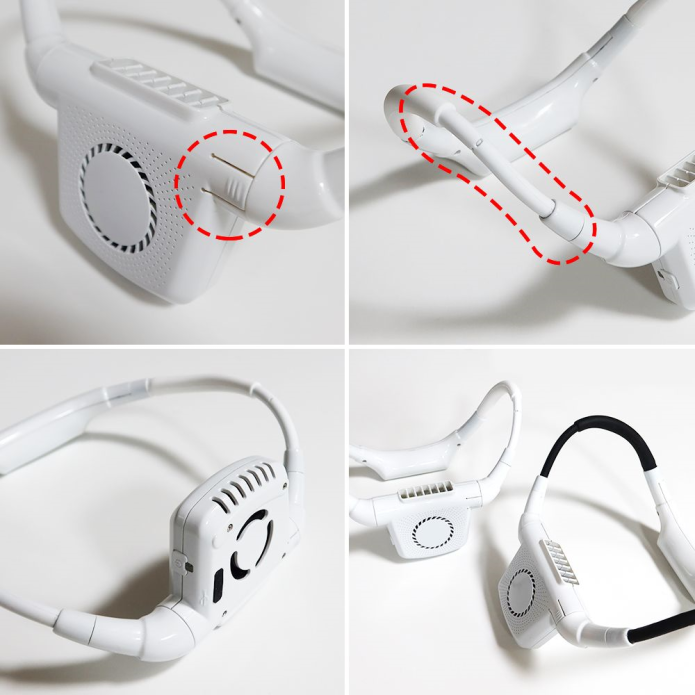 The connection belt is thinner so that it is not too noticeable as it is worn on the neck.
Detachable buttons on the front and back of the fan are placed for easy wearing.
Solid durability so that it does not come off easily after wearing it.
Smooth design removing the propellers.
Flexible wire feature that can be adjusted to the desired angle.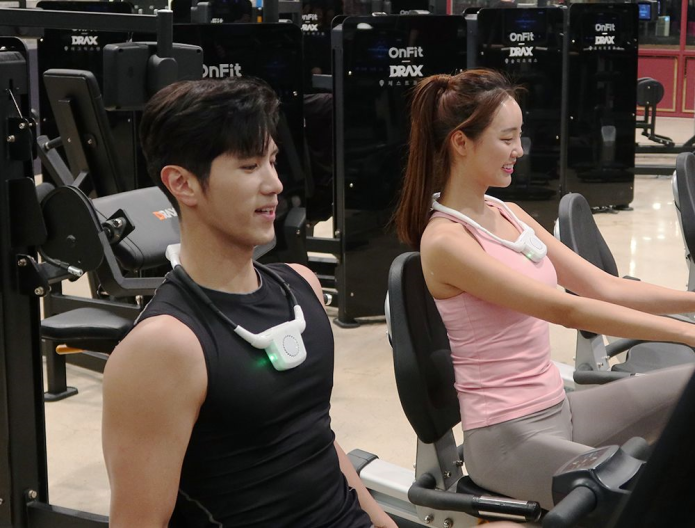 After a lot of ups and downs, we realized the optimal shape of NECOOL, which can be worn comfortably by all ages, regardless of height and size.
| Third, Cool
* After wearing NECOOL, put it inside the T-shirt + When the fan is turned 180 degrees down (photo was taken at level 3)
The unique design doesn't mean the efficacy is not great. It will be noticed at once that NECOOL blows the most strong wind among the existing portable fans.
This is the only difference of NECOOL according to the motor, design, and usage!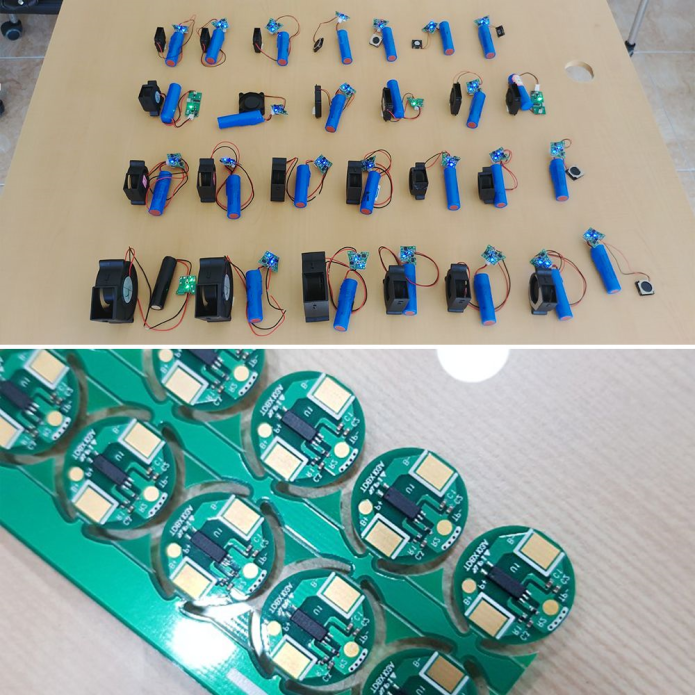 1. The first secret of the strong wind: BLDC motor
NECOOL is equipped with BLDC motor (6,000 RPM) used for expensive electronic products. This BLDC motor is a brushless motor that can be used semi-permanently by removing the brittle parts inside the motor to increase durability and energy efficiency.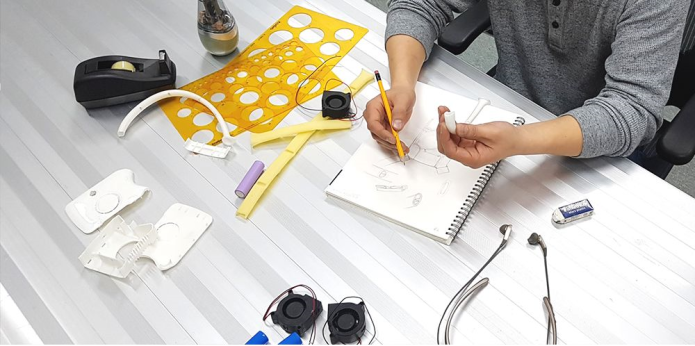 At first, the motors of the propeller fans were disassembled numerous times, but the desired result was not achieved. Then, suddenly noticing that heat was removed from the bottom of the laptop, similar motors were purchased for each type to enter the air volume/wind pressure test.
Finally, the propeller was removed to get rid of worry about hair getting sucked, and the BLDC motor was installed!
# NECOOL wind speed test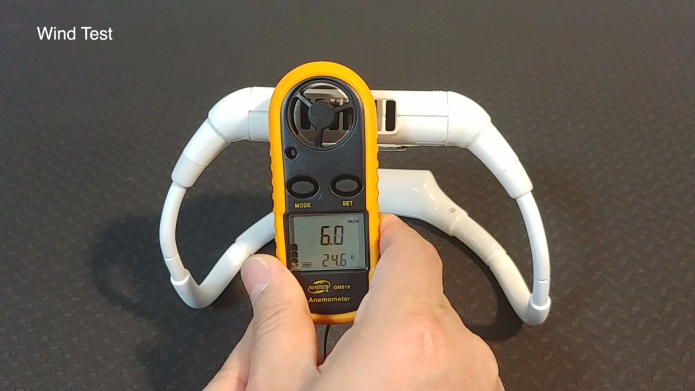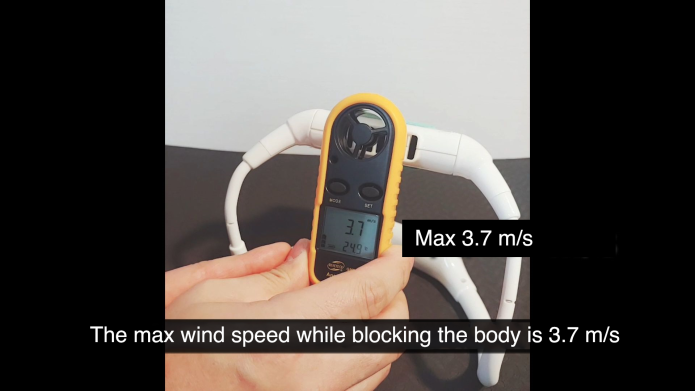 Also, if you are holding the body by hand while using a portable fan, there will be a usually loud noise only. However, NECOOL shows a wind speed of up to 3.7 m/s even when the main body is covered.
2. The second secret of the wind: Straight Wind
When using a propeller, it is usually in the form of a 'dispersion-type wind' that radiates while the wings rotate. Unlike that, NECOOL is a 'straight wind' that centralizes and blows out the wind, so more powerful wind comes out.
* Left: After wearing NECOOL, the body is turned to the back neck / Right: Wearing NECOOL and putting it inside the shirt + the body is turned 180 degrees down
3. The third secret of the wind: Close Contact Wind
Most people who use portable fans have high body temperature, right?
NECOOL is cooler to blow the wind in close contact with the face, back neck, and stomach by cooling the neck which is sensitive to body temperature change.
| And Noise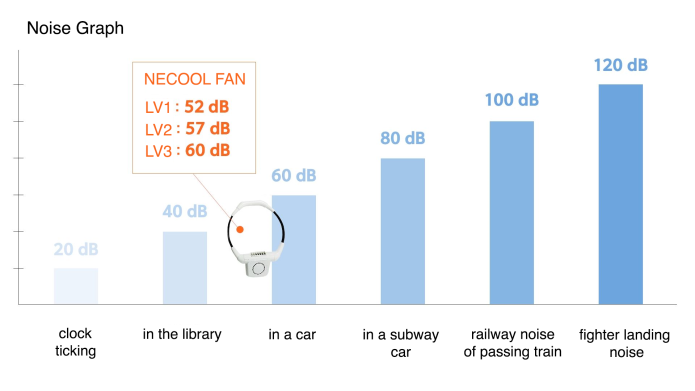 Due to the nature of the portable fan, it is more sensitive to noise because it is most used close to your body. Another reason why NECOOL is equipped with a BLDC motor is because of low noise and low power. You can guess the noise level through the video and graph! Low noise design from 52 DB to 60 DB allows you to use NECOOL in everyday life.
| Safety
Lastly, safety is very important as it is an electronic product.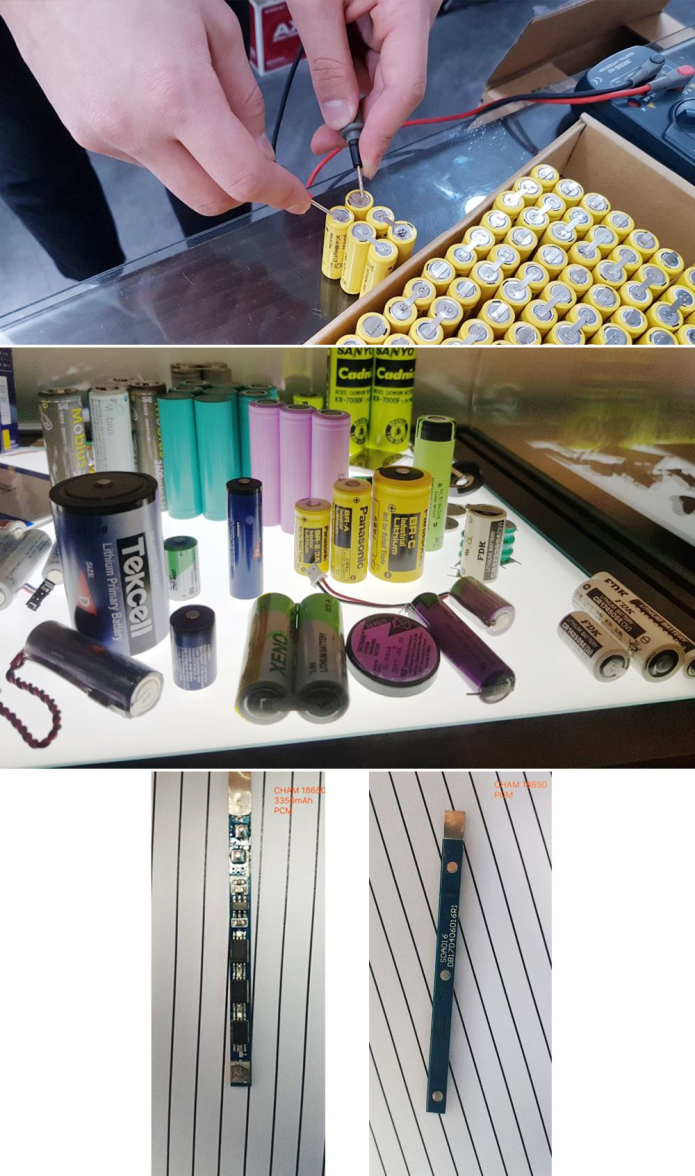 NECOOL is equipped with the Protection Circuit Module (PCM) of lithium-ion battery so that it can be used safely by completing overcharge, over-discharge, and overcurrent block features.
| Various Usage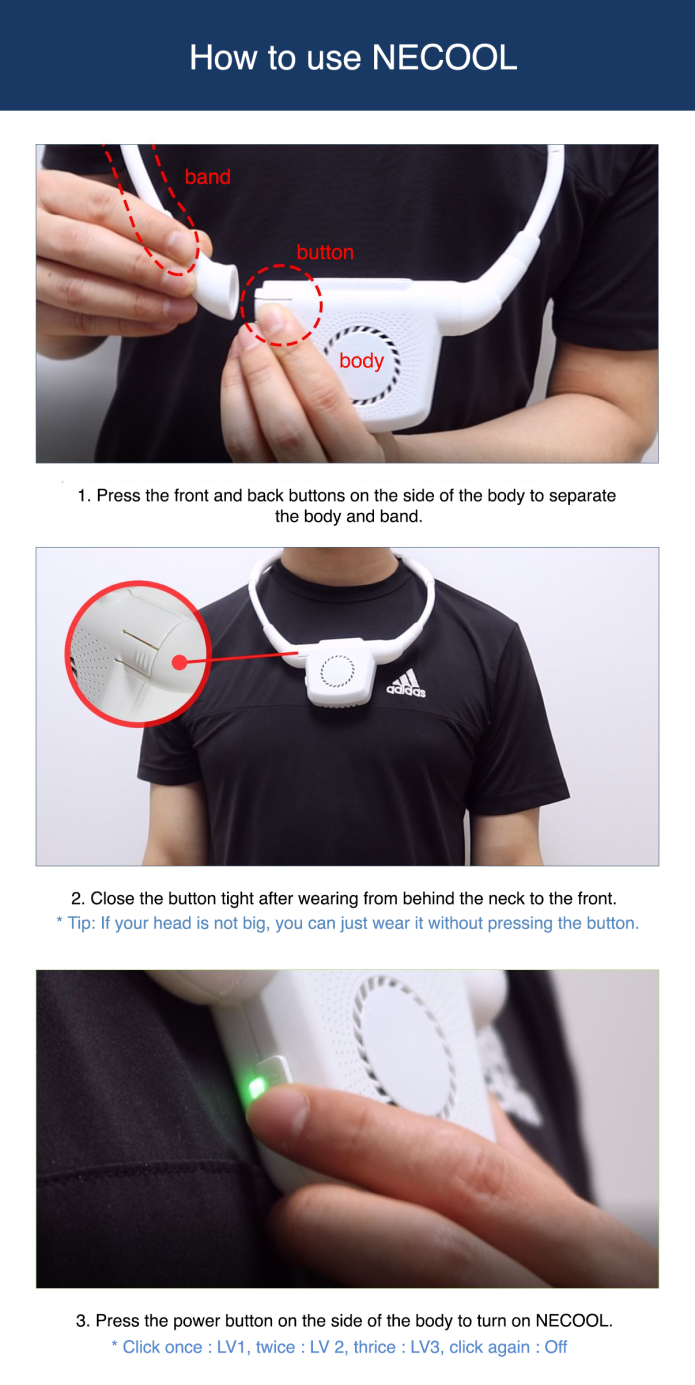 # Adjust the wind angle as you wish
NECOOL's principle is to shoot wind toward the neck which is sensitive to body temperature. Besides that, since NECOOL has a 180-degree rotation function, you can adjust the wind angle as you like, such as your chin, face, and stomach!
NECOOL is a fully customized portable fan for users.
# My knowhow to wear NECOOL
When you turn NECOOL's body down 180 degrees, the wind will be directed toward the stomach. Put NECOOL in your clothes (shirt, T-shirt, etc.) like that! Then no one can see NECOOL, but it can feel much cooler.
#Cooling your head
You can also wind the back of your neck by turning the body back. Adjust the angle to the left, center or right as you wish.
#Use on a table
NECOOL can be used not only close to your body, but also on a table. Use it in your office, at school, in the hospital, in the car anytime, anywhere!
However, while using NECOOL on the table, move both sides at the same time as you turn or bend the necklace. Otherwise, symmetry may not fit with just one hand.
# Product Specifications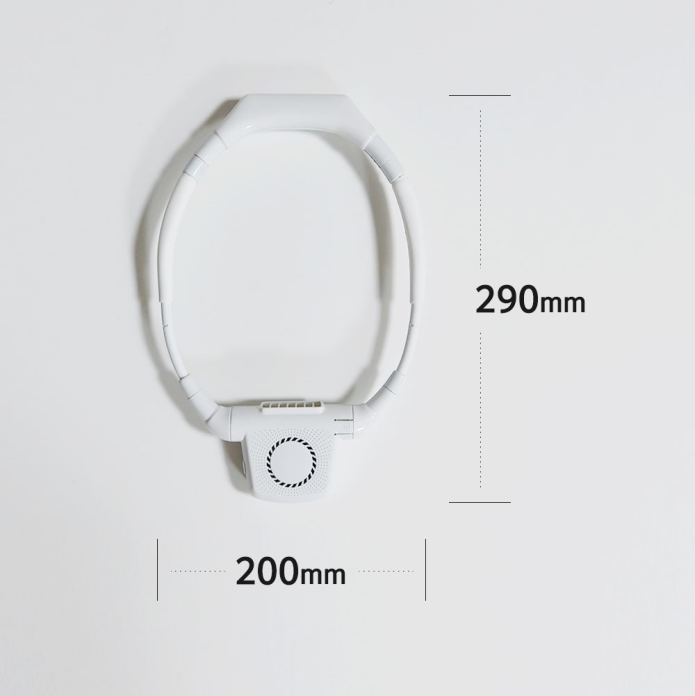 You can give NECOOL as gifts to your loved ones!
A person who has a lot of time outdoors
A person who loves intense exercise
A person who works in a hot environment (cooking, etc.)
A person who is uncomfortable carrying a portable fan
A person in a special environment (maintenance, factory, orchard, etc.)
NECOOL will cool this summer down!!
Of course, we have prepared NECOOL at special Kickstarter prices for your family, friends, and lovers.
Take NECOOL before summer comes!!