Story
Welcome to Geeek Club, the easy and FUN way to gain engineering skills. It's no secret, engineering is one of the single most valuable skillsets you can have in this day and age.
For anyone who wants to work on their inventor muscles, there's no better way to start! If you've always looked up to geniuses like Tesla and Edison, then you can get a small taste of their genius and develop your technical abilities without boring yourself to tears with courses and textbooks.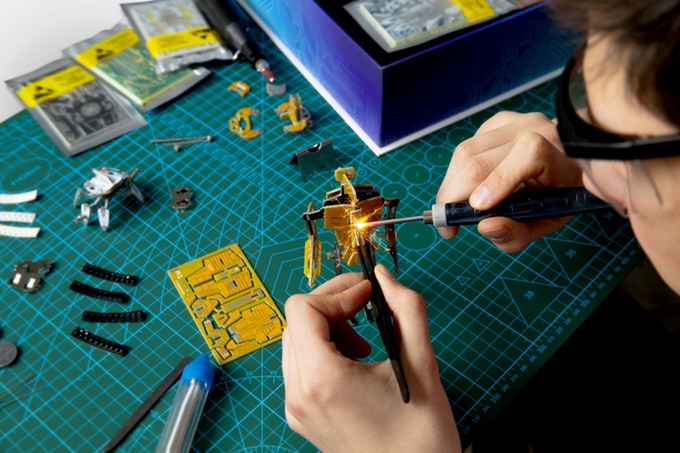 Are you ready to become a genius, have fun and impress everyone you meet? Geeek Club has TWO unique robotics kits for you to choose from.
Imagine a world where light is the only available power source, and robots scour the land in search of the precious energy to keep them going. Those robots would function in a very similar way to these nano-smart bots!
With light sensors and vibro-motors, these robots will intelligently move toward any light source, giving you endless amusement and an amazing conversation starter. Their size makes them the perfect décor for your office desk and kids love playing with these bite-sized robots.
This miniature robot earnestly sets out in any direction after the light it seeks. Building this robot is not only fun, but also enriching: you'll learn everything from structural engineering to vibro-motor mechanics.

2L1G
Every one of these miniature light-seeking robots has their own personality which will make them a main-stay at home or in the office. By the time you are done, you'll have a better appreciation for printed circuit boards and will have some of the essential skills of an inventor!
6L1G
This complex robot has 6 legs just like its namesake, and seeks the light relentlessly! You'll learn about soldering using through-holes, surface-mounted devices and technology, and how to ensure electricity flows through every essential component.
MAT001
This is the biggest robot in the Nano-bots set, requiring 4 printed circuit board cars to assemble. It blinks and has plenty of personality!
W001
This nano-robot is unstoppable! With vibration, oscillation and resonance motor engineering, you'll learn valuable skills that can help you become an electrical genius in no time!
TM BOT
This is the logo of our maker space TroubleMaker where the idea of nanobots was born. It represents the "devil may care" spirit of pure creative engineering, daring to push the boundaries in order to invent something new.
OTAKU
OTAKU is a vintage Japanese robot-card. Funny illustration for start with, easy soldering for beginners, this vintage robot will take you outer space to meet the invaders.
What if the tribal art of ancient cultures was actually based on ancient robots? Of course, it's unlikely, but that is the inspiration for these artistic robots.
The designs were inspired by North and South American indigenous cultures, as well as Scandinavian, African, and Asian amulets and artwork. This vibrant set also allows you to mix and match different pieces to invent your own creations.
The Voodoo robots set is perfect for combining every aspect of STEAM learning – Science, Technology, Engineering, Art and rudimentary Math.
Suún Inca
This robot design is based off of the sun god and has numerous rays exuding from its circuit board body in an entrancing way. It is motor powered with many lights, helping you learn about soldering and electrical engineering while having fun.
Drøpz Japan
This bright blue light-emitting robot is so fun to make, you'll completely forget that you are acquiring valuable engineering skills!
Wāld Scandinavia
Wald may be the most vibrant in this set, with a vast array of bright green lights forming a spellbinding matrix. The complexity of Wald is easy enough for beginners, while giving experienced engineers enough to be interested in the entire time!
Helly Haiti
This robot is perfect as a Halloween decoration, with its motion and devilish appearance! The light-emitting diodes around its head give it an eerie, yet oddly satisfying finished look.