Story
The ​BUDDY that transforms a healthy well-being practice into a kid's play!

Imagine the Cute, Fun, Animal-themed sensory tool that convinces children to stay focused, calm and grounded in an overstimulating world.
If you could help your kids boost their confidence just by having them Play, wouldn't you do it?
We live in a stressful, overstimulating today and our kids are the first ones to be impacted. Children need to practice healthy habits that allow them to alleviate stress and develop inner well-being more than ever.
But children can be easily distracted and they would rather just play instead.
And what is the best way to convince children to practice healthy exercise? By not convincing them at all, by letting them just Play.
What if you could use a tool with which children will just play and develop this way a healthy habit that boosts their Confidence, helps them Focus and Connect better? What if your kids would see that tool as their best buddy and will want to practice with it all the time, while at home, in a classroom, while traveling, before going to bed?
BE-Buddy helps transform healthy habits into a kids' play and is the only multisensorial tool developed especially for children that comes in 6 different animal-shaped forms.
Loved by both children and adults, BE Buddy™ is a revolutionary breathing tool designed to help children relax, focus and foster a deeper connection with themselves and the world around them.

Meeting the team means also learning the quirks and personalities of each.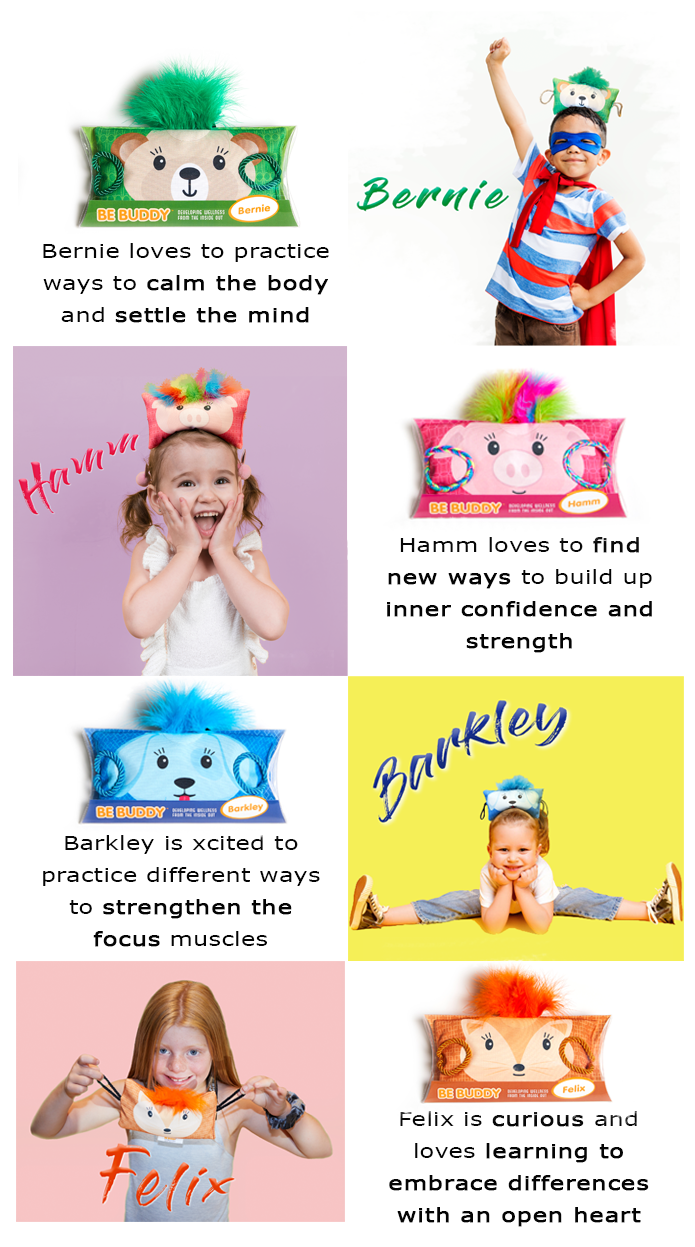 BE Buddy™ helps equip children with a powerful tool of awareness from a young age, teaching them that while they can't control everything, they can control their thoughts, responses, and actions.
Building this awareness is essential for fostering emotional-regulation.
BE Buddies are a great tool for all children and adults alike, whether practicing overall well-being or struggling with emotional behavior problems.
For a child who might have difficulty sitting still, letting go of worries, controlling anger, or sleeping at night, the BE Buddy™ helps children regulate their emotions and overcome anxiety.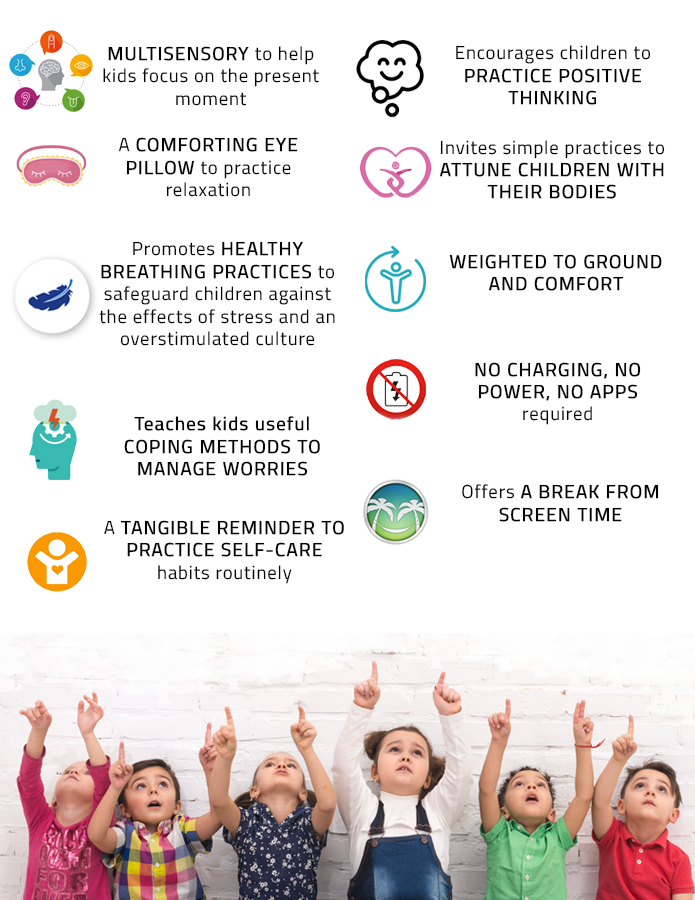 What We Need & What You Get
We are seeking funds to support the first manufactured production of the BE Buddies. We have vetted and sourced the best raw materials and are thrilled that the BE Buddies will continue to be handmade in Minnesota. With each purchase, you will receive your packaged BE Buddies, a UV coated card with practices to get you started, and our warm thank you note including our website to visit for additional support and resources.

We are really excited about the perks! If you would like to support our mission to "inspire and empower students with tools to build focus, strength, and compassion towards self and others," check out these perks on your right.
We hope to reach our goal of $15,000, but if we do not reach that goal, we will utilize the funds raised towards the contributing costs of production. These could include marketing costs, packaging costs, labor costs, raw materials, and shipping. Either way, we thank you for your consideration and feedback, so don't hesitate to reach out with ideas and/or suggestions.

What do our BE Buddy™ Friends have to say?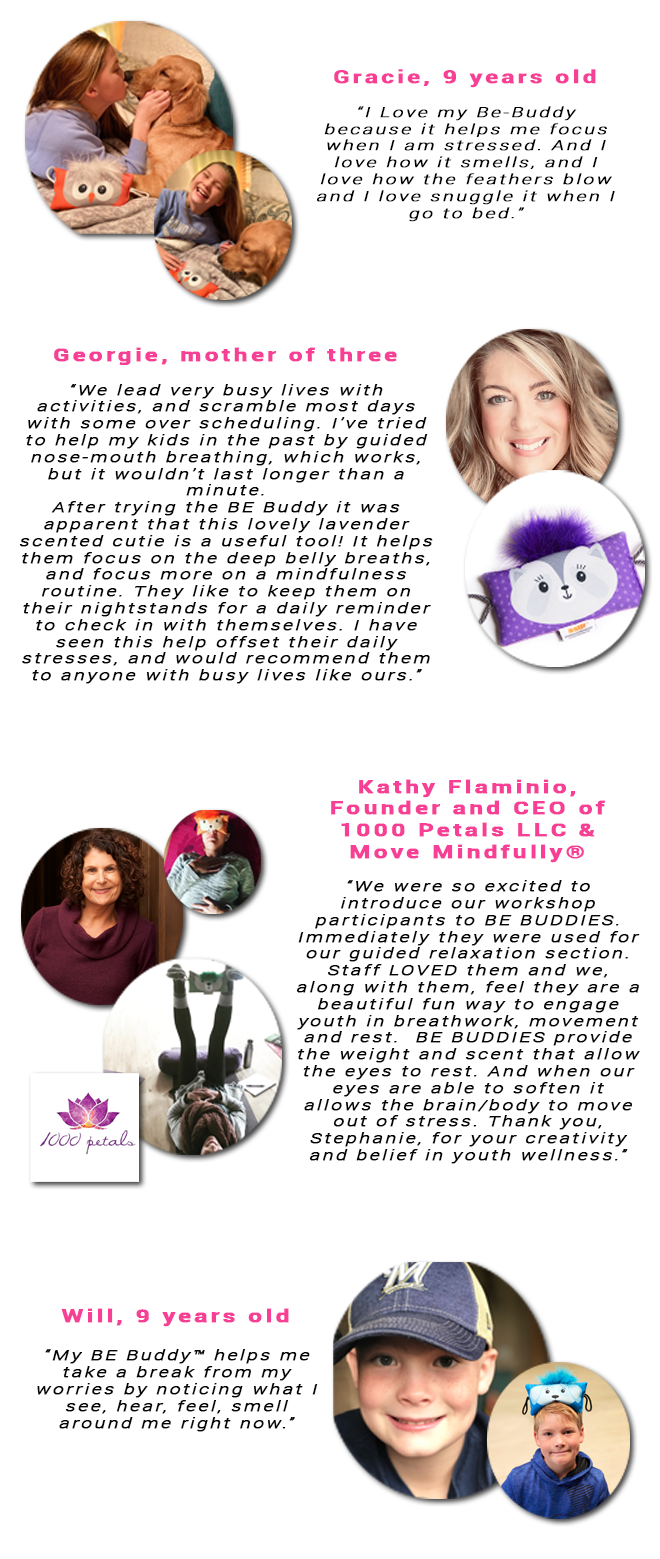 Why BE Buddy ?
Untreated anxiety disorders are linked to depression, school failure and a two-fold increase in risk for substance use disorder. The solution is simple, but not necessarily easy. Building daily habits to support overall wellbeing is the most effective way to reduce anxiety.
The BE Buddy™ is a tangible reminder and tool to cultivate these practices in children. Habits developed at a young age are a lot easier to sustain throughout life as an adult.
As Frederick Douglass famously quoted, "It is easier to build strong children than it is to repair broken adults."
Not only will these skills build resilient children but create a generation of adults who have learned and practiced tolerance and compassion within themselves and the world around them. If we can help kids learn to be loving, patient and forgiving towards themselves, then that will project onto others creating a peaceful environment.
Our BE Buddy™ Story
The inspiration for the Be Buddy™ began in a kindergarten classroom while Stephanie was guiding the students in a breathing practice using stuffed animals designed to teach healthy breathing habits to help children feel calm and relaxed.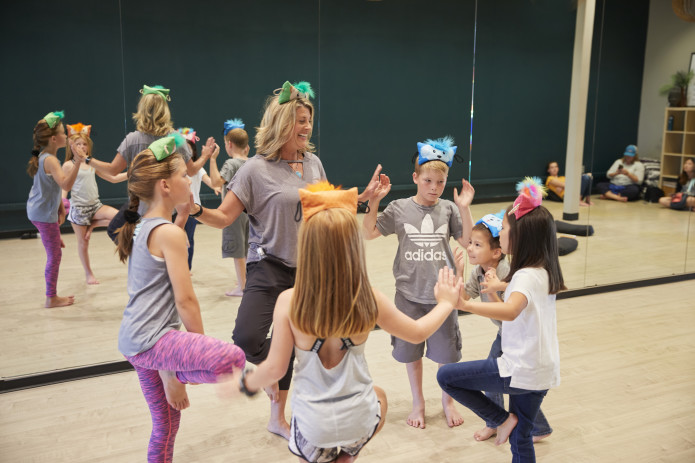 After experiencing issues with their stuffed animals falling off their bellies, causing a distraction around them, Stephanie decided to create her own tool for such exercises. So, she developed a multi-sensory "breathing buddy", essential to teaching deep brain/body practices, shaped and weighted in a way that feels both comfortable and secure to children.
BE Buddy™ is extremely helpful to parents, teachers, and anyone who works with children alike in integrating these practices into their children's daily life, helping kids develop wellness from the inside out!
Stephanie summarizes her mission as:
"To inspire and empower students with tools to build focus, strength, and compassion towards self and others".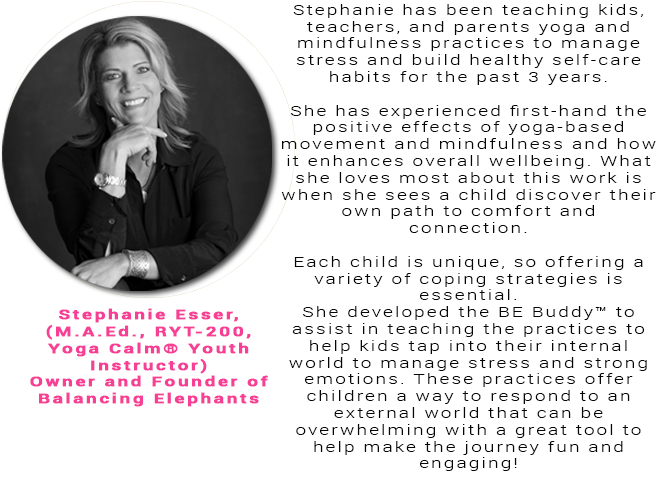 How else can you help?
We would love you to experience our tools and techniques and join our community of BE-Buddies. Your care for the children's well-being will help us spread awareness on simple and powerful techniques that everyone can employ at home or in their teaching calls or studio.
Be part of the well-being community and share our campaign with your friends and those who would benefit from hearing about it.