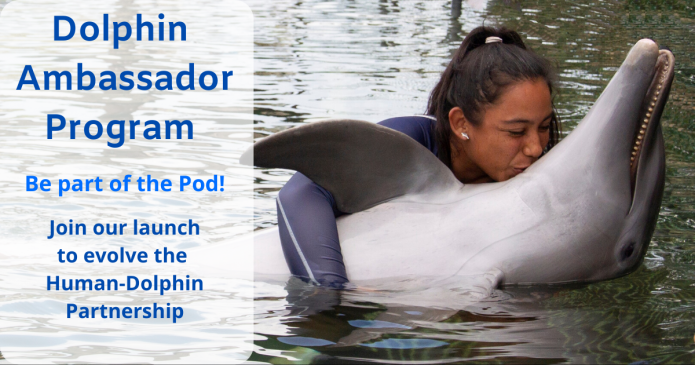 Play a big role in building Human-Dolphin Partnerships for excellent Global Stewardship!

Help us launch the first of its kind Dolphin Ambassador Program. A multi-level certification program that uniquely combines fun & educational online classes for all ages, real-life dolphin experiences and scientific research, special events with the experts and environmental action projects. Our Mission is to empower humanity with practical steps towards building meaningful lifelong relationships with our amazing dolphin friends.

Online course topics include:
Dolphin Anatomy
Positive Reinforcement
Communication Research
Marine Mammal Rescue
History & Future of Human-Dolphin Relations
Dolphin Emoji Games - 2 way communication
Inspiring Lessons from Dolphins
Amazing True Dolphin Reports
Dolphin Assisted Therapy
Enrichment & Dolphin Games
Echolocation
Myths vs Facts
How to Help Dolphins
Whales & other Marine Mammals

Live event experiences include:

Online presentations & chats with experts
In-person special events at Dolphin embassies
In-water Dolphin interactions & research sessions
In-water Dolphin Emoji Games - 2 way communication
Environmental Action Projects
Citizen Science Projects

Once the Dolphin Ambassador Program is launched, 100% of the membership fees will go to the nonprofit 501(c)(3) Global Heart, Inc. to maintain and grow the Ambassador training as well as fund dolphin communication research and environmental projects -- all directly benefitting the dolphins.

Your donation to this crowdfunding also goes 100% to the nonprofit Global Heart, Inc., and is crucial to build the online content for the Dolphin Ambassador Program. To express our gratitude for your generosity we have wonderful Thank You Gifts. Check out these exciting options to match your enthusiasm for Human-Dolphin Partnerships. (click on each perks category to see your Thank You gifts)
If fundraising exceeds our goal, the money will be used to expand the Dolphin Ambassador Program content for use in schools.