Story
Cloth masks produced by small manufacturers in the US that will be donated to those in need.


#MaskUp and Save Lives
As COVID-19 continues to spread, we must each do our part to help reduce transmission rates:
Funded by your donations, we are keeping American manufacturers in business by creating a large number of cloth masks to donate to those in need — hospitals, homeless shelters, non-profit organizations who work with vulnerable populations, and for those working at health care facilities, including janitorial staff, cafeteria workers, parking attendants, and more..
To show our appreciation for generous donations, we have set aside a small quantity of cloth masks to those who request them to increase your personal safety, the safety of those around you, and reduce the stigma of wearing masks in the US. If we exceed our fundraising goals, we'll make more available.

By backing this campaign, you'll be:
Supporting jobs and manufacturing in the US as a stop gap measure, until these factories have contracts to produce masks for local and national governments. All masks will be made locally by factories in Los Angeles.
Allowing hospitals and clinics to use cloth masks for lower-risk patient care and low-risk situations, in addition to a mask cover. This allows them to save N95 medical masks for high-risk care.
Donating reusable cloth masks to hospitals, non-profit organizations, homeless shelters, nursing homes, and local businesses providing essential services such as delivery, restaurants, etc.
Protecting yourselves and your community by wearing masks to prevent spread and reducing the stigma around mask wearing, as many people wear masks for either medical necessity or cultural norms.
Helping to protect some of the most vulnerable people in society. Los Angeles has a population of nearly 60,000 people who are homeless, many of whom sleep on the street and do not have access to high quality health care.

New Limited Perks!
We ran out of the 500 masks we set aside for donors within the first week, but have decided to allot another 500 masks since we were able to do a second production run. Only 10% of the total masks we produce will be given to donors to ensure the majority of masks will reach those with critical needs.

If you choose the Get 2 + Donate 3 perk, your masks will be shipped via USPS Priority Mail Flat Rate box. The volunteers packing these items will be wearing gloves and masks, but please launder the masks before use.

What We're Doing:
Many are stepping up to answer the call for help from health care professionals, but people working outside of hospitals are also in need. While all available N95 masks and professional PPE should be reserved for health care settings, we're working with local manufacturers to provide some protection to underfunded and disadvantaged organizations and communities.
As the Founder/CEO of a sustainable clothing startup committed to production based in the United States, I have partnerships with factories and manufacturers in Los Angeles that can produce thousands of masks. I've redirected my startup capital to get this project going, and have paused development on my company's launch to work with my partners to produce masks instead. I've invested $15,000 as seed money, but need at least another $10,000 to produce at scale. I am donating these masks at cost and want to support the local garment industry temporarily until they can be funded by the government or other organizations at scale.
We are currently able to make approximately 1,000 masks a week, but we estimate that we have the capacity to produce up to 3,000 a week with your funding.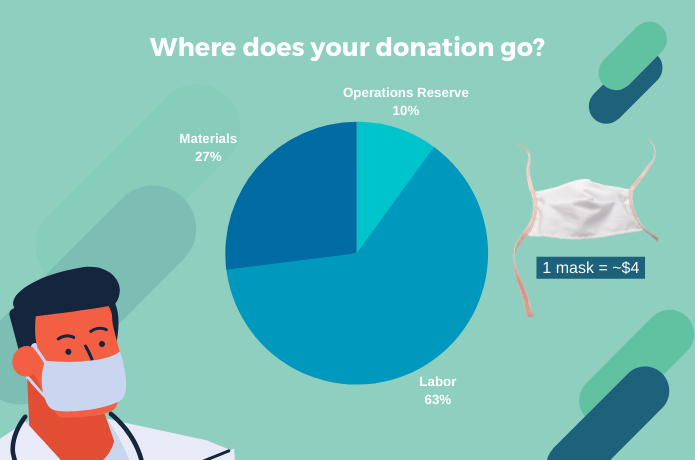 100% of your funds go directly to making masks.

Masks have variable costs depending on the size of the manufacturer, the quantity ordered, and availability of fabric (in short supply at the moment). At the moment, they cost roughly $3.60 to make. The price per mask decreases the larger the quantity we order. That means, the more we raise the more efficient we become, which means more masks to workers in need.
We reserve 10% as an operations reserve in case we can no longer depend on volunteers alone for delivery of masks, but anything remaining will go directly into making more masks. Stellari LLC and our manufacturing partners are working to produce and donate cloth masks at cost. Masks given to donors are also at cost, we do not make any profit from IndieGoGo perks.

Why Cloth Masks?
In hospitals and medical practices around the country, physicians and nurses are facing a critical shortage of FDA-approved medical Personal Protective Equipment (PPE), putting them and other patients in jeopardy as they care for ever-increasing numbers of COVID-19 cases.
As a clothing brand, our partners are best suited to making cloth masks not intended for clinical use. We wish to help keep our partners in business by efficiently producing cloth masks for low-risk settings.
While our cloth face masks are NOT medical devices, the pattern has been developed by the LA Mayor's Office and Kaiser Permanente, the country's largest healthcare management system. Per CDC recommendations, fabric masks are an acceptable crisis response option when standard PPE is unavailable, and many hospitals in the US are accepting cloth masks to address the shortage. In some developing countries, cloth masks are still used as standard PPE.
Please note, these masks are not intended for clinical use and must be laundered before and after every use. Stellari and all of its related affiliates and partners make no claims regarding the safety and efficacy of cloth masks in preventing any disease or illness, including, but not limited to COVID-19.

How We'll Make And Deliver Masks:
Masks will be produced by Stellari's manufacturing partners based in Los Angeles. Our partners include: A Cut Above the Rest (manufacturer),Left Production Co (manufacturer), All the Right Stuff (trims), and others. Some of our partners have already switched to making masks, so our funding efforts will be additive to their ongoing work. This helps keep their businesses alive and pay their workers during a difficult time.
All masks will be delivered by volunteers to non-profit organizations and health care facilities that have specifically requested cloth masks, or shipped using the operations reserve.
Within the first week of launch, we were able to distribute over 900 masks with the majority going to the following organizations:

Doctors Abroad Foundation, which provides medical care to those underprivileged regardless of ethnicity, gender, or age.

HopeNet LA, a network of 12 food pantries in the metro Los Angeles that have served over 3 million people since 1988

Orange County Emergency Child Care Centers, around OC

Southern California Hospital at Culver City, and 2 other Los Angeles area hospitals for personal use by healthcare workers

About the Masks:
We are using a pattern developed by LA Mayor Garcetti's Office, Kaiser Permanente (the largest healthcare management service in the country) andReformation, a sustainable clothing brand based in Los Angeles. Please visit LA Protects, for the pattern and more information.
All masks are latex free and double layered.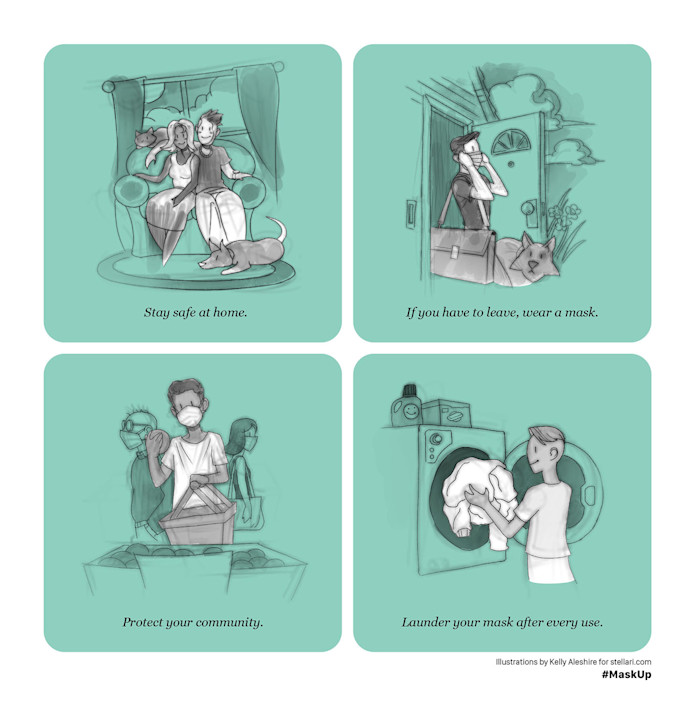 Other Ways You Can Help:
Thank you for reading this, we appreciate it! If you're looking for another effort, please consider:.
Mask Match: Matching N95 masks with medical professionals in need
LA Protects: Initiative by the LA Mayor's office
GetPPE.org
Millions of Masks: Purchase cloth masks from Reformation, an official partner of LAProtects.org