About us
Doksta MedEd was borne ~2 years ago after some Nigerian medical students shared some of the challenges of preparing for medical board exams with us. We knew we had to do something to help fix this, so we created the Doksta app. The Doksta App delicately brings together key elements (including accessibility, content, confidence boost, and opportunities for collaboration) for improved learning efficiency and retention. Simply put, we help medical students learn better in less time, and provide a mobile platform for them to network with other professionals while at it.
Our journey so far
Since the idea for Doksta was conceived, we have worked hard to develop an excellent mobile app that houses many of the tools an average medical student needs to be successful in the 21st century. First, we have developed a growing question bank of over 1500 of some of the highest quality questions. Next, we have created a networking platform for medical students from across Africa. Since launching less than 2 months ago, we have welcomed well over 100 medical students, and continue to welcome new members every day! We are thrilled by the response we have received and we are eager to get this tool into the hands of even more students.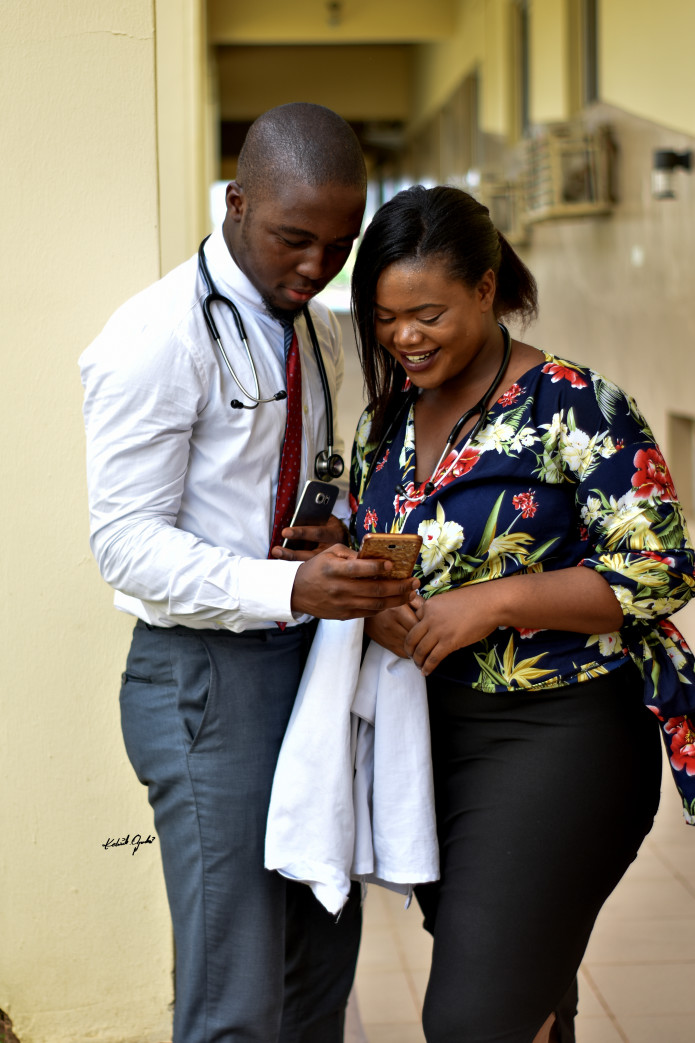 Why is this so important?
It is common knowledge that African medical students and physicians are among the most talented in the world. It is no wonder that they succeed and often outperform their counterparts once given the right tools to succeed. Sadly, these tools are often not readily available, or when available are way too expensive for the average student. From outdated "past questions" and limited access to networking platforms, the average medical student in Africa is frustrated with the status quo. Our goal is simple, through the Doksta app, we want to remove the "wahala" out of professional exam preparations and give African medical students the tools they need to excel!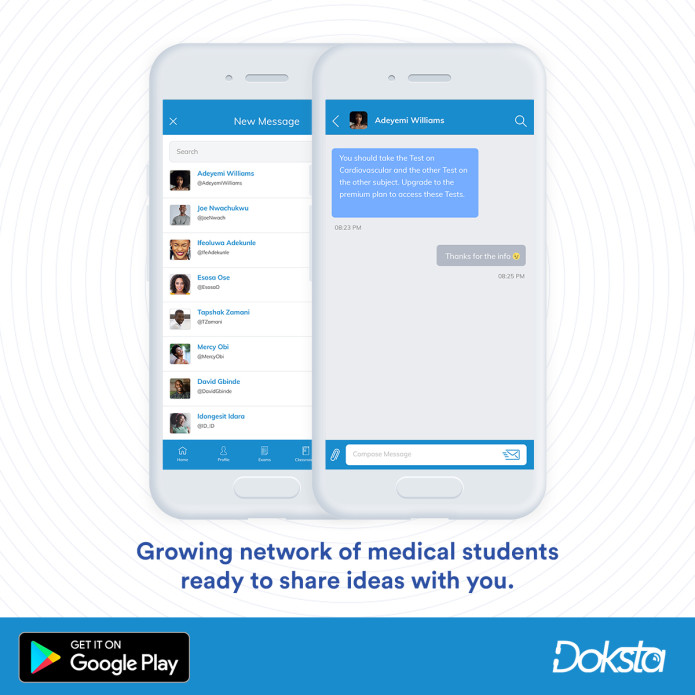 How can you help us?

Doksta is affordably priced, with a goal of reaching as many medical students as possible. Our competitors set their prices in the hundreds of dollars, but we know that this is not feasible for the average African medical student. Our goal is not to make bucket loads of money, but to make sure these students have the tools they need to succeed. This is why we need your help.
In the next 60 days, we will like to get our app into the hands of 500 more medical students. Our goal is to provide a free 1-year subscription for them. This will not just help them excel, but will show them how they can have a richer and better medical experience with Doksta. It will also help us learn what we can improve on to better serve these students.
Doksta is priced at $35 (12, 000 NGN) for access to 3 subjects per year. We are asking you to sponsor as many students as you are able to and give them an opportunity at a much better learning experience.

Long term goal
The Doksta app has the potential to help standardize the medical curriculum across Africa, improve first time pass rates, and ensure that medical students are not just prepared to practice excellent medicine here in Africa, but also around the world. By helping more medical students, we are creating more excellent physicians and increasing the doctor to patient ratio across Africa. This is not just some lofty goal, this is a practical step that has the potential to save real lives.
Our Team
Our team is made up of highly successful professionals in medicine, education, and software engineering, with a common goal of supporting the African medical student. Highly trained from local and international prestigious institutions including Lagos University Teaching Hospital, Duke University, Carnegie Mellon, and Harvard University, they possess the requisite skill set to develop a winning product. More importantly however, all our team members are African born and/or raised, and have a personal connection to the problem and a hunger to find a solution. We are determined to get it right for these medical students, and we just need your help to achieve this goal!
If you've read this far, we already know you believe in our work and we are grateful. So what are you waiting for? Why not jump in and sponsor some students to try DOKSTA?
...alternatively,
If you are unable to support with funds, we believe there's always a part that each of us can play in making the world (and in this situation, African Medical Education) a better place, so please help us spread the word by sharing this link with your friends, family and colleagues. Together, let's revolutionize medical education in Africa.