What's This Campaign All About?!
Gravity Alternative Movement is a circus arts and recreational alternative movement facility in Watertown, MA with classes open to people of all ages and physical abilities that is in need of expanding into a bigger space. We have robust, continually growing, programming in our current shared space, but need a facility of our own in order to expand our schedule and offer classes earlier in the evening.
We have found a new home in Waltham, Massachusetts. It has great potential, but needs lots of work to become a functional recreational facility. We have set up this campaign in search of funds to help our expansion into a dedicated space become a reality. We already own and will be transferring over the equipment we use for our day-to-day activities, but we will need additional equipment to make our new warehouse space usable. Among these new pieces of equipment include new flooring, a water fountain, a custom rigging solution, and, should we achieve our reach goal, a large mural for general facility beautification.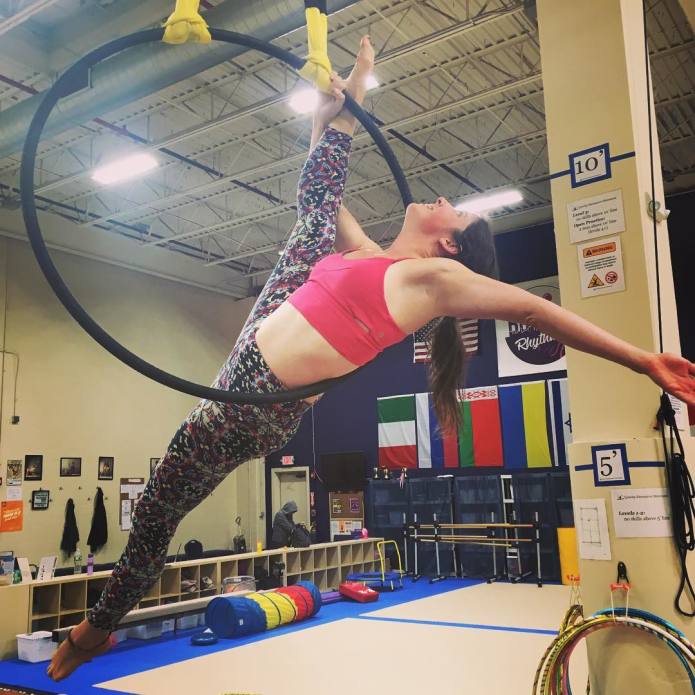 Student Brie perfecting her y-scale during her advanced aerial hoop class at Gravity Alternative Movement's current space in Watertown, MA.
The Gravity Story #helpGravitygrow
Gravity Alternative Movement is a community devoted to enabling individuals of all ages and abilities to find new ways to master an athletic art.
Classes at Gravity are perfect for those seeking...
...a new fitness or workout discipline.
...a new outlet for creativity.
...a new challenge for both the mind and body.
...mastery of unique and performable skill sets.
...a supportive and inclusive community that takes pride in the diversity of humanity.​
All classes at Gravity Alternative Movement will strengthen you physically and mentally, stretch your body, and push the boundary of possible. Instruction at Gravity comes with great attention to the individuality of each person who walks through the front door, as we each carry with us our own learning styles, abilities, and levels of mastery.
Gravity has been operating in a shared space in Watertown, MA since May 2017. The space is beautiful, but our class schedules grow every session and we have very quickly reached our scheduling limit due to conflicts with existing non-Gravity programming that the space management runs.
This will provide us the ability to expand our schedule and class offerings so that we can continue to grow and serve more members of the community with ways to move and engage with their own creativity and body awareness. In our new facility, we will be able to add
early evening programming for adults,
afterschool programming for youth,
adult and youth weekend programming,
and occasional informal social and team-building events for Gravity class attendees.
Currently, the majority of our programming can only be on weekdays after 7:45pm, which too is late in the day for many!
We have found a new home. After months of searching, we have finally found a 3200 sqft warehouse on the Waltham-Watertown border that will be emptied out and filled with our diverse programming. Building features:
17.5' high rig points
30'x35'+ main floor area featuring maximum ceiling height
Air conditioning throughout
Heating throughout
Entry vestibule and office space
Balcony area perfect for small ground-based classes, warm-ups, and observing classes
Mix of dedicated parking and plentiful street parking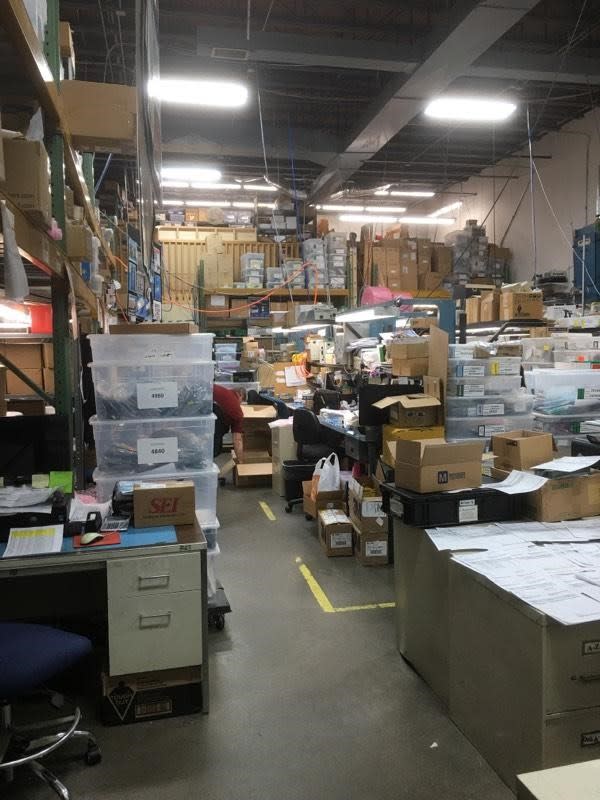 Photo above: the current state of our new space in Waltham, MA, very full of equipment and storage, soon to be full of Gravity's diverse range of activities!
We need your help. The transition between our current space to a space of our own will require an enormous investment of time and funds. This is where we ask for your help in order to let Gravity continue to provide the Boston-metro area with high quality instruction, classes, training space, and performance opportunities for circus arts and related movement disciplines!
We will be moving our existing equipment over that we use to run our classes into the new space, but currently we lack the current infrastructure to take the existing warehouse space and turn it into a living, breathing, and welcoming training facility.
Funding from this campaign will support
new flooring friendly to gymnasts and aerialists alike,
wall mirrors in the main training area,
a water fountain,
customized rigging solutions for our new space's ceiling,
floor matting for a warm-up area,
custom-commissioned art mural installations for studio beautification,
and other miscellaneous small pieces of equipment and furniture to keep the studio functional, safe, and welcoming.
#helpGravitygrow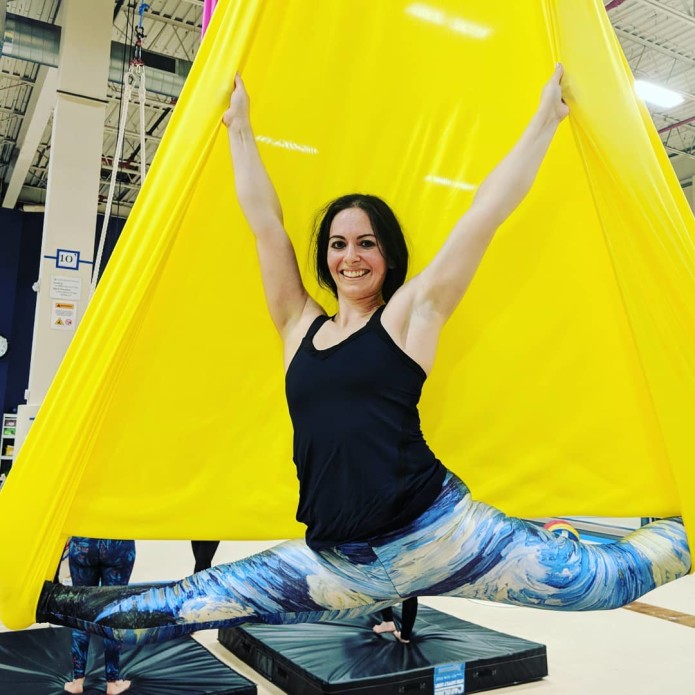 Student Jillian presents one of her most graceful aerial sling poses during one of Gravity Alternative Movement's open practice sessions.
Anticipated Timeline
December 28 - last classes at Gravity in current space in Watertown
December 29-31 - derig equipment and move out
January 1-6 - move into new space, install flooring, water fountain, mirrors, rigging, and other aesthetic elements into new space
January 7 - beginning of classes in new Waltham space
By end of January - all finishing touches on new space completed, all goals in Indiegogo campaign complete, including donor appreciation wall (a.k.a. - "Gravity wall," for all donors >$100)
Who is Behind Gravity?
Trevor Kafka began his circus arts training at age 13 after Cirque du Soleil's shows Alegría and Quidam ignited his interest in circus arts. He received his first introduction to aerial arts at Circus Smirkus summer camp in Vermont and continued his training in the years to come with various coaches and circus schools in New York City. In May 2011, Trevor graduated from the Professional Track program at the New England Center for Circus Arts in Brattleboro, VT where he held focuses in single-point trapeze and floor acrobatics under the instruction of former performers of Cirque du Soleil and Cirque Éloize. During this time he also completed teacher training programs in various aerial arts disciplines. He is extremely grateful for all of the wonderful opportunities in circus arts that he has been able to be a part of thus far and is overjoyed to be actively contributing to the further development of circus arts in the northeast through both instruction and performance.
Trevor is also a former teacher of physics at Wellesley High School and holds degrees in physics and math, as well as devoted a significant portion of his undergraduate studies to Mandarin Chinese and Secondary education.
Trevor has a passion for teaching and sharing his interests with others. He has been teaching circus arts in the Boston-area since 2012 and currently owns and operates Gravity Alternative Movement LLC. Trevor is equipped with a diverse aerial teaching background and performance background.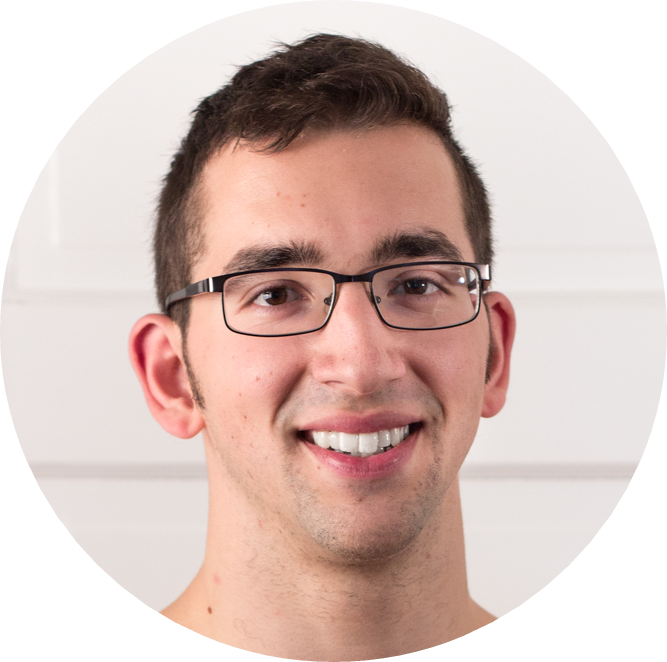 Gravity Alternative Movement owner and operator Trevor Kafka.
Gravity Alternative Movement is a proud approved member of Circus Arts Safety Network, a program coordinated by American Circus Educators.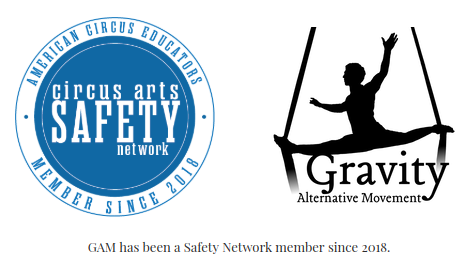 Funding Allocation
Gravity will continue to fund the purchase of new equipment and expansion of programming as it has been doing through its growth up to this point. Moving into a new space is a big transition for us and we are asking for your help along the way to help us make this big jump between operating in a shared space and operating in a dedicated space possible!
Baseline goal - $15,000. Gravity's goals for funds raised during this campaign are to help make our new studio space as functional and welcoming as possible. Here is our breakdown of anticipated project expenses.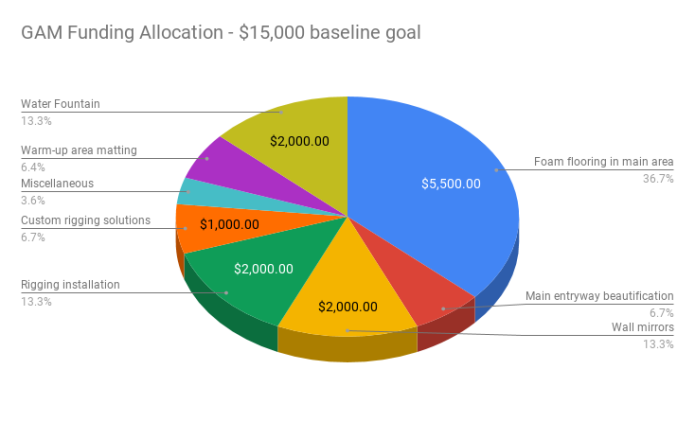 Stretch goal - $20,000. Should we exceed our $15,000 baseline goal up to $5,000 of the additional contributions would be used to fund custom-commissioned art in the space to help make the facility as inspiring as it will be beautiful.
What You Get
As a thank you for your generous donations, we have the following perks available in a variety of different formats. Check out our perks for more information as to which donation amounts get you which of these awesome giveaway items!
Gravity Stickers
Contribution to the Gravity Wall (included with all $100+ donations)
1.5-Hour Group Private Classes
6-Week Session Classes
1 year of Session Classes
5 Physics/Math Tutoring Sessions (with Gravity owner Trevor Kafka!)
Drop-In Class for 2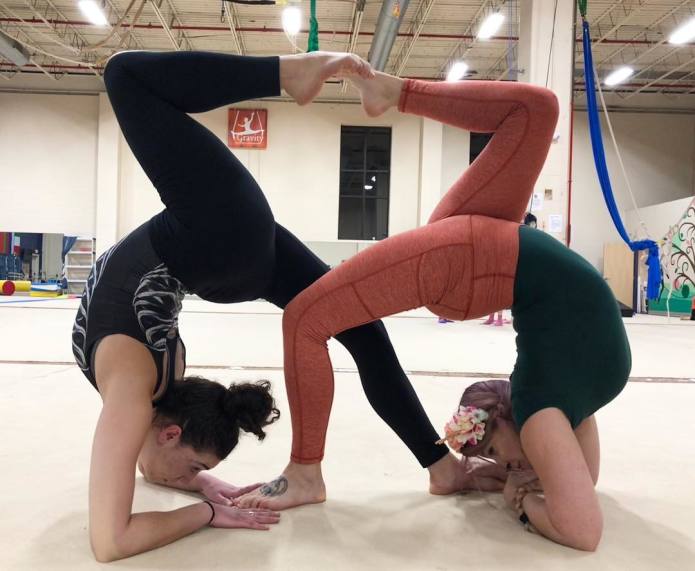 Students Kylie and Elizabeth present the beginnings of a new group acrobatics routine at the end of their Contortion class.
The Impact
No experience is required for level 1 classes at Gravity. WE MEAN IT! All bodies, all fitness levels, all degrees of coordination are welcome. You are never too old, weak, heavy or out of shape to become a mover. Classes are tailored to each individual student and are intended to be CHALLENGING for ALL ATTENDEES. Classes are open to all genders, ethnicities, fitness levels, sexual orientations, etc! Gravity's doors are open to all!
We continually strive at Gravity to be as inclusive of a space as possible. We aim to enable the community with access to amazing and fun ways to use their bodies, stay fit, and have fun. For both kids and adults, the types of classes we offer can serve as confidence boosters, fitness outlets, endless inspiration, and vessels into which to pour newly-inspired creativity.
As Gravity grows, we aim to continue this mission of accessibility and prevalence of circus arts and other alternative movement disciplines for all.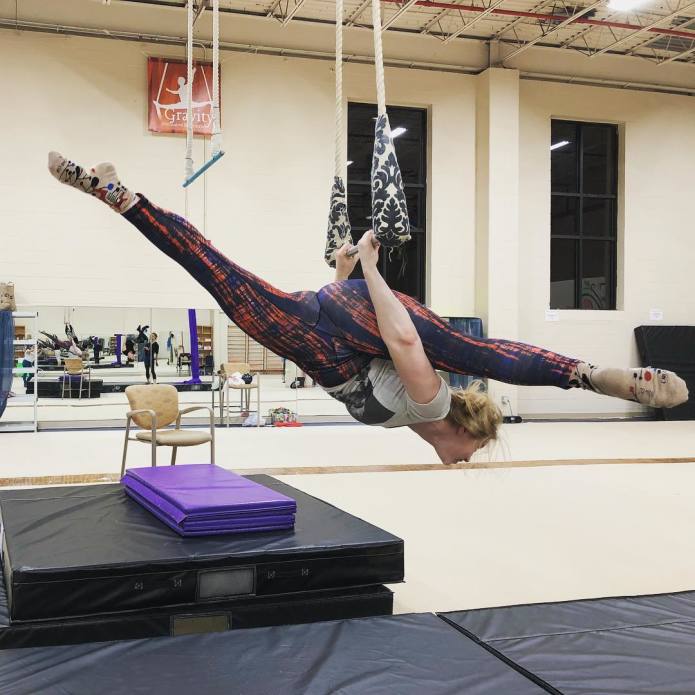 Student Olivia presents her well-famed 'alien split' on trapeze!
Risks & Challenges
Gravity has had a well-established and continually growing program for over the past year and a half. We are looking to take the funds raised by this campaign to serve as a catalyst for Gravity's increased future growth.
The types of classes we offer, including aerial arts, handstands, flexibility, tumbling, juggling, and more, have been increasing in recreational popularity throughout the Boston metro area over the past 10 years. Our job as a facility is to be a small part of that larger puzzle, increasing prevalence, accessibility, and community value of what we offer for Watertown/Waltham as well as neighboring communities.
Given our currently established and growing program, the leap made by the campaign is backed already with loads of confidence and client allegiance. Risks are always, however, prevalent.
Class growth pattern changes could make it difficult for us to meet our expenses.
Our new facility could need major additional work that we cannot currently predict.
Necessary equipment may be on backorder or become delayed.
We may encounter challenges with neighbors or building management.
However, even given these risks, we still feel very confident in our resilience and ability to create something amazing even out of a challenging situation. Barring any major impediments, Gravity will be able to function in the new facility with your help, but we are confident that beyond this it will thrive and expand far beyond its current state.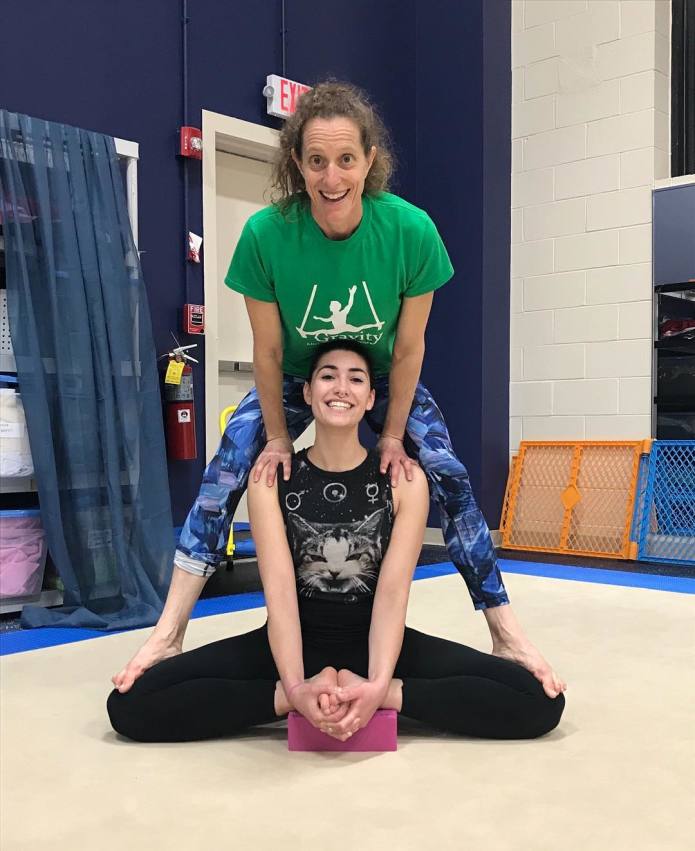 Instructor Marci and student Kylie enjoy an assisted stretch to increase range of motion in one of our Contortion classes.
Other Ways You Can Help
If you cannot contribute for one reason or another, please consider the following means in which you can still help us out!
Get the word out and make some noise about our campaign. Share this campaign through all of your social media channels!
If you are interested in volunteering your time or a special skill you may have that will help Gravity's new space become a welcoming and functional environment, please do let us know at [email protected] and we'd love to have you help!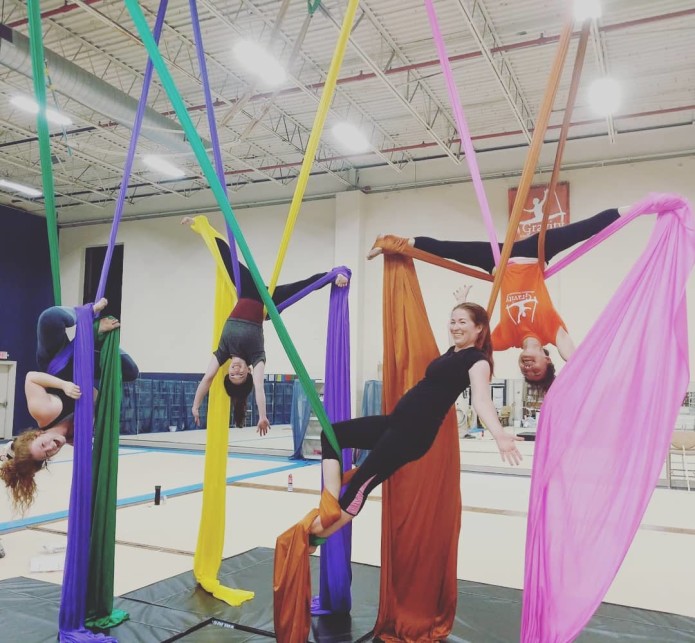 Our Tuesday nights' advanced-level aerial fabric class proudly present the product of their collaborative group end-of-class aerial challenge!
- - - - - -
Photos for Drop In Class for 2, Gravity Wall, and Gravity Grandmaster perks are courtesy of Emily Lebowitz Photography.