Story
Introduction By Lacy
For 21 years, I witnessed men leave prison not only ill-prepared to reenter society and their lives, but some were worse off than when they went into prison. Some had become better criminals, some had become more entrenched in a victim mentality, and some were angrier than ever before.
And we ask ourselves, why are our recidivism rates so high?
In short, men and women who are sentenced to prison, are often sentenced with an underlying societal assumption that going to prison is the "punishment they deserve" for crimes committed and that their experience in prison will serve as a deterrent from committing future crimes. Clearly, the statistics show that one's prison experience lacks the power to effectively change the underlying thoughts, feelings, and behaviors that motivate repeat criminal acts.
I believe the answer lies in offering self-help programs, empowerment programs, and/or programs that get to the root of human behavior, the heart of personal change, and the keys to long term transformation. I also believe that a solid reentry approach would include these types of programming both inside and outside of prison that would work together to ensure a smooth transition back into society and set a returning citizen up for success.
Following my own traumatic life experience that required a new skill set and shift in perspective, I developed an innovative, holistic, and transformational self-help program for offenders releasing from federal prison. This program was based in my belief that all people have innate value and talent, the ability to acquire a new skill set to change their lives, and the ability to shift their perspective to transform their lives.
Upon my retirement from the Federal Prison System, I reconnected with over 50% of the former participants in my program. It was clear through the conversations with these men and their families that a different approach to self-help and self-empowerment classes prior to their release had a significant positive impact on their successful reentry back into their lives and into society.
In this process of witnessing and hearing their stories of reentry and reunification, I knew that there was a powerful story to tell the world. The story is not just about those incarcerated in a physical prison, but a story that includes the realization that many people feel imprisoned in their own every day lives.
Freeing An Incarcerated World is a story and a movement to help us all to Free Ourselves From Ourselves.

Overview of the Film
Freeing An Incarcerated World is a documentary film that ignites hope, inspiration, motivation, and a profound sense of positive possibility and freedom in all who see it.
Former federal prison psychologist, Dr. Lacy Frazer, is joined by John Milisitz and several other courageous men that share their stories of personal transformation while in one of the darkest of places, prison. The viewer not only bears witness to the journey from incarceration to freedom, but is challenged to look at their own personal imprisonment in its myriad of forms.
Change is Inevitable, but Transformation is a Choice.
Every man or woman who goes to prison changes in one way or another . . . but only a few use the time to truly transform. The stories of these men and women provide real life examples of the Journey of Personal Transformation and offer an illustrative map for others to follow who have ever felt trapped, stuck, limited, or imprisoned themselves.

The Inspiration behind the Film
Dr. Lacy Frazer describes in her own words the inspiration for this film and the progress made thus far toward bringing this vision to life.
The Goals Of This Film Are To:
EDUCATE TO EMPOWER - Teach people the skills needed to move from viewing and experiencing themselves as a victim of life to viewing and experiencing themselves as the creator of their life
ILLUSTRATE TO LIBERATE - Show people a pathway to freedom by telling the stories of others who have successfully dismantled their limiting beliefs, removed the armor, embraced change within, and chose a new positive and sustainable perspective to set themselves free
ELEVATE TO INSPIRE - Raise self awareness and instill a sense of confidence that change is not only possible ~ but it is visible and accessible to anyone
ACTIVATE TO MOTIVATE - Engage and ignite the interest of audiences worldwide to consider and embrace individual and collective change at a time that our world needs hope, healing, integration, collaboration, and new solutions to age-old problems of lack, limitation, and suffering
The Impact & The Impetus for the Larger Movement
2.3 million people are confined in jails and prisons around the country (prisonpolicy.org)
The average American household carries an average debt of $137,000 (debt.org)
19.7 million people battle addiction
50% of marriages end in divorce
1 in 5 people experience mental health challenges
45% of people have a chronic disease

Millions of people suffer from feelings of lack, limitation, being trapped, or a belief that there is no way out of their situation. Many are conditioned to feel like a victim of life circumstances and are focused on surviving rather than thriving. It is these limiting beliefs that not only prevent people from creating a better life for themselves, but that keep them stuck in negative life circumstances.
This film and the ensuing Freeing An Incarcerated World movement will inspire and teach a pathway out of limiting beliefs and conditions of personal incarceration and "no way out" thinking through sharing the stories of people who have been in rock bottom places and who found a pathway out of their literal incarceration by freeing themselves from themselves to lead an empowered, happy, and meaningful life.

A 4-Tiered Plan:

This film is part of a 4-tiered plan and vision to change the culture of incarcerated thinking as well as the culture of prison reentry in our world today.
Tier 1: Produce a Documentary Film (Freeing An Incarcerated World) that illustrates the journey of personal transformation through the lives of men and women who were incarcerated, or whose lives were impacted by a loved one's incarceration, and who succeeded in transforming their lives.
Tier 2: Create an Online Membership Platform that provides guidance, inspiration, and support for those reentering society from prison in the form of online classes, video lessons, interviews, handouts, resources lists, live webinars, on-demand motivational material, etc.
Tier 3: Build a brick and mortar Reentry Academy dedicated to providing courses and programs that empower returning citizens to create a new life. These programs are profoundly transformative as they are designed to catalyze transformation from the inside out through a coaching skills model.
Tier 4: Create a Reentry Coaching Certification Program that is designed to train those who work with men and women transitioning back into society from prison, through an empowering coaching skills based model.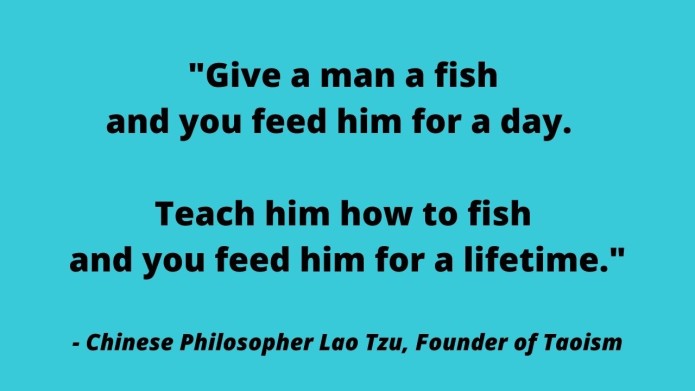 This film and this movement aims to teach people from all walks of life, inside and outside of prison, how to fish!

Our Team
It takes the talents, time, heart, and soul of so many people to bring a project and vision like this to life. We wanted to share some of the faces of a very talented, generous, and hard working team that is making this project possible!

Meet Co-Producers Lacy Frazer, Marie Mohler, and John Milisitz.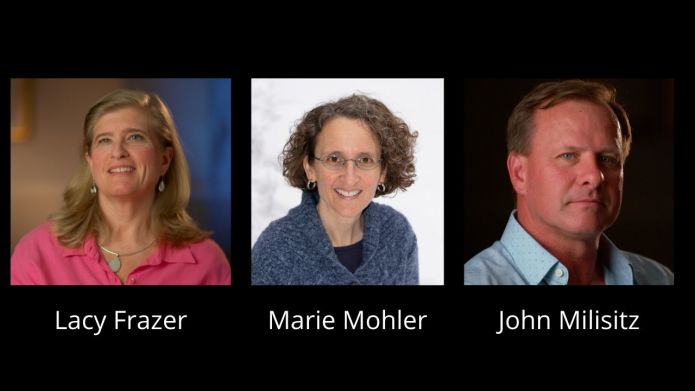 Meet some of the amazing people whose stories inform and inspire in this film, on and off camera. There are many others who are not included in the picture below, but some of whom you will meet along the way in this campaign.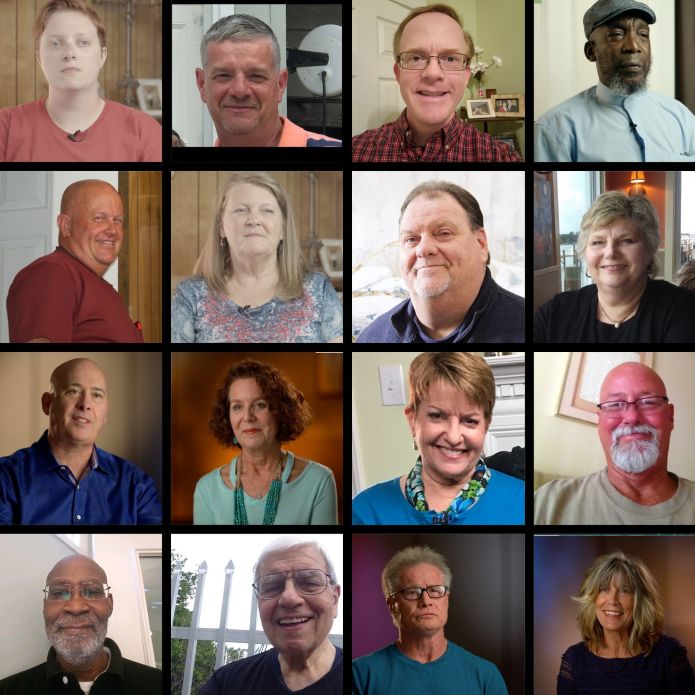 What We Need
We need $150,000 to complete this film so that we can show it, share it, and teach it to people inside and outside of literal and figurative prisons. We have outlined an estimated budget below.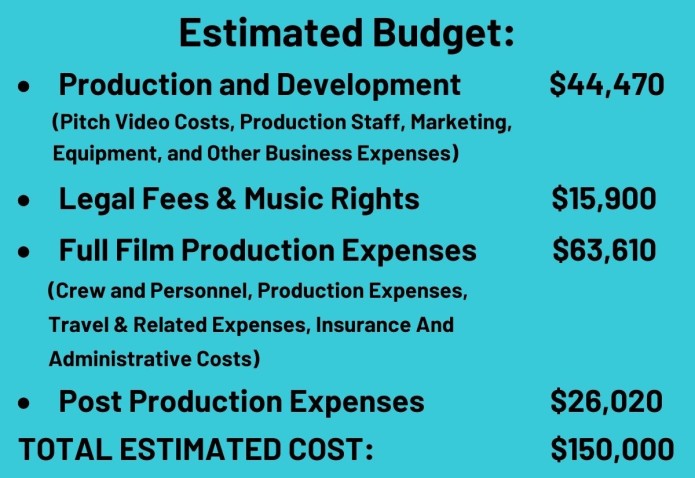 Please give today!
No financial gift is too small. And every gift is appreciated.

Our Gratitude Gifts to You (aka The Perks)
The following are the gifts YOU GET for your generous giving to this project.
(See more detailed descriptions of the perk packages on the right side of your screen.)
Every dollar counts and makes a powerful positive impact in the creation of this film! We appreciate every donation and we send a heartfelt thank you to you for your generous giving.
Our Perk Packages build on each other . . . the more you give, the more you receive!
$0-$24 Our Heartfelt Gratitude
$25-$49 FB Shout Out + Thank You Note
$50-$74 Behind the Scenes Slideshow
$75-$99 Film Transcript
$100-$249 World Peace Coins
$250-$499 Digital Download - Film
$500-$999 Video Call with Director + 2-3 Cast Members
$1,000-$4,999 Two Tickets to Film Screening & Panel Discussion in Chapel Hill, NC
$5,000-$9,999 Producer Credit
$10,000+ Executive Producer Credit
*Be on the lookout for new perks offered throughout the campaign!
Please make note of the following guidelines related to the Perks:
Several of our perks will only be available after the film is completed (the Transcript, Digital Download, Film Screening, etc.). We estimate completion to be somewhere between October 2020 and January 2021. No worries ~ we will make sure you receive your perks!

Film Screening & Panel Discussion will take place in Chapel Hill, NC following the completion of the film. *Any travel expenses related to this event are not included in the perk.

Other Ways You Can Help
Other ways you can help us and support this project in addition to financial contributions include:
Post this campaign on social media!

Share this campaign and our project with others whose lives have been impacted by incarceration!

Share this campaign and our project with those who work in the field of corrections along with those who work in the field of reentry!

Send emails to your family and friends to let them know about this important film and powerful story that is being told!

Share every one of our emails to as many people as you can!

Thank you for holding this vision with us and for your time, resources, and good energy that is helping to bring this full documentary into form! Together ~ we are manifesting big change, positive possibilities, and inspired action for a better world for us all.

Be the change, live the change,
and share the change!