Story
The first medical-grade air purifier, which can decompose the polluted air not only absorbing it. ✅
Removes Smell & Odor
✅ Cleans Out Pollen & Allergen
✅ Filters Out Smoke & PM 2.5
✅ Purifies by removing VOCs
✅ Core Filter Can Last up to 12 years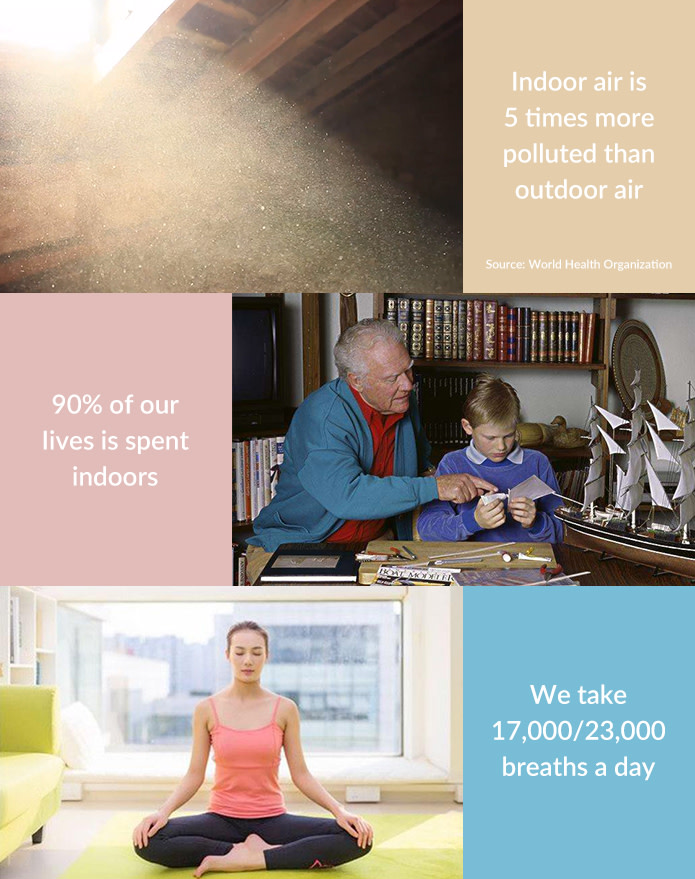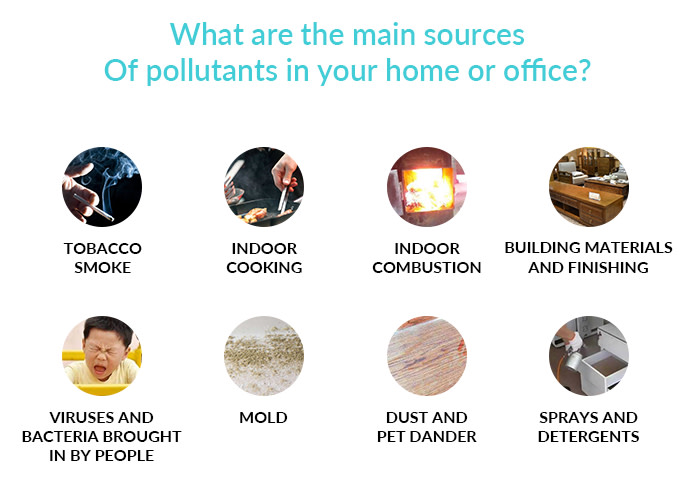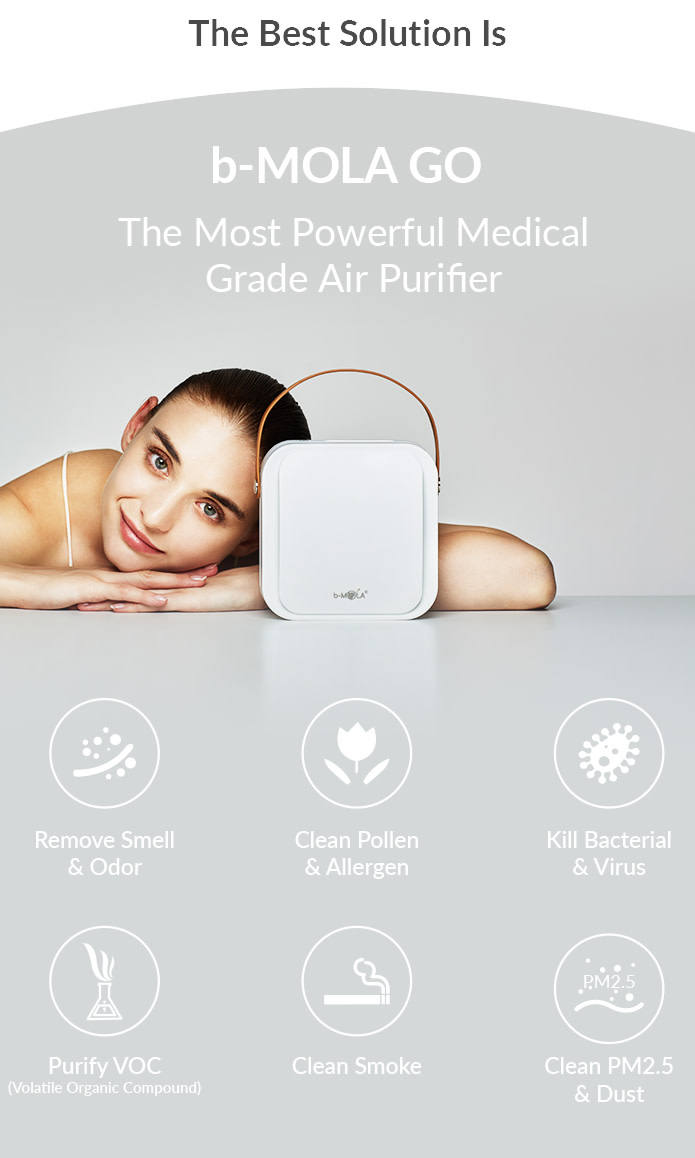 Powerful and portable, the b-Mola GO is the first medical-grade air purifier designed for consumer usage. Unlike traditional air purifiers, b-Mola GO utilizes the most effective NCCO patented technology (Nano Confined Catalytic Oxidation). NCCO is widely used in many hospitals and public areas to provide you with the best quality air.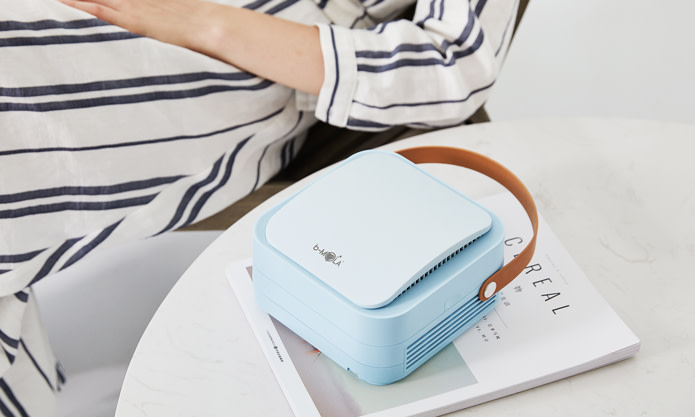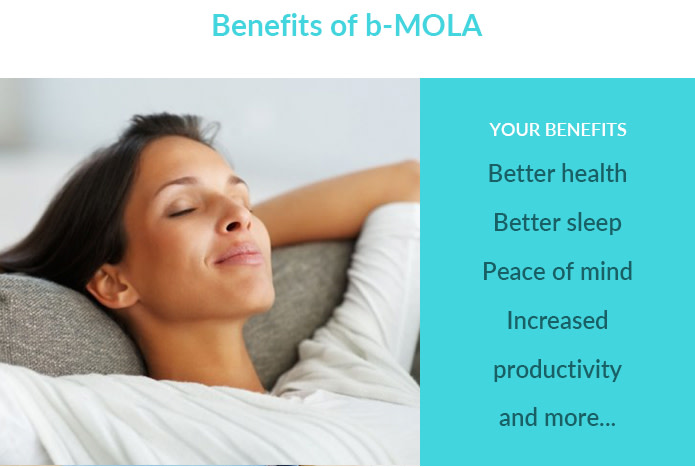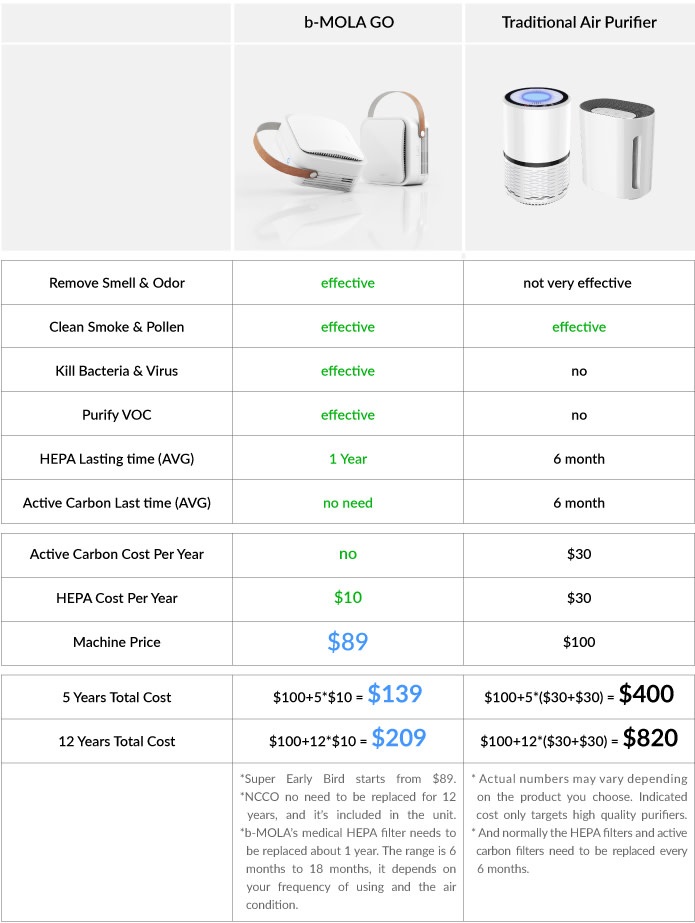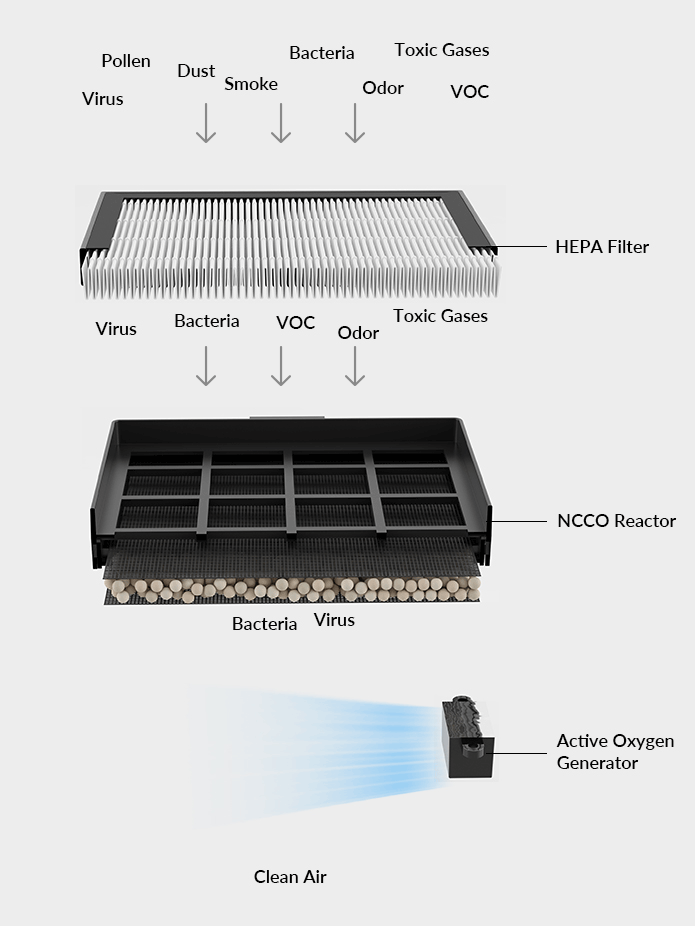 b-MOLA GO has 3 filtering systems: HEPA filter, Active Oxygen Generator, and NCCO filter. The system can clean 99% of any harmful and unhealthy elements in the air. This is the same structure used in hospital air purification systems.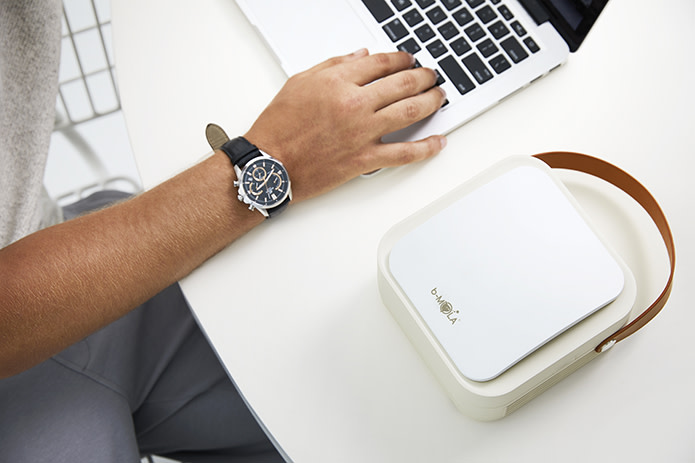 HEPA can clean solid pollution like dust, smoke, mites, and pollen while the Active Oxygen Generator kills bacteria and virus. Lastly, the NCCO filter catalyzes and decomposes of any odor, harmful gases, and VOC.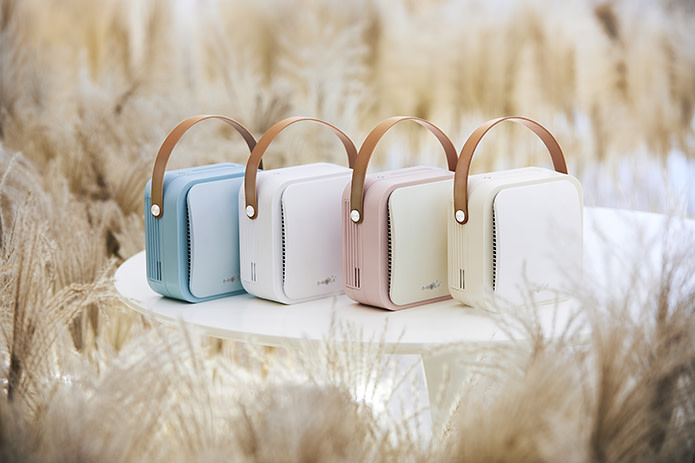 And the NCCO Reactor filter can last 12 years.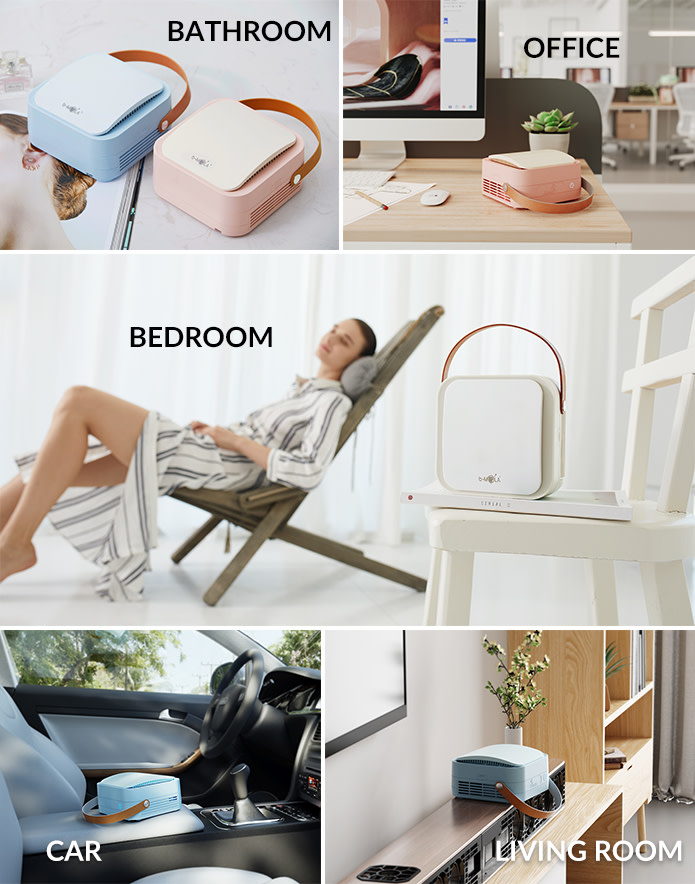 b-MOLA GO's portable and internal battery design make it extremely mobile and convenient. Put it in your living room, bedroom, take it to your office, or even leave it in your car to have fresh air whenever you are.

The Smoke Purification Testing
We used PH smoke pellets to generate smoke. One of these small pellets can last over 40 seconds; making the smoke hard to dissipate. b-MOLA can clean the smoke instantly, which proves it has the capability to clean any solid pollutants such as smoke, dust, pollen, mites, or PM2.5.
The VOC Purification Test
We used acetone[1] to test the ability to purify VOC. After we dropped the acetone in the beaker, it started to volatilize in the box and the VOC concentration indicated a drastic increase. In the end, the data was stable around 170 ppm[2]. When b-MOLA was turned on, almost all the acetone in the box was purified; showcasing the capability of b-MOLA against VOC and other toxic gases.
[1]Acetone (propanone) is the organic compound with the formula (CH3)2CO. It is a colorless, volatile, flammable liquid that is the simplest and smallest ketone.
[2]ppm and ppb are the concentration units. ppm = parts per million. ppb= parts per billion. 1 ppm = 1000 ppb.
The Sterilization Test
We used two Petri dishes for this testing. One of the Petri dishes was put in the open area while the other was put in a space with the b-MOLA GO. Then we turned on b-MOLA GO and timed what happened.
3 days (72 hours) later, the petri dish in the open area generated visible bacterial colonies, which means an exponential bacterial growth occurred. The petri dish with the b-MOLA GO, however, looked the same as before. It proves b-MOLA GO is effective in killing bacterias and viruses.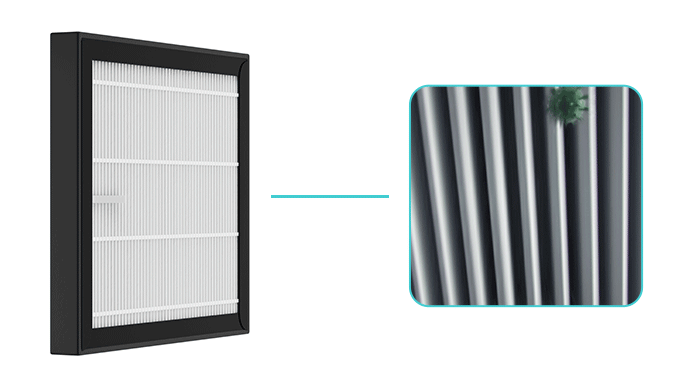 To eliminate the solid pollutants in the air such as pollen, dust, and smoke, b-MOLA employs a Medical Grade HEPA filter. The HEPA filter is a highly efficient shield to trap the particles in and only needs to be replaced around once a year.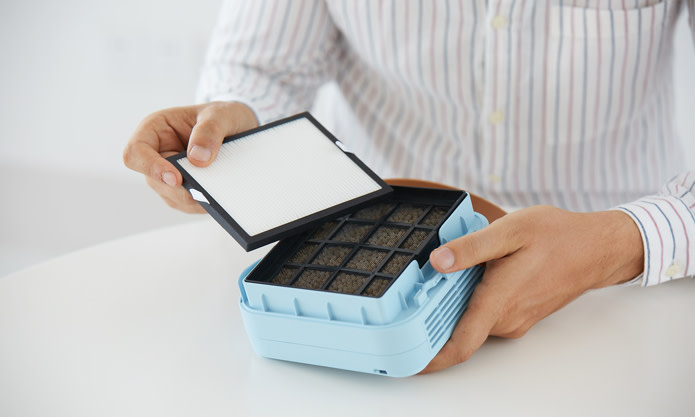 Put a b-MOLA in any room or car and never worry about allergy season again. With a single HEPA filter, it can capture any allergenic pollen, PM2.5, and smoke for 6 months all the way up to 18 months; the average is 12 months. Just place it in any room or space and let b-Mola take care of the rest.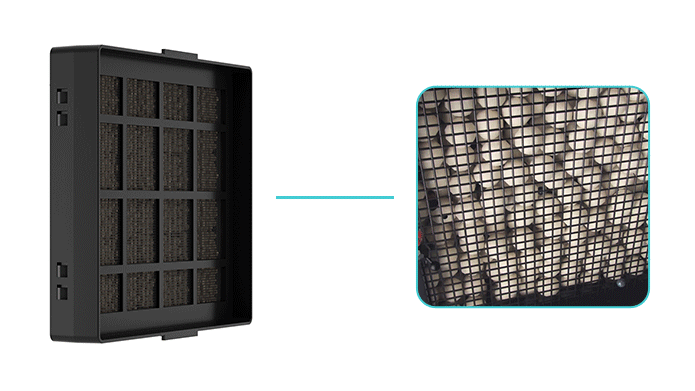 NCCO is short for Nano Confined Catalytic Oxidation. Instead of absorbing the chemical pollutants like traditional air purification technology, NCCO sanitizes up to 99.97% of harmful air and smells. Instantly destroy any room odor and air pollutants with b-MOLA with its patented NCCO technology.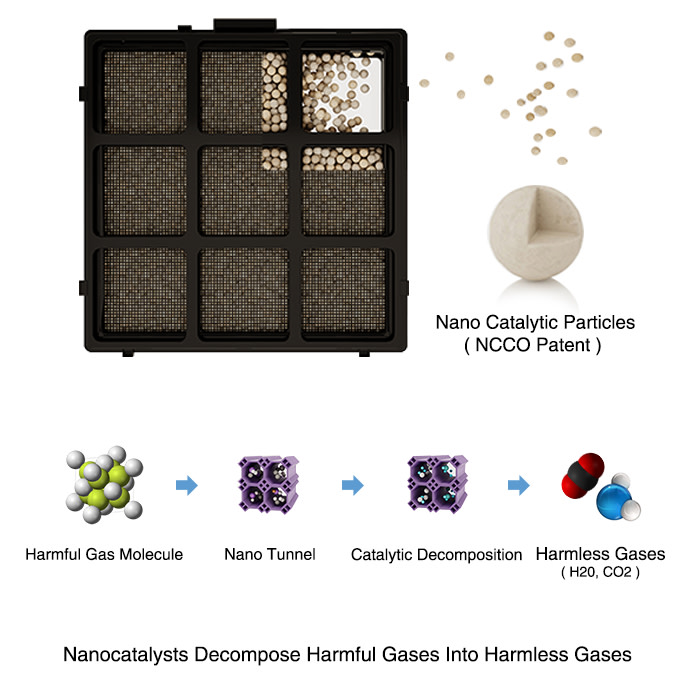 Conventional air purifiers, such as active charcoal, can only absorb but do not decompose of the pollutants. As a result, it can only last about 3 months. Once the filter is saturated, the absorbed pollutants will be released back into the air and cause "secondary pollution," which can be very harmful to your health. In contrast, NCCO decomposes pollutants and can last 12 years without being replaced.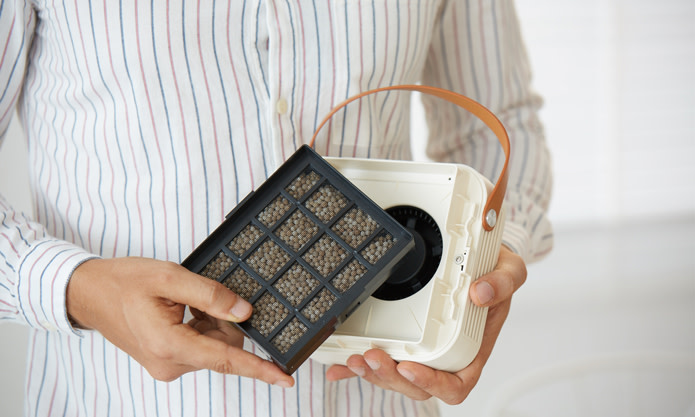 NCCO is so effective and cost saving, it is used in many hospitals, banks, metro stations, and other public areas.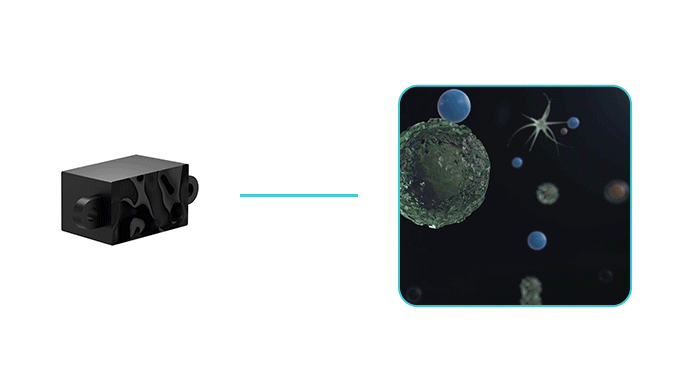 The first air purifier equipped with an active oxygen generator, the b-MOLA Go can kill 99.7% of all bacterias and viruses by adsorbing it into the HEPA filter. Unlike traditional UV-C and OZONE air purifier, active oxygen is safe and can be decomposed by NCCO filters; causing no harm to humans.
This technology has been used to protect people from infections in hospitals.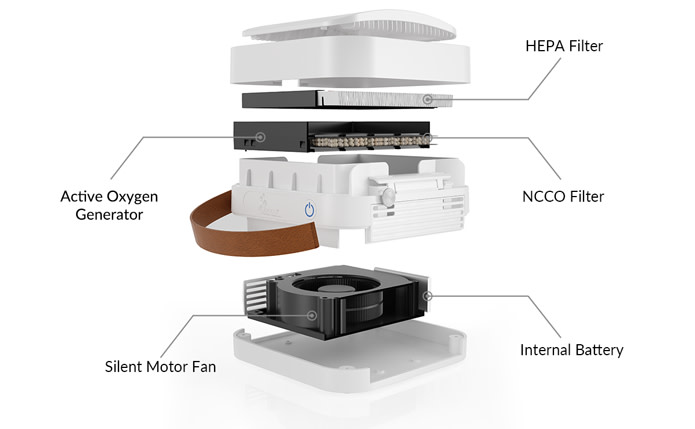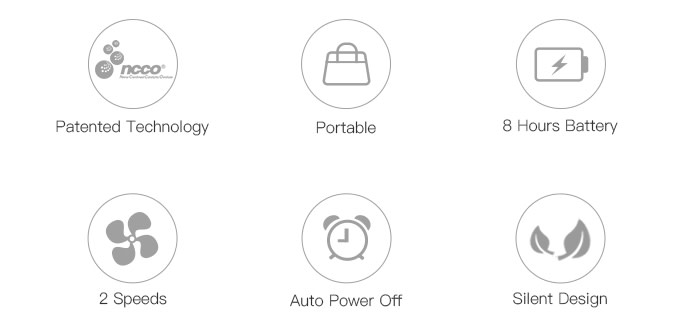 b-Mola GO is designed to be compact and mobile. It's lightweight, leather carrying handle, and a robust internal battery that can last up to 8 hours of continuous use. When it does run out of power, just charge it via outlet or with a portable power bank when you're on-the-go.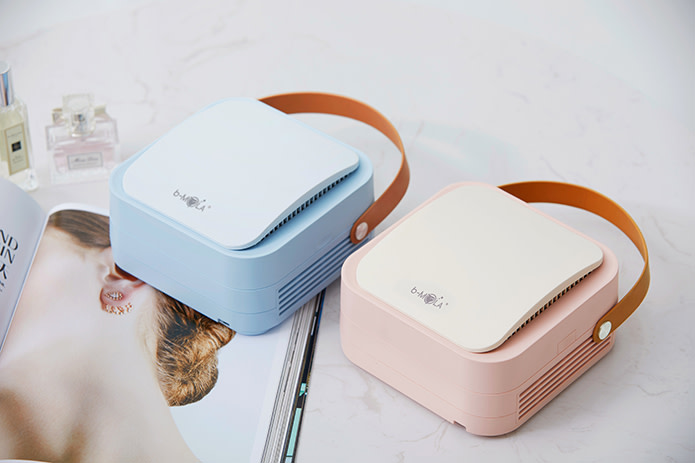 For your daily and long-term use, we built a silent fan in b-MOLA GO. The noise in silent mode is only 34 dB, get uninterrupted sleep while it runs in the background. It even has an auto power off setting to save power and make it eco-friendly.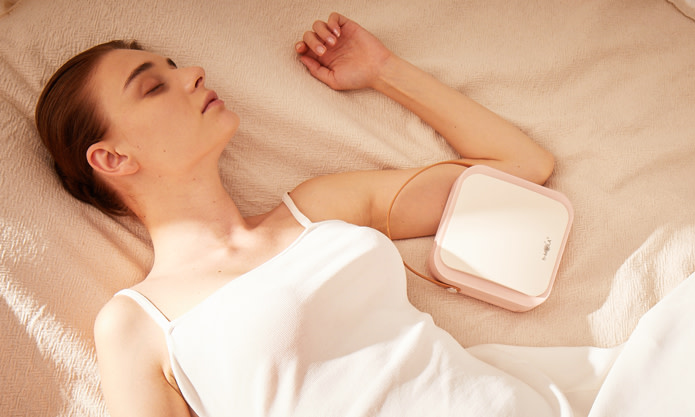 The Production Status

We had finished the final trial production in the factory. Now it's ready for the mass production. We will start to produce the first batch of products in the early of this month. We plan to produce all the units in this month and ship it out at Dec.
Risks And Challenges
Before launching our project on Indiegogo, we have already conducted two pilot productions as well as send our products to friends and professional photographers for testing and reviewing. We have improved the deficiency of the product design based on their feedback and suggestions.
Apart from that, we've also built out a specific plan for our manufacturing process. So we have confidence in shipping the b-MOLA GO on time. If there are any changes due to materials, suppliers, or unforeseen events, we'll ensure that we keep each of our supporters fully updated. Now, we had finalized the trial production and are ready to start the mass production, but we need your support. Your support not only gives us the ability to start mass production and build the best products we can imagine but allows us to continue to work on new ideas.