Story
Fastest way to train your brain for emotional intelligence and improve social-emotional performance.
Today's children, parents, and leaders don't have access to the social and emotional education they need.
50% of children, parents, and leaders around the world are struggling in social-emotional crisis, preventing them from achieving full performance potential.We want to help people move from crisis to performance. According to Talent Smart,90% of top performers have high EQ and make on average $29,000 more per year in annual salary. We consider this stat a result of social-emotional performance. Here are some other benefits.
For two years, we've been testing our games around the world, in multiple languages, and we're ready for a global launch! We're using Indiegogo to raise enough money to print in bulk quantities, with manufacturers, to make our games accessible for as many families as possible.o help children, families, and leaders play our games, we provide live online sessions with certified tutors and coaches. And we guarantee the results. This video explains more.
How You Can Support and the Perks
100% of our funding is going towards inventory and fulfillment costs (Indiegogo does take 5% plus there are payment processor fees). All research, development, and prototyping is complete and we've been selling in smaller quantities for the past two years. Again, achieving our funding goals will help us with mass manufacturing and reduce the cost of all our products, making them accessible to everybody.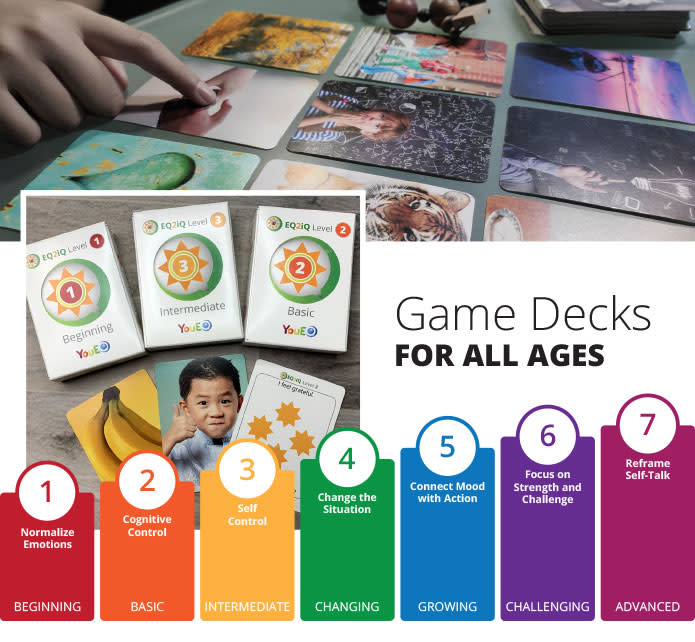 Tell us the age of your child and we'll send you the appropriate game level deck.
54 poker-size cards in each deck.
Contains all instructions and an online mini-course to learn how to play.
Available in English, Spanish and Mandarin Chinese.

Risks & Challenges

If we don't reach the entire funding goal, we're still going ahead. We'll print fewer quantities and will plan to print more inventory on the next run.

The risk is we don't raise enough funds to print enough quantities of our games and reduce the price enough to advance our cause. As said, we'll print no matter how much we raise, but then we might have to go back to smaller and more expensive quantities for the next batch of games.

The good news is we've been in business for two years already. We have production experience. So, we're confident we can deliver. But here's our plan in detail.

Best Case: Funding goal is reached and we use our mass printing partners.
Mid Range: We have identified North American printers that cost a little more but will do smaller runs.
Worst Case: We use our current printer that allows smaller runs but at the higher costs we've been paying.

Other Ways To Get Involved

If you're not in a position to contribute, that's OK. There are other ways to help us out. Please spread the word. Every share, mention, and referral helps.

You can also follow us on social media for free videos, articles, and education on emotional intelligence and parenting. Go be the joy and transformation we all want to see in the world!

Thank you from Team YouEQ!