Story
Marty makes learning about robotics and coding fun and engaging. Build your Marty, program in languages from simple Scratch to Python and beyond, learn about sensors, and expand your robot. We've got tutorials and activities for all skill levels.



Movement: Walking, Dancing, Turning, Kicking. Marty's unique leg design makes a swagger like no other Robot
Interactive: With an array of sensors including position, tilt, proximity & force, and a built in speaker, Marty can talk and play sounds, feel, and even shake hands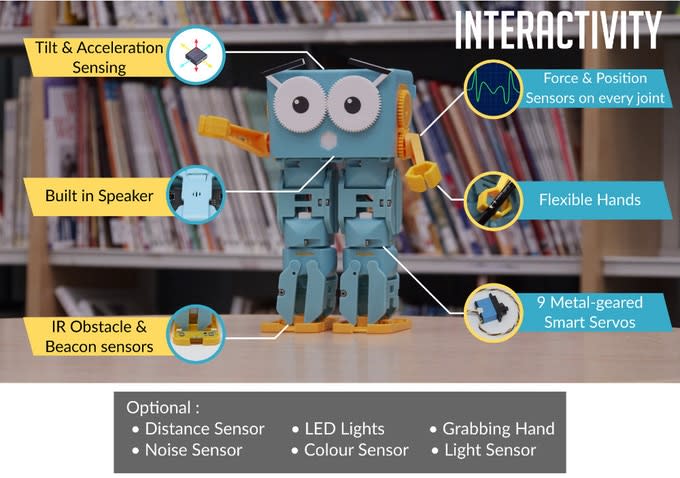 Programmable: Program Marty with Scratch, Python, Javascript, and even up to professional level with a Raspberry Pi and the ROS Robot Operating System- with a camera your Marty could play football autonomously!Expandable: Marty likes learning new things. Add extra sensors, grabbing hands, a Raspberry Pi computer, or 3D print your own custom parts!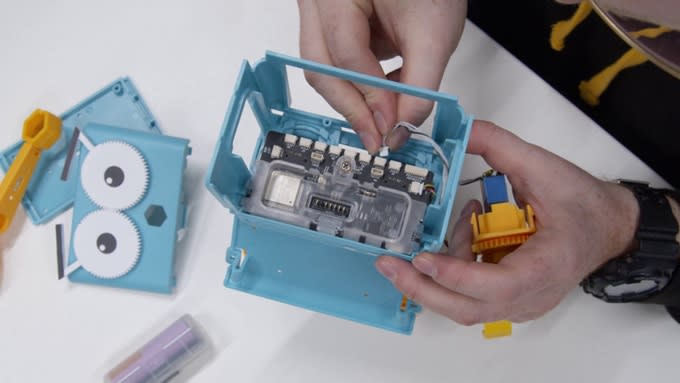 Build or pre-assembled: Marty comes in a kit for you to construct, or pre-assembled so you can start coding straight away

No other robot in the world walks like Marty. The unique three motor and spring leg design makes a walking, dancing, sidestepping, turning, kicking robot that is super energy efficient and easy to use. With moving arms and changing expressions to complement this swagger, Marty is a robot with characte

Available for iOS and Android. Use it to quickly set up your Marty and get instant in app satisfaction moving your Marty using the built in controller. The app can also be used to change Marty's WiFi settings and let you give your Marty its own unique name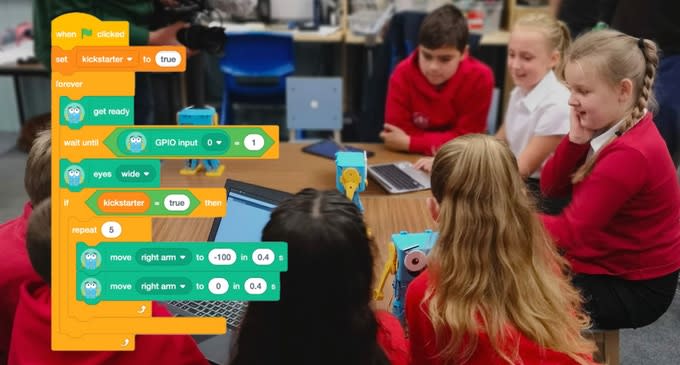 Block-based language Scratch is easy to use but powerful, giving the perfect introduction to coding. Drag, drop and click instruction blocks together to build a program. Starting with simple sequences of instructions, you can create complex programs incorporating constructs like loops and functions to bring Marty to life. Make Marty walk, dance and wiggle, make your own movements, read sensors to add interactivity, and more!
Scratch runs in a web browser and works on almost any tablet or laptop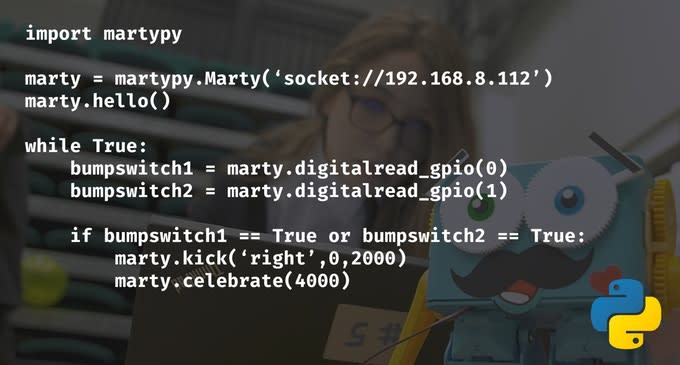 Python is a powerful and popular programming language that's also a fantastic and beginner-friendly first step-away from block-based coding. Use Marty and our online resources to help bridge the gap between block-based and text coding languages, with Marty as a familiar helper along the way.

Take your learning with Marty even further and challenge yourself to build a fully autonomous robot by adding in a Raspberry Pi and a camera. This gives Marty vision and lets you make your robot football completely by itself. ROS is a real robotics tool used in academia and industry, on some of the most advanced robots in the world.

Open APIs and even more coding languages! Marty is designed to be built on. We've also got interfaces for Javascript and C++, and open documentation to control Marty over Sockets, Websockets, serial & i2c - a fantastic platform for your projects.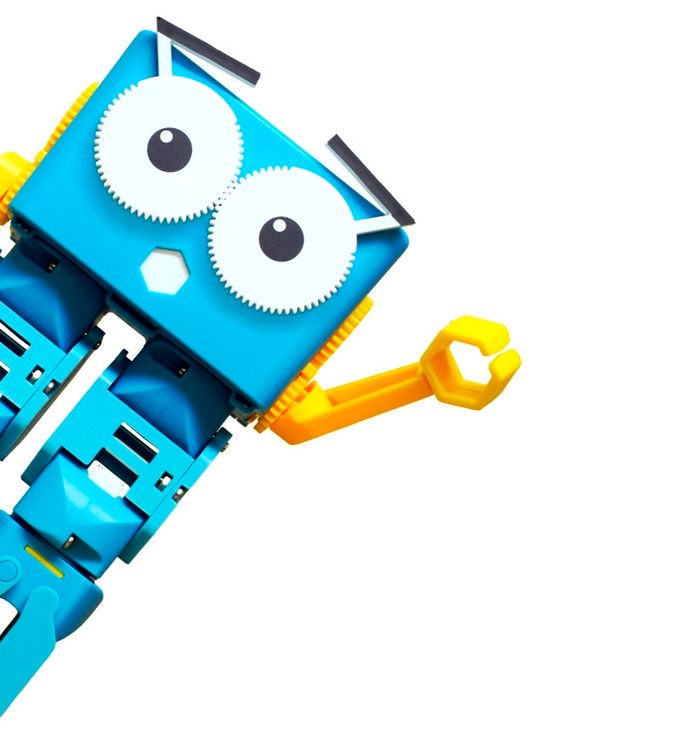 Marty has a lot of tech inside! Click here to view the full tech specs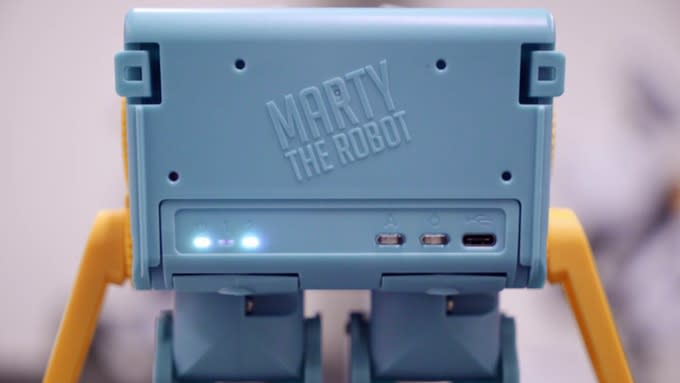 Every real robot has a whole bunch of sensors, and Marty has loads. Built in sensors include:
Position sensing on each of the 9 motors
Force sensing on each motors
Acceleration & tilt sensing
Infra-Red obstacle sensor
Infra-Red detector for beacons or other Martys
Ground contact sensors - program Marty to stop at an edge
Marty has loads of expansion ports for adding extra sensors, including:
Colour sensors
Noise sensors
Light sensors
Temperature
and more!
And of course, you can add a Raspberry Pi and camera and microphone, to give your Marty vision so you can write programs for tracking footballs, QR codes and faces automatically.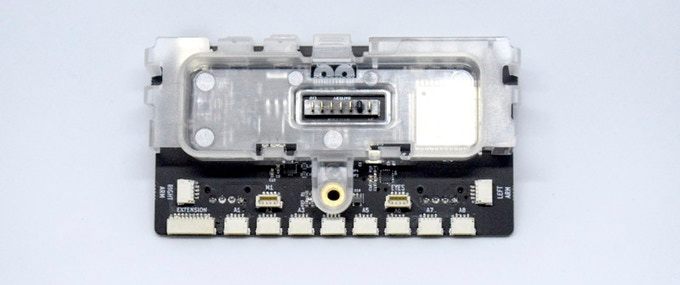 This the brain and power management system of Marty. It's got WiFi, Bluetooth and USB, an accelerometer, an amplifier and speaker, a powerful microcontroller that sends signals to Marty's motors and retrieves data from the sensors. Three full colour status LEDs report on Marty's status - including battery level and connectivity. The battery clips snugly in to the top.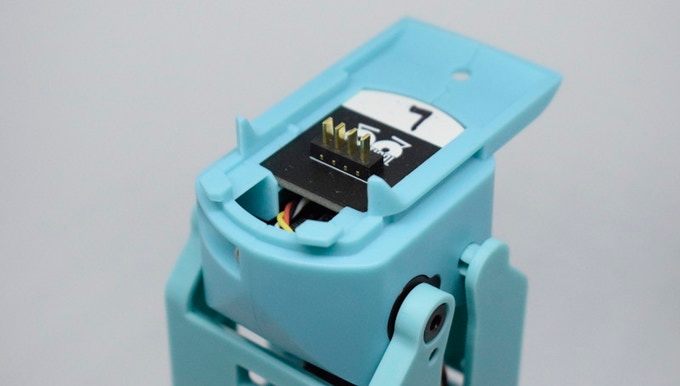 Marty's legs connect to the bottom of the board, the arms and eyes to the top, and there are a whole bunch of expansion ports which can each take additional sensors or motors. An extension port with power, serial and i2c lets you plug in more complex expansions like a Raspberry Pi or Arduino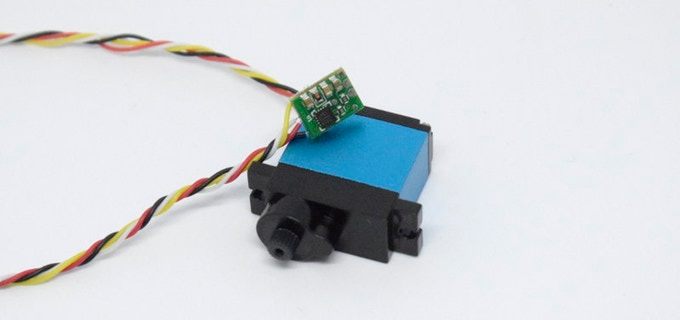 We've brought the servo motor into the 21st century, by redesigning the electronics and software inside. The motors now all work on a bus, which means you can plug in as many extra motors as you want, and one microcontroller can control hundreds of servos!
Built in force sensing and position feedback mean the servo motors relay back information to the central controller about Marty's joints. This also means you can use the motors as sensors - Marty can react as a joint is moved!
The motors use all metal gears, which makes them really tough and powerful. Every Marty has 9 smart servos, including four super high-torque ones in the legs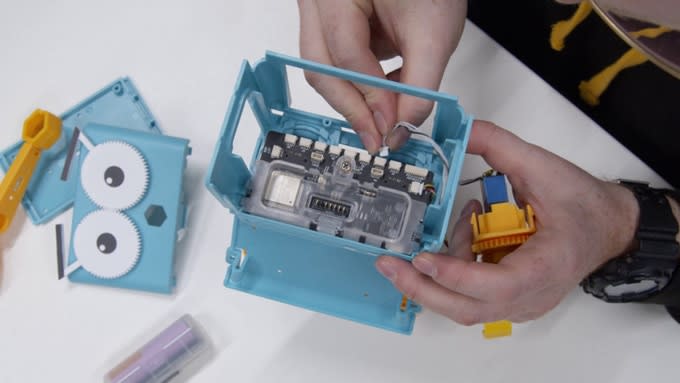 You can expand Marty in many ways - new sensors, new parts or even by 3D printing your own creations! Marty's expansion ports allow you to connect add-ons such as sensors, LED strips or servos to your Marty! We'll be releasing new add-ons and parts regularly.




The Disco Marty add-on pack is available now! Disco Marty is our all dancing, full of energy add on that gives your Marty a full array of LED lights. You can use these components to show everyone your funky moves on the dancefloor!
Includes 6 disco Marty add on boards (2x feet, 2x arms, 2x eyes) with more than 100 individually controllable full colour LEDs!

Marty has been designed for modularity, so adding or customizing is easy. 3D printable design files will be available for advanced users to customize Marty completely
Our 3D printable construction kit top-plate will be available at launch - so you can literally build on your Marty.
The included Raspberry Pi top-plate makes it super quick to upgrade your Marty with a whole computer and camera
A breadboard top plate lets you experiment with electronics.
Swap the face plate for one with LED eyes, or individually controllable eyebrows
Keep an eye out for future releases such as a LCD screen face for Marty!



The grabbing hand add-on gives your Marty an extra motor to hold (and let go) of objects! All controllable from your favourite coding language, and with force and position feedback, so Marty can squeeze as much or as little as you want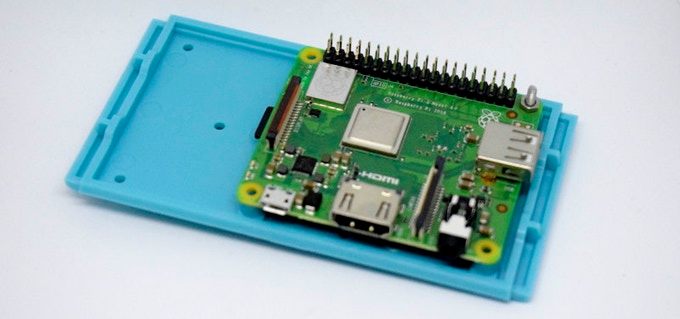 Marty's standard included top-plate is designed to fit a Raspberry Pi computer, so that taking your Marty to the next level is super easy! A Raspberry Pi is not required for basic use with Scratch or Python - but if you want Marty to do onboard computer vision, it's the next step.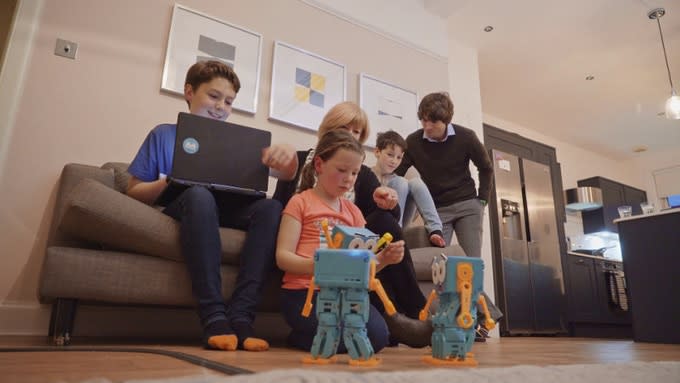 Learning happens everywhere, and with Marty you can make learning fun and exciting at home. Connect Marty to your WiFi network, and then program from tablets or laptops.
We've seen users build mazes, make a machine to let Marty feed their dog, and make costumes for Marty. What would you do with Marty?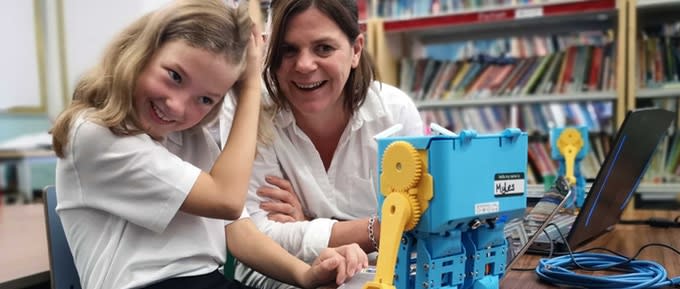 Students of all ages: Marty makes learning about robotics, coding, and engineering easy and fun. Learn while you bring your Marty to life!
Educators: A STEM Class in a Box, with all the tools you need to get up and running.
Built with educators in mind, our freely-available resources help you create a hands-on environment where students can develop their problem-solving skills and creative thinking, while learning important concepts across the curriculum - from computational thinking, to robotics, numeracy, physics, and more!