imagiCharm is a colorful accessory designed for girls to customize directly from their mobile phones using programming.
While imagiCharm has been designed for girls between 12 and 16 years, it can be enjoyed by anyone who wants to explore their creativity through programming and join our revolution of girls shaping the future with technology.
PARENTS: Coding as a way to continue creating
Sara is an awesome mom from Stockholm who encouraged her daughter Linn to attend our beginner coding workshop where we tested our imagiCharm prototypes and app curriculum. Now a big fan and reoccurring workshop attendee, Linn is learning how to become a coding pro and loves programming fun projects with her friends.
EDUCATORS: Bridging the gap between education and technology
Anurag works with bridging the gap between education and technology at Stockholm International School where he helps to design and facilitate technology initiatives within the curriculums. His students participated in a coding workshop with the imagiLabs team and were able to explore the imagiLabs app and imagiCharm during the prototype phase. Now becoming a reality, imagiCharm is a great product for all students to tangibly see the results of their code and express themselves creatively.
So many colors. imagiCharm has 64 LED lights that can be programmed to light up in any color. It can take on new designs and shapes every day – even multiple times a day.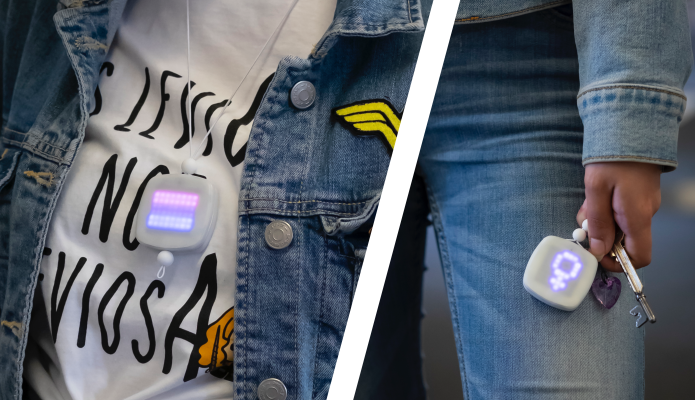 So many ways to attach it. The imagiCharm is white to ensure a perfect contrast with any pattern or shape you may program. Its attachment comes in different colors and you can make your own attachments, too.
So many different ways to wear it. Girls can wear imagiCharm on their backpacks, tote bags, purses or jackets. They can hang it on their keys, wear as a necklace, headband, and even earrings. It's an all-in-one accessory that's different every day.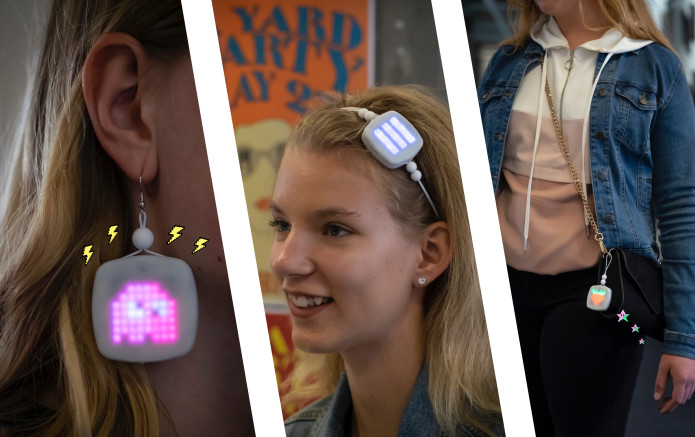 Even your pet will love it.
imagiCharm uses Bluetooth so you can program it at home or on the go. No cables or previous programming experience are needed. The best part is that you do it all from your phone.
The imagiLabs app comes with basic tutorials to help you turn individual LED lights on, change their color, and even turn on multiple lights at the same time using loops. It's a bit like learning how to put Lego blocks together. Once you know how they work, you're ready to get creative with your own 8x8 grid.
Anything is possible. If you can dream it, you can code it – because the opportunities with code are endless.
Match your imagiCharm with your outfit.
Code an emoji to express how you feel.
Program an animation.
Or even a game.
Everything you need to become part of the creative coding revolution!
The imagiCharm comes with:
an attachment
a charging cable
an instructions card
All in a box full of love from the imagiLabs team.
The learning content:
Brain teasers, games, and coding challenges.
Individualised support from our team and the community if you get stuck.
imagiCharm device compatibility
The imagiCharm utilizes the imagiLabs application. The app works on mobile phones and tablets that run on the iOS or Android platform. The application is not compatible with Windows, Chrome or Kindle.
Specific operating systems and device requirements are as follows:
iOS
iOS devices must have OS version 11.0 or higher. In other words, you must have one of the following compatible devices:
iPhone 5s+
iPad Pro
iPad Air
iPad 5th generation+
iPad mini 2+
You can find a full list of compatible iPhone and iPad devices here and read more about how to identify your iPhone or iPad model.
Android
Android devices, while having OS 5.0 or higher, must have all of the following hardware in order to use the imagiLabs application:
Bluetooth LE (4.0)
Distinct multi-touch touchscreen
WiFi capabilities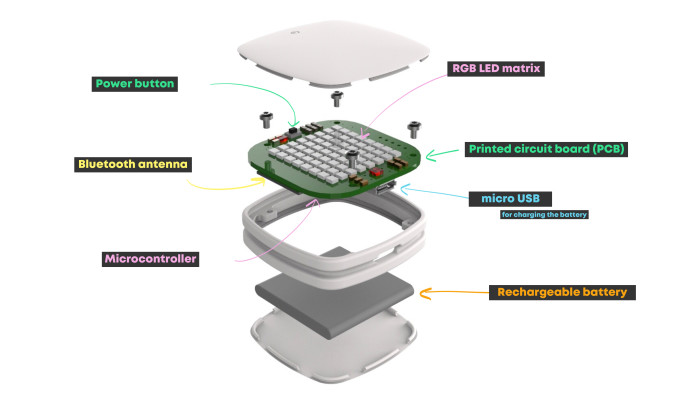 We adopted a user-centered approach right from the start. imagiCharm started as a participatory design research project at KTH Royal Institute of Technology in Stockholm, Sweden. We wanted to work together with girls to co-create the ultimate gadgets that they would want to use to learn programming.
We learned four key things about teenage girls:
They love self-expression and customization
Tangible experiences are important to them
Community is everything
They prefer phones over computers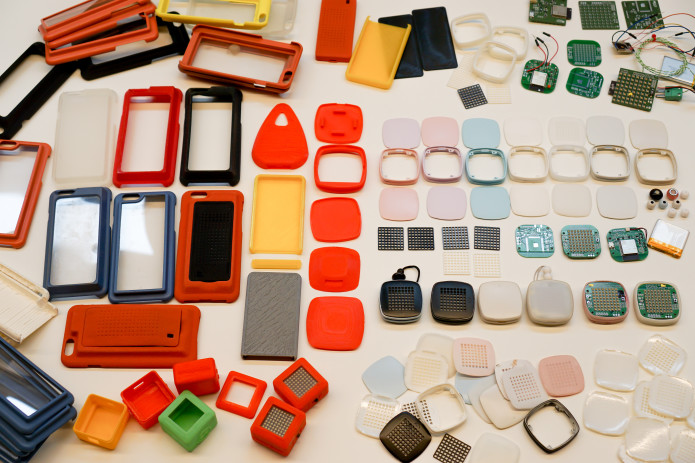 We created prototypes for the imagiCharm and the app and in the process tested them with more than 200 girls. We used the results to further develop and create our final version of the imagiCharm.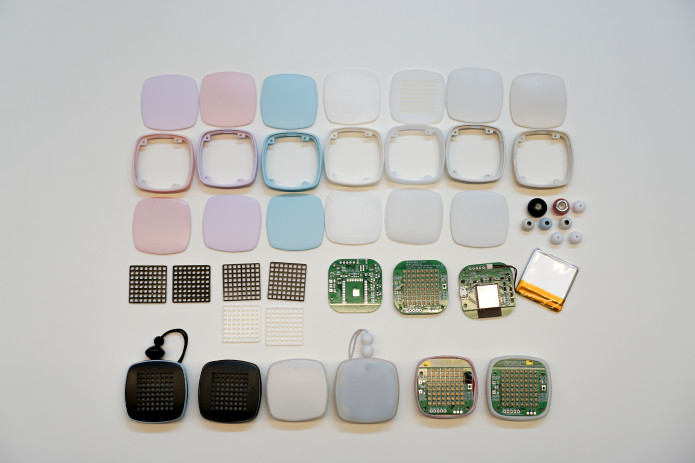 If we want to solve this problem then we have to go to its root. There are tools for kids and for adults, but nothing just for teenage girls. Teenage girls want something relevant to their daily lives.
We are here to create that.
Call it the new tamagotchi or Lego of the "Snapchat generation", the imagiCharm will change how society thinks about girls and women in tech. We are creating more than just an accessory. We are creating a movement of girls who want to shape the future of tech and change the world
Expressing yourself creatively through code
Previously a primary school teacher, Paul Landers is now Head of Strategic Partnerships for Connect to Learn at Ericsson. Connect to Learn is a public-private partnership with the purpose to increase access to quality education, especially for girls, through life skills programs and the integration of technology tools and digital learning resources in schools. Our collaboration with Ericsson began during our incubation period at Ericsson ONE where we identified the opportunity for us to collaborate through our Creative Coding Module which is set to be offered by Ericsson's Connect to learn program globally in 2020.
Currency, Taxes, and Customs
Conversions to USD shown for pledges, goals, stretch goals are approximate and not final. Please be aware that different conversion rates may apply based on your bank or credit card company.
The rewards will be shipped from Sweden. For the EU and the US, VAT and sales tax are included in the rewards. EU customers will not be charged any import taxes. For all other countries, taxes and duties may apply.
Our promise
We want to empower girls with the skills they need to create the technology of the future. Female-created tech has powerful potential to create a more inclusive future. There are so many ways to bring technology into the lives of teenage girls and we have many ideas for future products and partnerships, so imagiCharm is the first of many.
We promise to teach you Python and spark your interest in technology by opening your eyes to all of technology's opportunities. We promise to inspire you with strong female role models in tech. Finally, we promise you that we will not stop until we create a future coded by all.
A HUGE THANK YOU FROM ALL OF US! We are so excited for imagiCharm to help girls shape the future with tech!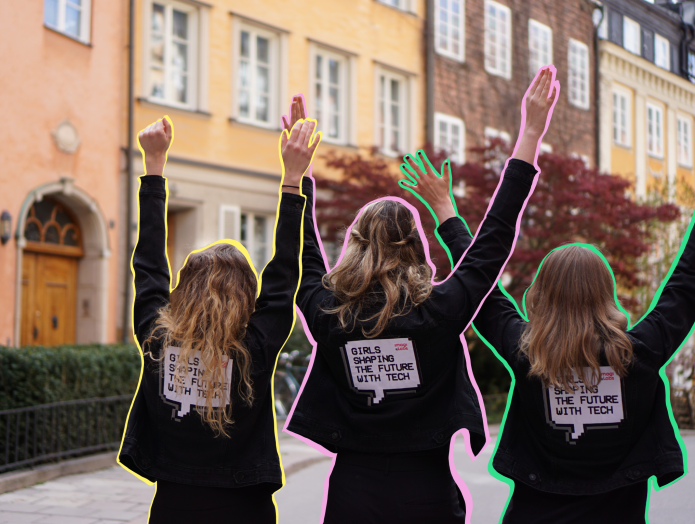 Risks and challenges
There are always risks that could delay the delivery of imagiCharm. However, we will do our absolute best to deliver imagiCharm on schedule and on spec.
We have carefully thought about the potential risks and accounted for them in our timeline, however, unexpected delays might arise. We will prioritise shipping quality product and not rush production and do everything in our power to stay on track.
If any delays or unexpected circumstances incur, you will be the first to know! This project is coming to life thanks to you and we want you to be part of every step of the process. So expect updates from us when things go well and when they do not. Meanwhile, our team will get to work and bring imagiCharm to life!