Story
Hello, this is Klara Ravat, the co-founder and director of the Smell Lab Studio in Berlin!
About Smell Lab, Berlin:
The Smell Lab, Berlin, is a platform for olfactory art and inter-disciplinary practices that relate to scent as a medium for expression and communication, Smell Lab's main mission is to co-produce, host, educate, innovate and support artistic practices that involve the sense of smell and olfaction.
Why am I raising funds?
Come join me, let's open the doors of the new Smell Open Lab! My unique and sweet Smell Lab studio is located in the beautiful neighborhood of Prenzlauer Berg, in Berlin, Germany. I am raising funds to cover my move to this well-located new public-oriented Smell Lab studio and for the renovation costs to make an open, safe, welcoming and beautiful creative space where any of you can come and make their own scent work making use of our scent organ and premises.
Join the Smell Lab tribe!
Wait, but what's going on at the Smell Lab?
1. Smell Open Lab:
Berlin is a major expression of freedom and creativity in Europe. Many artists and creative professionals move to the crazy metropolis every year. But we all know, Berlin is changing and the rental prices are rising, making it difficult for creative entrepreneurs to settle in the city and expand.
The Smell Open Lab wants to create a safe and relaxed space for creative-minded humans who want to create with scent, share inspirations and ideas and mingle. With your help, we can bring all these people together and create a warm place to foster creativity.
2. Help our library of scents to grow:
The Smell Lab has already a collection of about 120 perfumery ingredients (essential oils, aroma molecules, and fragrance oils) at your disposition. However, we need a wider variety of ingredients, I want to provide you with the largest possible choice you've ever imagined! In order to achieve this, we need to source and increase our collection.
3. Expanding our community
Shout out loud! Help us covering some marketing & advertising costs. In a digital era, we need to spread our small tentacles online, I want to reach more people and make our small family grow!
4. Growing the team
I am looking for a magical superhero who can help us grow and support the Smell Lab by running some of the activities and administrative tasks.
5. What is coming up:
INDIE Perfumer meet up
Perfume accords workshop
Perfume Blending Workshops
Sniff meet up
Open Lab Sessions
Perfumer in Residency South Morocco
4th Experimental Scent Summit in LA
Our first research group
More tba...
Funding Goals:
Target 7.650 EUR
2.100 EUR will help cover part of the workshop space costs for the first running months.
1,500 EUR will help to double our scent organ (at the moment we have about 120 ingredients available in our collection).
1.200 EUR I will invest in lab materials, for example, perfumer alcohol, bottles, vials, new scales for the workshops, pipettes and more! I want to be ready to have all you need!
400 EUR will help buy and mount two new mobile stainless steel tall tables (at the moment I have one).
1.250 EUR will get the Smell Lab going with promotional costs (like marketing and advertising). We need to reach more people so we can continue growing!
1.200 EUR will help me find a magic person to support the Smell Lab while I can manage our external collaborations around the world!
Why supporting the Smell Lab?
With your help, we can build an accessible scent lab were we promise we won't hold any secrets. Who said you couldn't learn by yourself (and with our support) about creativity and perfumery?
The Smell Lab is not only an educational and art project, but it's also about empowering people. We like to think "If I can, why wouldn't you?".
In the past four years the Smell Lab (Klara Ravat, and her different collaborators) have hosted a bunch of free public presentations, talked about scent extraction methods, invited artists and designers to speak to an audience, created scented games together, we smell-dated, installed a bunch of temporary working stations in different cities, taught at universities, hosted workshops...
It is definitively worth supporting the Smell Lab Studio, together we are invincible!
No Money? It's OK.
Because I am aware many of you out there are in a similar position, here other ways you could help:
Share the campaign with your friends. Every shared post or mouth to mouth comment
Smell Lab Perks
(I will add some surprises over the campaign!)
- Cutest Enamel pin ever!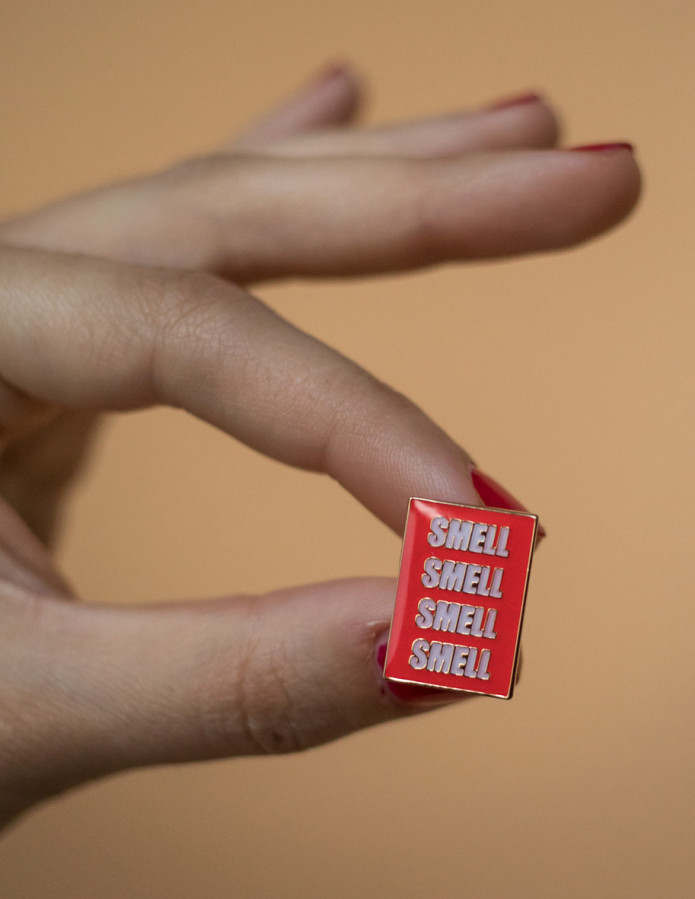 - Smell Smell Smell Smell our tote bag, available in two colors: back or red!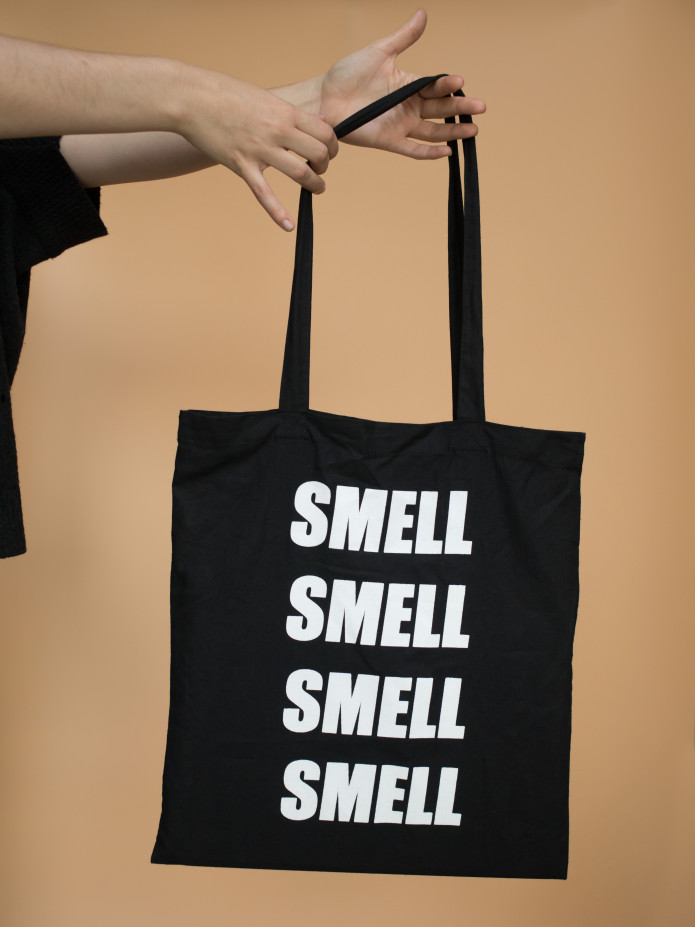 - Sexiest flowy t-shirt, available in several colors.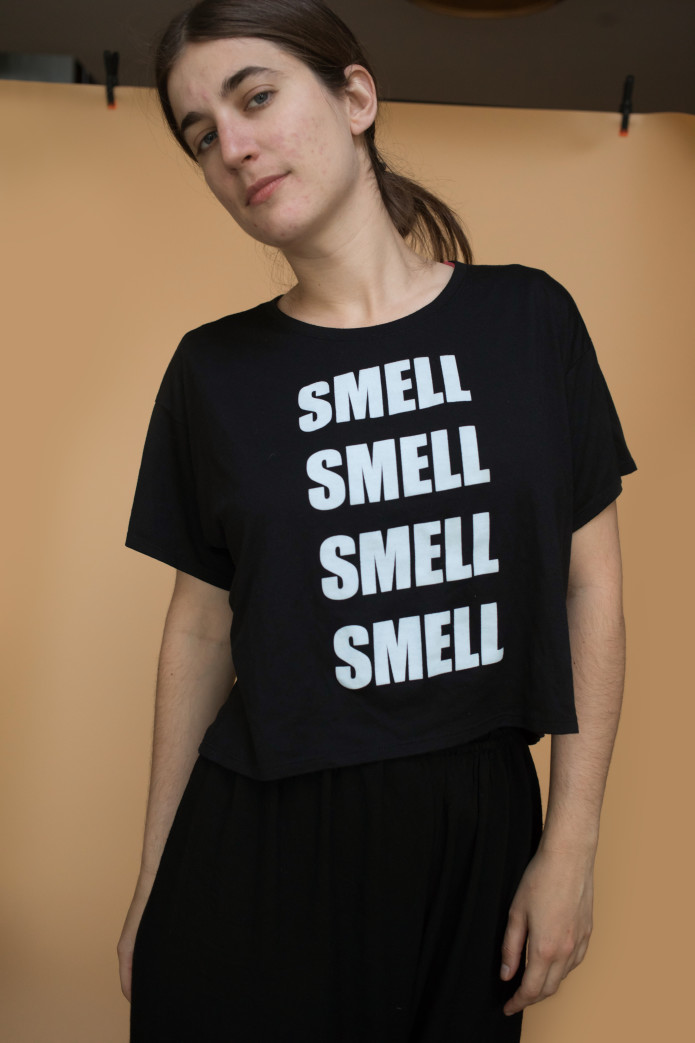 - Check on your right side and discover all we can offer.
I am so looking forward to receiving you at our new studio, and develop many scented projects together!!
With warm regards,