Story
More New Perks!!!

$69: Bluetooth + MP3 + Headset
Limited Time Offer!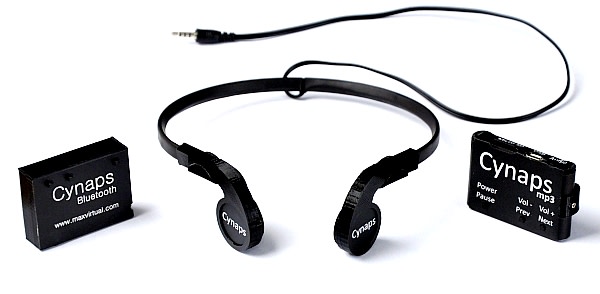 ***Best Value***
Can't decide between the Bluetooth and MP3 module? Get both at a steal.

Both modules have clips for your shirt, and both are compatible with the headset so you can easily switch out whenever you want.

Going for a short run or to the gym? Leave your phone at home and just take your music along!

Because the modules clip on the shirt, the headset is SUPER light on the head; even more comfortable than ear buds as there is no weight from the cable on the ears.

Perfect for lots of high movement or long wears!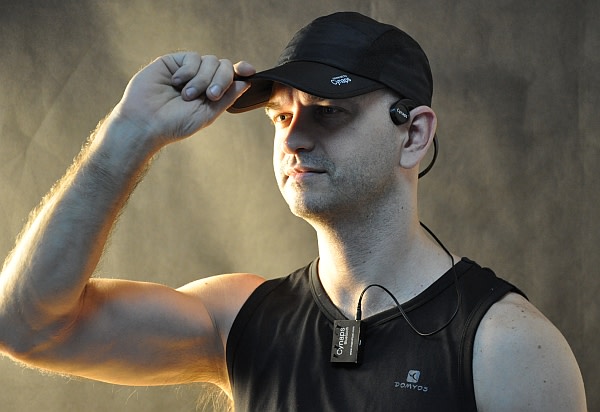 $24: Assembled Standalone Headset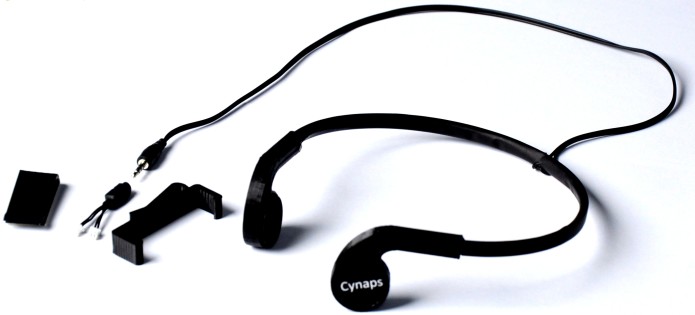 Convert your existing Cynaps into a sleek headset version! This kit comes with the new improved headset with our newest transducers, a small adapter cable for those who use white connectors and clips to convert any Cynaps module into a shirt or bag wearable version. Clip it on and go!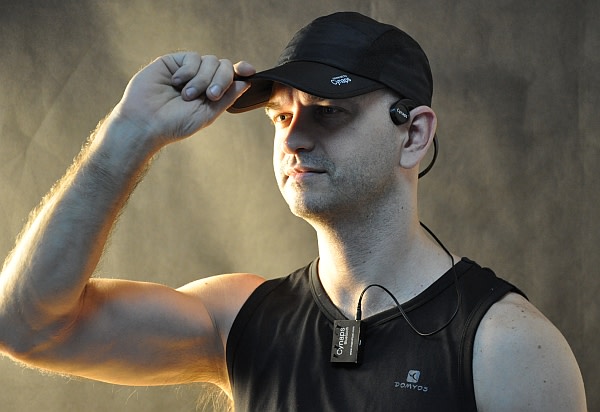 $49: MP3 Headset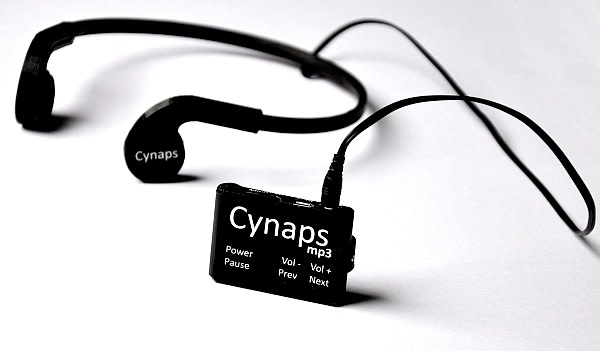 Leave your phone at home! This baby can store up to 1600 songs with the included 8GB Micro SD card. Like the Bluetooth version, the MP3 module also has an integrated clip on the back for your shirt or bag. Comes with leather carry case and USB charger.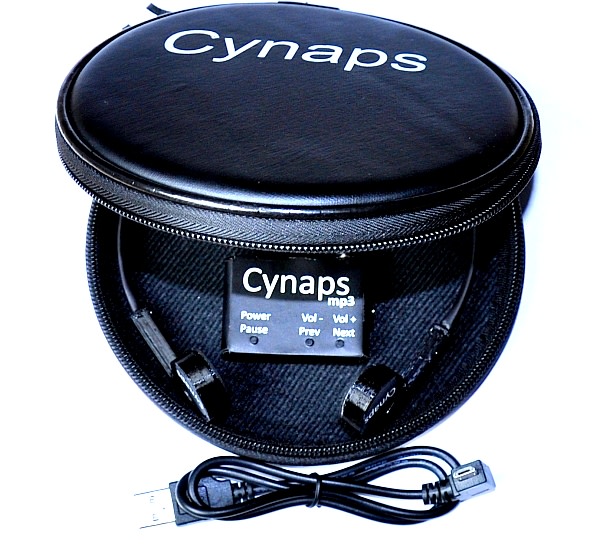 $59: Bluetooth Headset: New and improved!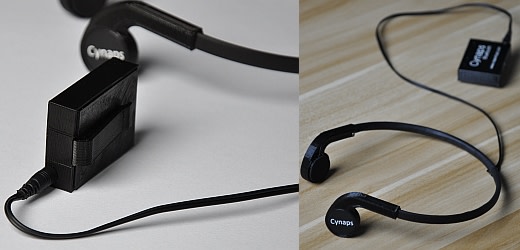 Here are the new features:
Super light headset

with a new sleek look including our new and improved transducers; minimal sound leakage and awesome transmission with perfect placement on your cheekbones

Nearly twice the battery life as the original Mint

: 700mAh
Improved Bluetooth reception:

thinner housing near the Bluetooth antenna for dramatically increased recption over the original Mint

Mini headphone jack

for the headset: much more stable and reliable than the original white connectors

Easier to access buttons

on the front of the module

Sturdy integrated clip

for optional attachment to a shirt or bag

Headset can be worn easily in combination with any hat or helmet!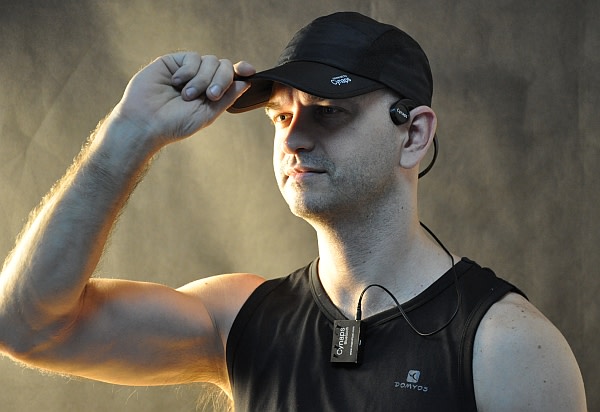 Comes with USB charging cable and leather carry case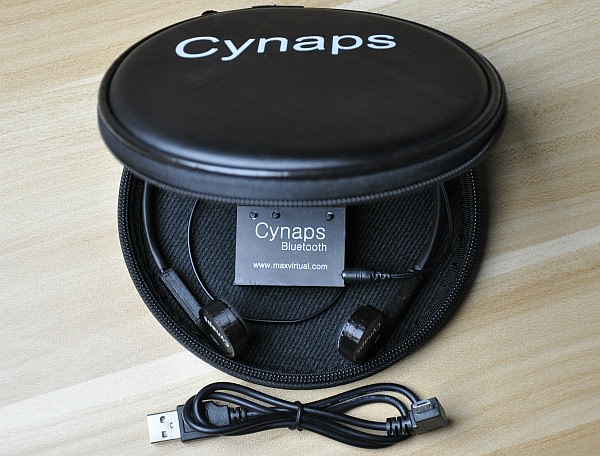 Cynaps Mint is a small, but extremely powerful, bone conduction headset. In fact, it's the most powerful one on the planet.

It's made of modular parts, which can be easily disassembled and reassembled to suit a specific purpose. Wear it as a headset, or separate it from the band and clip it into any hat, helmet or hardhat in seconds!

Tweak it so it fits just right for you. The audio modules, called 'transducers', generate sound through vibration, and you can attach them in different ways to suit many different wearing styles:

You can place the transducers anywhere on your head to hear super clear audio through vibration, via Bluetooth from your phone, tablet, PC and many smartwatches.
Listen to music or take calls without needing to block your ears. Very useful and much safer than traditional earphones when biking, running and driving, as well as many other sports and outdoor activities like motorcycling or snowboarding. Stay connected, while staying in touch with the world around you.
Wouldn't it be easier, since we're already going to be doing all of this snowboarding and motorcycling with a helmet, to have an integrated helmet and headset in one? With Cynaps Mint, it's a snap. The headset disconnects in seconds, and you can use the clips to mount the transducers and base unit directly into any hat, helmet or hardhat!
Are we getting all 'Transformers' on you yet? :) Keep reading - it gets better!
Cynaps Mint isn't just a headset. It's also the world's first and only true stereo vibration speaker system, turning any surface into a set of stereo loudspeakers!
Our transducers are so powerful, they'll be able to fill a room (or house party) with your playlist and also add a special flavor to your music, depending on which surface you use.
Stick them on two large glass windows to turn them into a crystal clear, 'stereophonic sound spectacular'.
Spread them out on a large wooden desk or dinner table to get a very full, rich stereo sound for dinner or background music.

Use them on a car, truck, boat or BBQ grill to get a strong, reverberating sound that everyone can enjoy, letting the music (and the party) take on a life of its own.
Have fun, and explore your environment - through your music. Take Cynaps Mint with you, and satisfy the curiosity of your friends with a demo, anytime, anywhere.

Tech Specs:

Main Unit:
Battery: 400mAh
Battery Life: 2 to 12 hours (the time varies widely depending on frequency of use and volume level. Using with the dock is recommended when using as a speaker).
Audio output: 3W each channel, 6W in total
Bluetooth version: 3.0


Microphone:

Sensitivity: -36 to -46dB

Impedance: 2.2K ohm

Max Current consumption: 0.5mA

Frequency response: 100 to 10,000Hz
Regular transducers:
Resonant Frequency: 16 +/- 0.5 kHz
Operating Frequency: 300-19000 Hz
dB Range: 52-80dB

Super transducers:
Operating Frequency: 150-15000 Hz
dB Range: 72-120dB

Leicht, kraftvoll und macht süchtig. Verwandelt einen Helm in ein Headset – oder ein Fenster in einen Lautsprecher!
Cynaps Mint
ist ein kleiner, aber sehr leistungstarker Kopfhörer, der den Schall direkt an den Schädel überträgt. Er besteht aus 3D-gedruckten, modularen Teilen, die je nach Verwendung leicht auseinandergenommen und wieder zusammengesetzt werden können.
Cynaps Mint, hier in "Mint"-Grün und Gelb, das im Dunkeln leuchtet

Trage es genau so, wie es dir passt. Die Audiomodule, auch "Umwandler" genannt, erzeugen Klang durch Vibration. Du kannst sie auf ganz verschiedene Arten anbringen, genau so, wie du sie am liebsten tragen möchtest.

Du kannst sie auf die klassische Weise tragen:
oder die beigefügten Clips verwenden, um die Kabel am Hinterkopf zu führen:

Damen können es auch als diskreten und komfortablen Haarreif tragen:

Du kannst die Umwandler überall auf deinem Kopf tragen und genießt durch die Vibrationen einen superklaren Klang. Über Bluetooth kannst du die Umwandler mit Handy, Tablet, PC und vielen Smartwatches verbinden. Du kannst Musik hören oder telefonieren, ohne dass du deine Ohren bedecken musst. Äußerst praktisch und viel sicherer als herkömmliche Kopfhörer beim Radfahren, Laufen und Autofahren und bei zahlreichen weiteren Sport- und Freizeitaktivitäten, wie Motorradfahren oder Snowboarden. Du kannst den Sound des Cynaps Mint genießen und hast gleichzeitig immer ein offenes Ohr für deine Umgebung.
Und weil wir gerade vom Snowboarden und Motorradfahren sprechen – wäre es nicht toll, in den Helm integrierte Kopfhörer zu haben? Ja, wäre es! Das Headset kann in Sekundenschnelle auseinandergenommen werden und mit den mitgelieferten Clips kannst du die Umwandler und die Basiseinheit direkt an einer Mütze oder einem Helm anbringen!
Klingt ein wenig nach "Transformers", oder? :) Lies weiter - es wird noch besser!
Cynaps Mint ist viel mehr als nur ein Headset. Es ist auch das weltweit allererste Lautsprechersystem mit echten Stereo-Vibrationen, das jede beliebige Oberfläche in einen Stereo-Lautsprecher verwandelt!


Unsere Umwandler sind so leistungsstark, dass sie jeden Raum (und jede Hausparty) mit deiner Playlist beschallen können und je nach der Oberfläche, die du verwendest, geben sie deiner Musik einen ganz besonderen Klang.
Stecke sie auf zwei große Glasfenster und du bekommst spektakulären und wortwörtlich "glasklaren" Stereosound.
Platziere sie auf einen großen Holztisch oder Esstisch und du bekommst einen sehr vollen, satten Stereosound, perfekt für Abendessen oder als Hintergrundmusik.
Verwende sie an einem Auto, LKW, Boot oder Grill, und du erhältst einen kräftigen Sound mit Nachhall, den alle genießen können und der die Musik (und die Party) so richtig in Schwung bringt.
Du hast Spaß und kannst deine Umgebung erkunden – mit deiner Musik. Du kannst Cynaps Mint immer bei dir haben und es deinen neugierigen Freunden demonstrieren– überall und jederzeit :).
Technische Daten:

Basiseinheit:
Batterie: 400 mAhBatterie-Lebensdauer: 2 bis 12 Stunden (kann stark schwanken, abhängig von Häufigkeit der Benutzung und Lautstärke. Beim Einsatz als Lautsprecher wird die Benutzung mit dem Dock empfohlen).Audio-Leistung: 3 W pro Kanal, 6 W gesamtBluetooth-Version: 3.0

Mikrofon: Empfindlichkeit: -36 bis -46 dB
Impedanz: 2200 Ohm
Max. Stromaufnahme: 0,5 mA
Frequenzgang: 100 bis 10.000 Hz
Reguläre Umwandler:
Resonanzfrequenz: 16 +/- 0,5 kHz
Betriebsfrequenz: 300-19.000 Hz
dB-Bereich: 52-80 dB
Super-Umwandler:
Betriebsfrequenz: 150-15000 Hz
dB-Bereich: 72-120 dB