MiniBook is an ultra-tiny laptop (or UMPC) which measures just 1/4 the size of a traditional notebook - even with its fully integrated keyboard. The unique 360° flipping YOGA design allows MiniBook to be transformed into laptop, workstation or tablet with a simple twist.




Minibook is all about optimal performance. The Intel Core m3-8100Y processor, 8GB of LPDDR3 RAM and 128GB storage enable you to finish business work, game playing, movie watching and run almost any program as you like. It's like three machines in one, at a bargain price.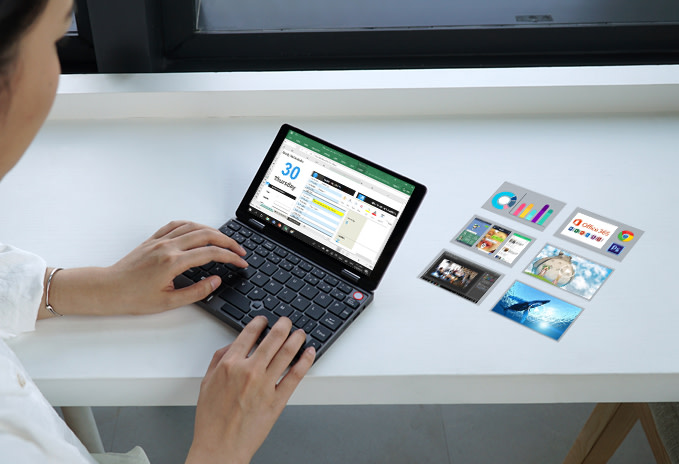 Work
Entertainment
When we discovered that other UMPCs in the market still have some drawbacks it inspired us to develop MiniBook to optimize the customer experience.

From the outset, we collected user evaluation and product data for UMPC devices from different channels. We crunched the numbers and concluded that the core reasons that UMPC owners switched to other devices are dissatisfaction with small screens, memory capacity, appearance, keyboard and camera.

Since then, our team has devoted itself to creating the best MiniBook possible
1. Screen
Our experience of the PC industry has taught us that the Windows operating system works far better with an 8-inch and 16:10 screen ratio. How do we know? Our Chuwi Hi8 SE is the most popular Windows tablet, selling more than one million units worldwide.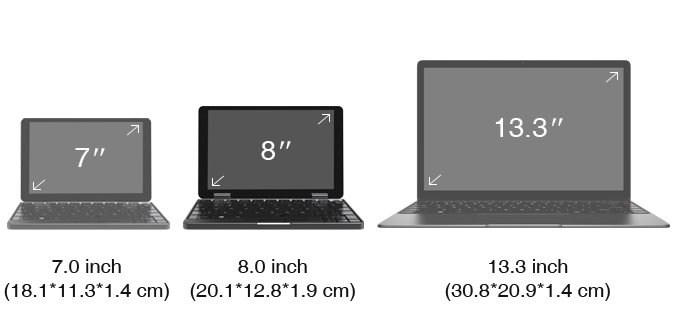 2. SSD expansion slot
For the first time, our engineers have found a way to fit an M.2 SSD card slot into Minibook, so users can expand their storage. Minibook is the world's first UMPC with expandable storage like this. Plus, if that's not enough, there's room for an microSD card to expand even further.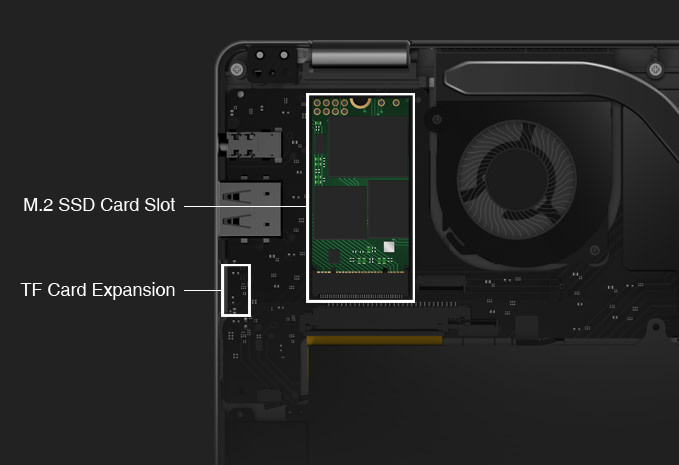 3. Unique YOGA 360° rotating design
Feedback from our community tells us that versatility is a big plus for users, so we subverted the traditional UMPC design concept on the MiniBook. The unique 360° flipping bracket can be switched to multiple scene modes such as tablet, notebook and workstation.
4. Keyboard
The Minibook will be available in two keyboard layouts - Japanese and US English for maximum productivity.

Our brand new keyboard layout fits a full-sized, full-spaced layout in the smallest of form factors.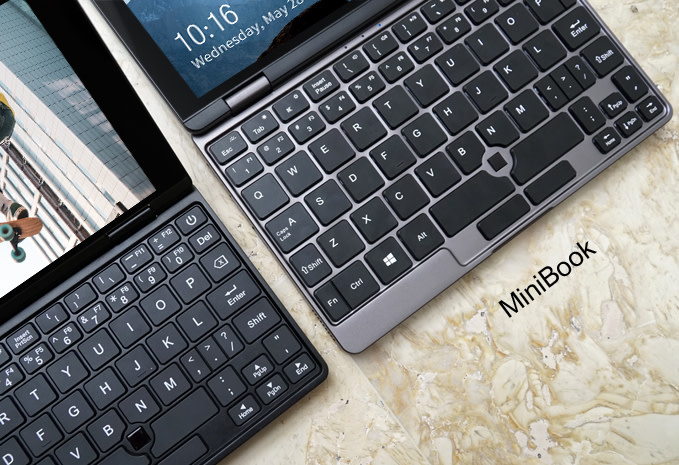 5. Camera
The UMPC format is ideal for business people to conduct video conferences from anywhere - but only if there is a built-in camera. Most UMPC brands said 'no', ignoring user needs. But where they say 'no', we say 'YES!', so, we decided to add a built-in camera, to let the user connect to the world in the palm of the hand.



​





Appearance
MiniBook comes in 'Business Space Grey' with a unique exterior refinishing technology
Precision CNC cutting craft provides a far better feel in the hand
MiniBook was built as portable as cellphone, with the convenience of single hand operation.
Slip it into your pocket, take it to work or play anywhere you choose.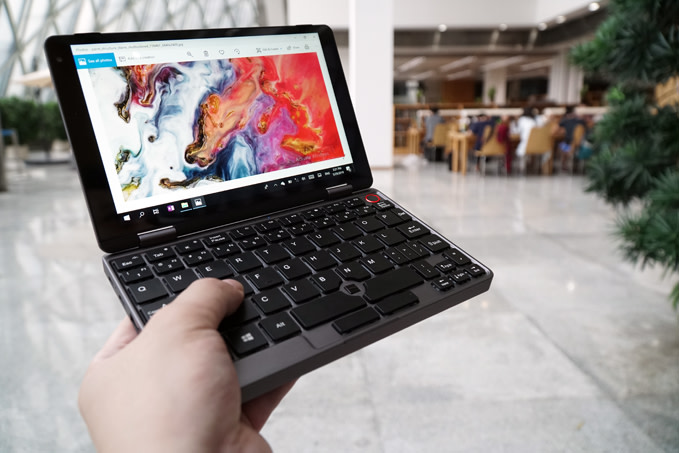 The 8-inch yoga 360° flipping UMPC will bridge the divide between laptop and tablet, you can be sure of that.. It can be switched into diverse modes such as laptop, tablet, or gaming station. With our creative flipping function, every angle degree is under your control. This allows you to work in restricted spaces comfortably, on planes, on trains, in coffee bars. You can also hold the MiniBook and use it with ease standing up or on the bus.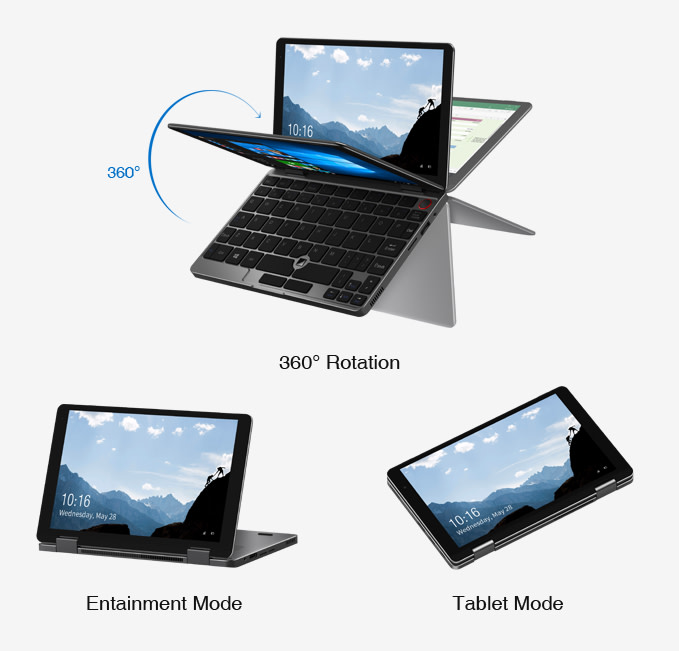 Screen
A 9-inch screen would ruin the portability, but a 7-inch screen struggles with text-heavy applications like Excel. That's why we've chosen the perfect 8-inch and 16:10 screen ratios devices for Minibook. Small size screens don't always display standard fonts or will blur images, so we developed our professional display optimization system to bring a vivid photo and clear font.

But it's not just size that matters. That's why Minibook has a high resolution 1920*1200, full Lamination touch LCD screen for an accurate and quick response. It gives you a precise and vivid display and an eye-friendly operation which can ease fatigue and eyestrain during long sessions of working, reading, and gaming. What`s more, the 16:10 widescreen ratio helps you get the best view of larger charts or articles.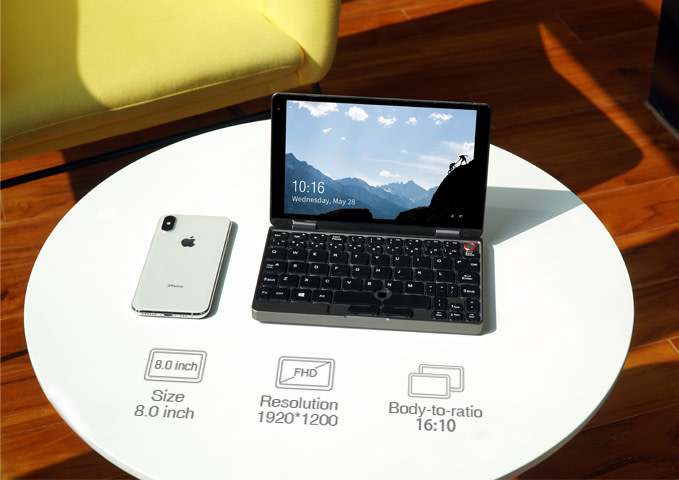 CPU & GPU
MiniBook will be available with two variants of models - one with Intel Core M3 8100Y the other boasting an Intel Celeron N4100 processor to fit different needs and budgets. Adopt the invincible INTEL CORE M3 8100Y processor, manufactured by 14 nm process, 5W TDP, built 2 cores with 4 threads inside to power through multitasking, whilst the 1.1Ghz-3.4Ghz high frequency for can speed through whatever demands you put it through. No matter what you engage in, whether office business, games, drawing, share exchanging, Minibook does it all.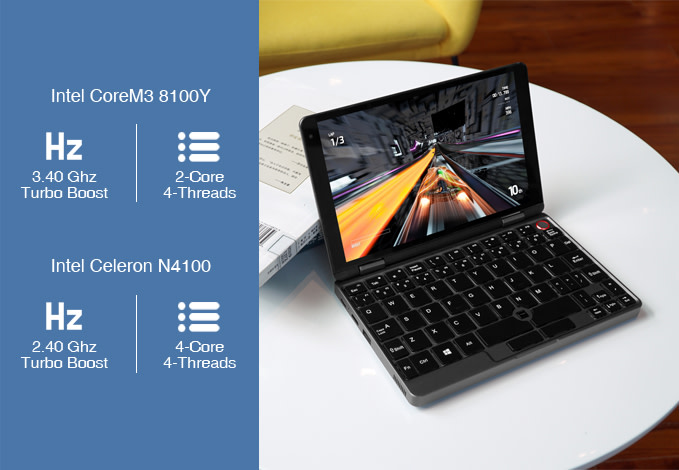 The chart below is a comparison of the performance between Intel Celeron N4100 and Core m3-8100Y by Benchmark.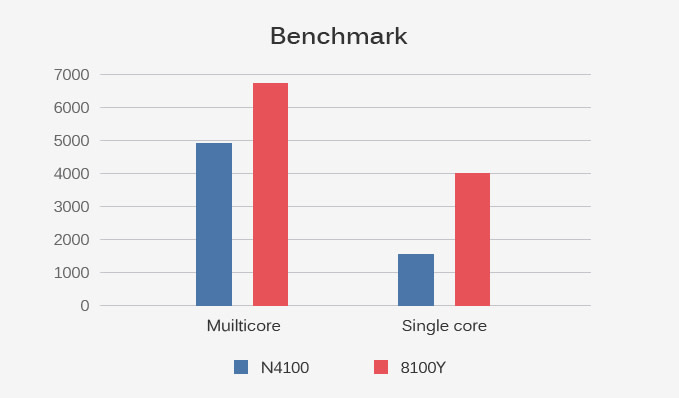 The integrated graphics card, UHD 615, is capable of 900MHz with dual channels memory cards, (UHD 600 for N4100 edition, 700Mhz), to boost performance, letting you conquer AAA class games and enjoy HD movie streams smoothly.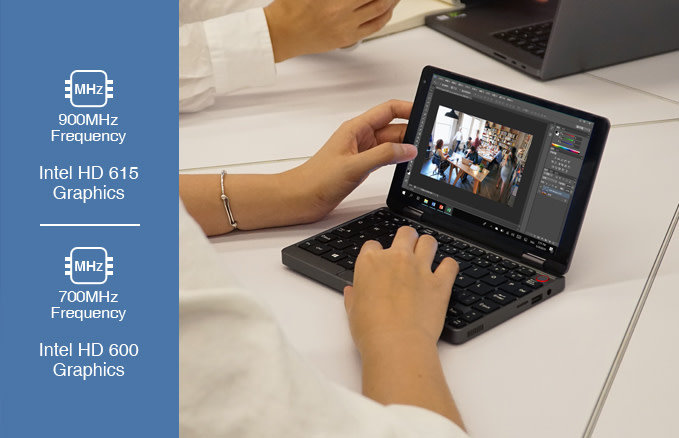 Heat Sink
We've designed a new generation of the active cooling system with an optimized silent fan: Better performance, noise cancellation - together we've halved the amount of fan noise of other products, with thermal extraction ensuring that high temperatures never slow down your processor.


Memory & Storage
We've used dual-channel LPDDR3 8GB memory cards in 1600 MHz frequency to ensure high performance in multitasking. The higher speed response and lower latency are what MiniBook is all about - it means we can do work on an Excel spreadsheet while video calling on Skype anytime.
Need more storage? No problem, we've got you covered. The MiniBook will come with a M.2 SSD, as well as microSD expansion ensuring ample storage for today's power users.


Solid state disk (SSD) is the next generation of disk - it runs up to 5 times faster than HDD,. Amazingly we've been able to create a PCI-E slot to support the best NVME protocol SSD. It's a unique design to hit the market offering the highest speed and largest capacity, bringing the UMPC to a new generation of customer.

(Note: N4100 edition contains with Sata SSD and adopts LPDDR4 8GB.)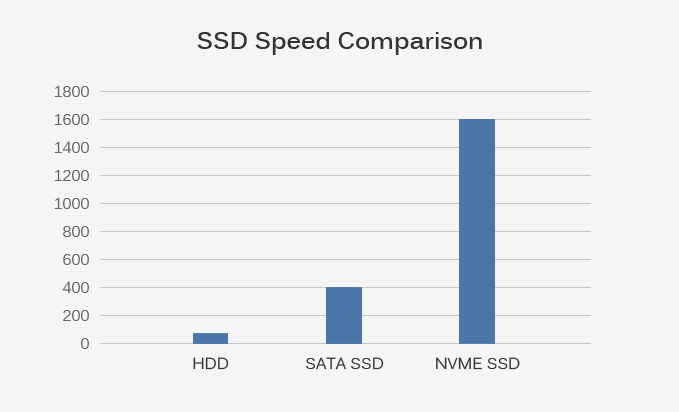 Keyboard
We always listen to our customers, and this time is no different, thanks to the supportive backers from our database. It was clear that a full-size backlight keyboard could greatly enhance the experience of using our product. To make it even better we added optimized bigger keycap using a Super Optical Finger Navigation Module to make the most efficient UMPC ever! The keyboard will elevate your experience of working and gaming.

Plus we'll be offering two keyboard layouts: one with standard US English language keyboard and the other in Japanese, saving your time rather than adapting to a standard QWERTY keyboard.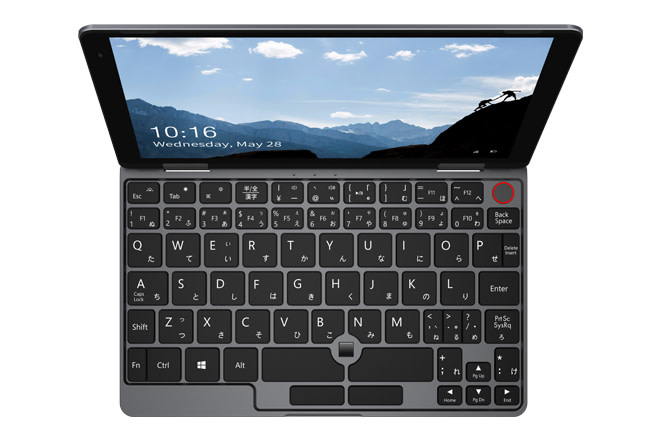 MiniBook's newly designed backlit keyboard, allows you to comfortably work at night or in dark spaces such as on long plane journeys without the need of external lighting. Moreover, the built-in gravity sensor, can automatically sense the switch to tablet mode, making it more convenient to use.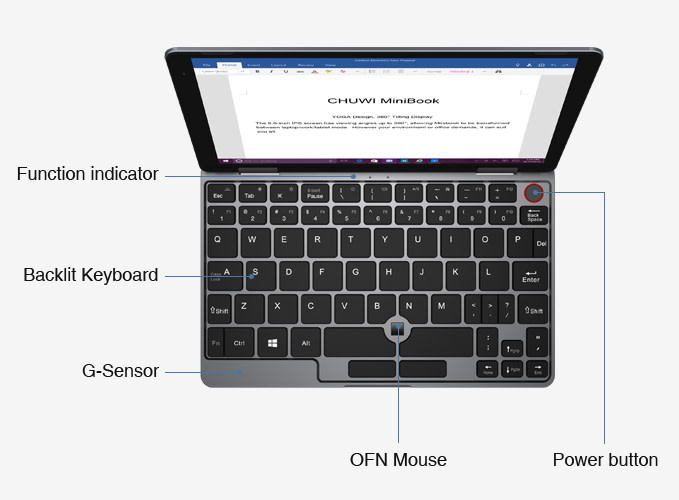 Battery life
For long-time use on the go, CHUWI MiniBook packs a 26.6Wh high-capacity battery, with 7.6V input dedicated to fast charging. We've adopted the PD charging protocol.

Or for charging on the go - why not use a powerbank? Anything above 12V is supported.
Port & WiFi
Although we wanted to keep the profile of the MiniBook as small as possible, it still contains plentiful ports including 2*USB-A, a full function USB-C, and Mini HDMI.

With the full function type-c port, you can connect to a Hub to extend the number of ports to add others such as HDMI, VGA and U disk - and yes, you can still charge with the hub plugged in!

Don't worry about connectivity - the Intel 3165 module for wireless Wi-Fi 2.4G/5G dual band and can roam between them if you're on the move. No more frozen screens with high latency - just computing enjoyment.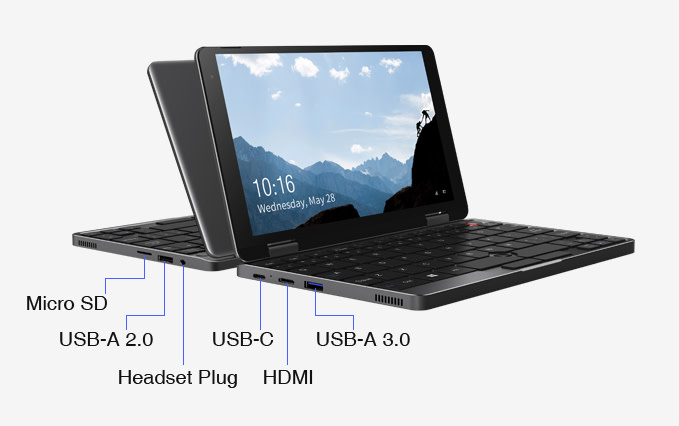 Operating System
To make it suitable for all kinds of every day work and play, MiniBook comes equipped with a full Windows 10 version and gives you the full desktop experience, but with the benefits of a mobile device. That means MiniBook is not only the greatest compact for business, but also for creatives and artists. Whatsmore, you can sign papers, prepare for presentations, edit emails, industrial drawing, share market exchanging, etc anytime and anywhere, With Minibook, you can break the limits of productivity : that is what we aim for, and we think you'll agree, we've achieved it too!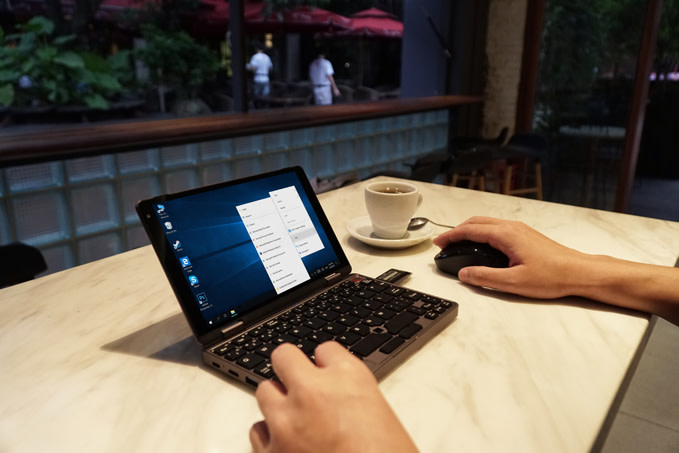 Share the MiniBook campaign with your friends and family to participate in our Referral Contest. Once they back the campaign directly using your referral link, both of you will get a EVA Bag for FREE.


Here are more instructions about how to participate in this referral contest:

1. Log into your Indiegogo account. Then, click the 'Link' icon at the top of the campaign page .
2. You will see a popup with your unique link. Copy your unique URL (shown below) and share it to your social media or email your friends, etc.
Notes:
1. Anyone who has backed CHUWI MiniBook campaign can participate in this referral contest.
2. If the backer cancels their order or requests a refund before delivery, it will be regarded as an invalid order.
3. Don't leave your unique URL in the comments on this campaign, it will be regarded as an invalid order.
4. Don't forget to share after logging in the Indiegogo account, otherwise it will be regarded as invalid order.






At CHUWI, innovation is at the heart of our company. Earlier this year, we successfully delivered our AeroBook and UBook product to more than 1500 backers who supported our mission to kick start a new laptop revolution. During this period, we had a batch of feedback from our supportive backers, with many requesting a powerful CPU but a more portable size for next product. Our R&D team set to work considering "What if we lessen the device size while upgrade the performance, perhaps we could build something that's ultra-compact but still energy efficient?". We never forgot, and it made us determined to make it to reality.

MiniBook is an ultra-mobile Personal Computer,(UMPC). UMPC's have been considered "dream chasing" for a long time, because getting the right balance of size and power is tricky, especially for devices running Windows.

Where others have failed, undoubtedly because of limits of their hardware. inspiration would carry us, CHUWI goes beyond, to create a new generation device UMPC——MiniBook - after resolving the weaknesses of previous UMPC in performance, thermal taking, battery life and typing experience. At CHUWI, we want to bring the glory back to PC industry, to conquer every problem our predecessors struggled with.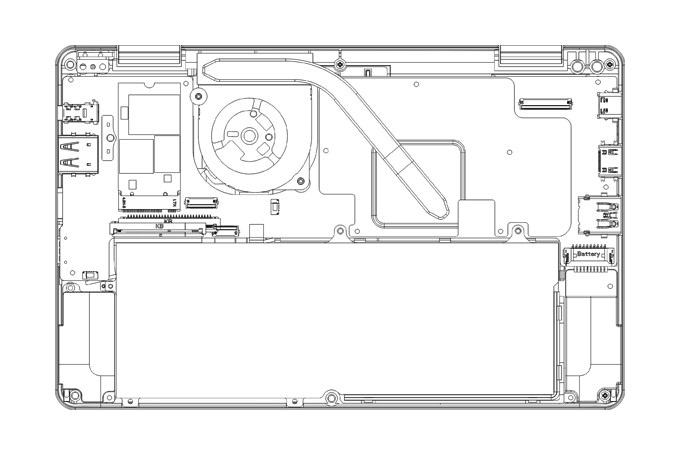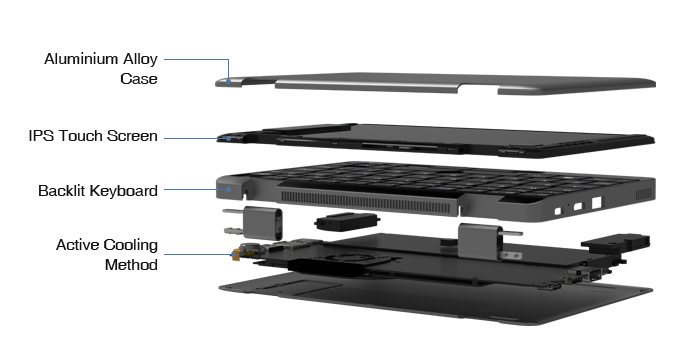 As early backers, we are keen to reward you with some unique perks. All MiniBook units claimed as perks will have at least 25% off the planned retail price. Plus, Indiegogo backers will be the first to receive their products.

But more than that - we would love you to join us on our journey to bring the product to life. Funds raised will go directly to funding the final design phases and manufacturing of the units ordered through the crowdfund. Oh - and if you like CHUWI MiniBook, please spread the word on social media or telling colleagues or friends about our campaign!
1. We aim to provide rewards as scheduled, however, please understand that delays may occur due to supply chain or quality control issues. Including:

▲Certification delays
▲Production delays
▲Supply Chain/Mass Production

We've done our best to forecast demand and we've learned a lot from past projects. However,sometimes forecasts don't always hit the mark.If this happens, we'll be sure to keep you informed and work to quickly solve the problem to ensure you are with us every step of the way. We know that some crowdfunders have ended badly in the past - but never from CHUWI - we'll always keep in touch with you, and welcome messages from you too!

Please, do not hesitate to contact us at [email protected] . We are looking forward to answer any of your questions.

2. Product specifications may change to ensure that the product is made as best as possible. If any changes occur, we will notify users in the "UPDATES" area of the crowdfunding page.