Story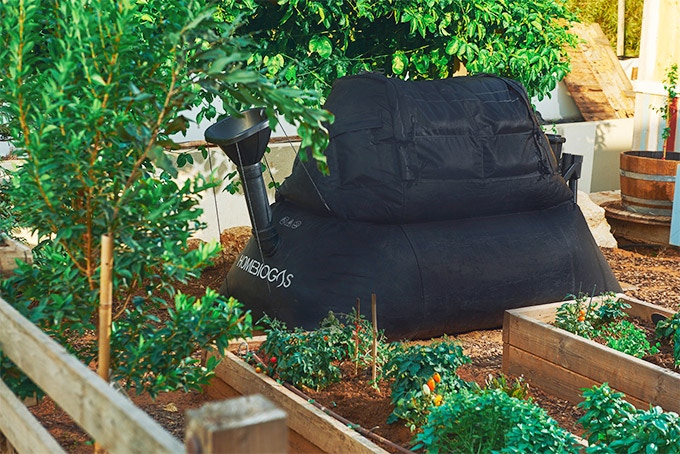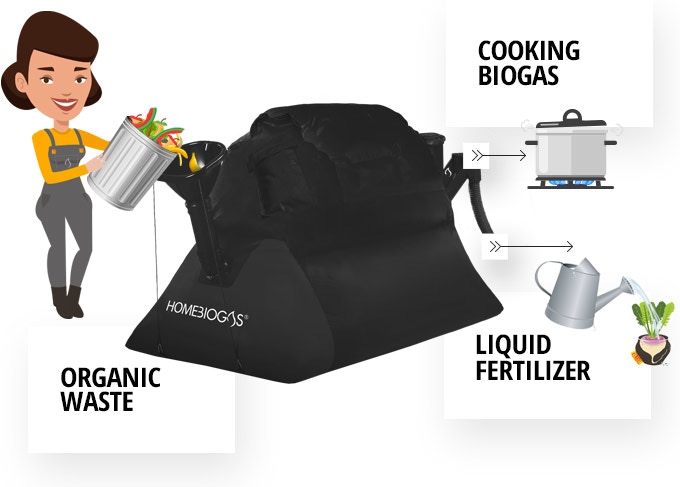 We're HomeBiogas. We have been pioneering the household biogas industry for seven years, making thousands of folks become more self-reliant and sustainable. Two years after launching HomeBiogas 2.0 in over 92 countries, we're launching the newest model! It's more efficient, compact and 100% recyclable.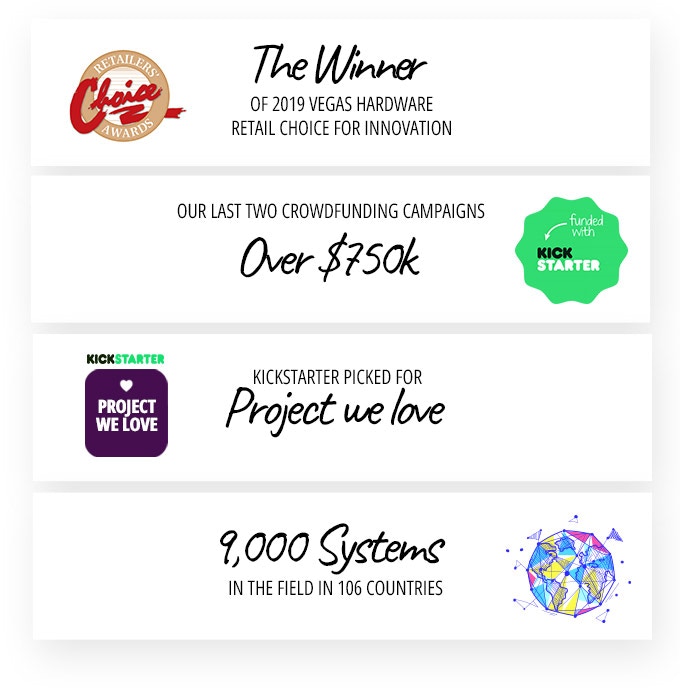 Make a closed-loop-system in your household. The New HomeBiogas Generation reuses the same materials over and over again to create valuable outcomes. Read on to learn how it works.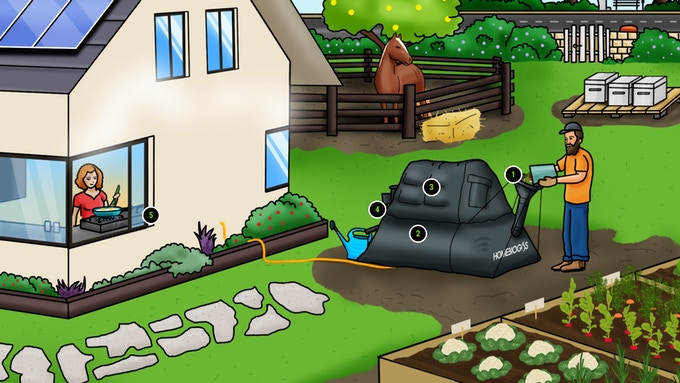 1. Food waste is fed into the appliance inlet
2. Bacteria breakdown the organic waste in the digester
3. Biogas is created and is stored in the gas bag
4. Liquid fertilizer is created for the garden
5. Gas flows to the kitchen for cooking

Get empowered with a truly rewarding cooking experience! Image turning on your stove top knowing that your family alone has been responsible for providing your fuel needs. Reduce your consumption of LPG and electric cooking fuel, both fossil fuels that harm the environment, and adopt biogas for cooking- its renewable! Every HomeBiogas purchase comes with a specially adapted, stainless steel, countertop biogas stove.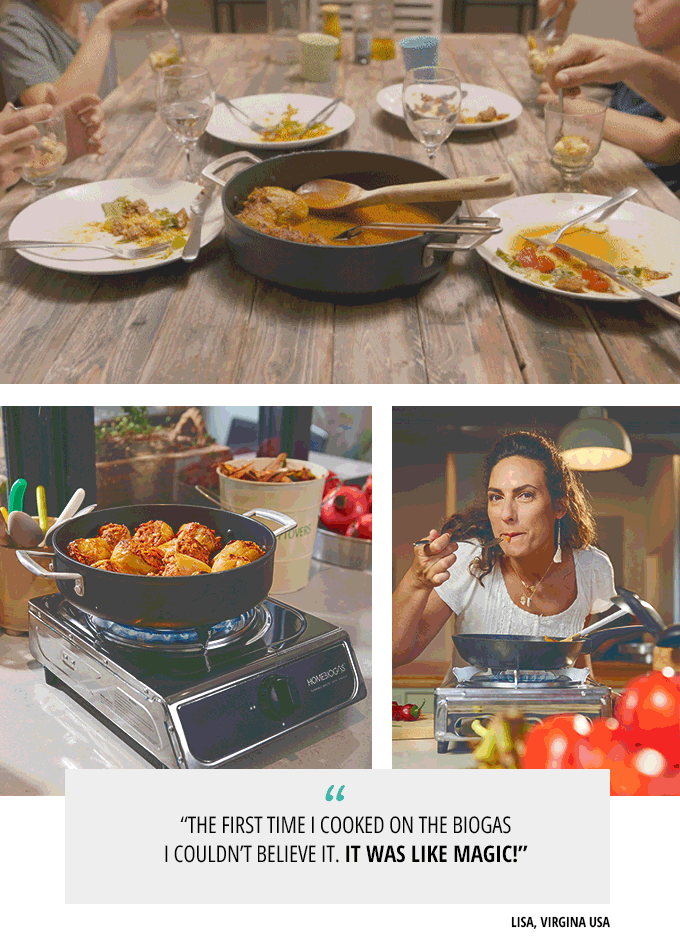 Feeding your system with organic waste (up to 6 liters / 1.5 gallons of food leftovers a day or 20 liters / 5 gallons of animal manure) will allow you to generate up to 2 hours of cooking gas a day. Gas production is continuous and the bacteria never get tired of breaking down the waste.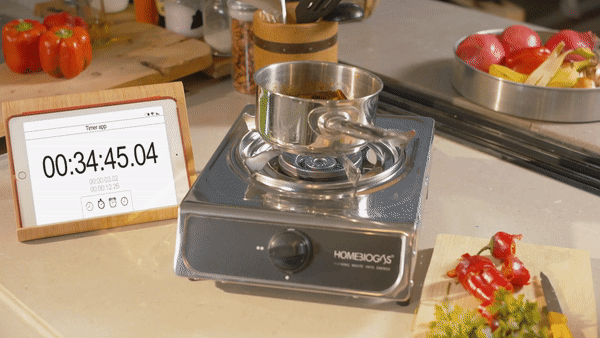 Besides renewable energy, there is actually another byproduct: fertilizer! HomeBiogas fertilizer contains many beneficial materials, for both plants and soil. Its macro and micro nutrients feed the plant directly, and the organic compounds helps your soil to be healthy and full of life.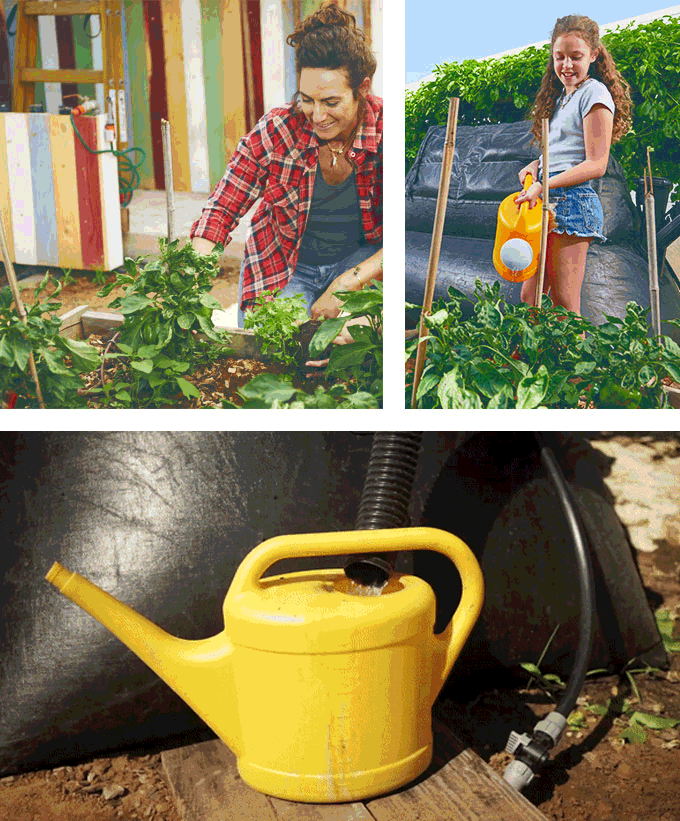 Here are some macro & micronutrients found in the fertilizer that your plants will love.
WATCH- New Gen Quick Run-Through

We were overwhelmingly happy with the success of HomeBiogas 2.0, and the quality feedback we received from our customers. We keep moving forward though, finding ways to improve biodigesters. As Oshik Efrati, HomeBiogas' CEO and Co-Founder says, "as an R&D-driven company, we will always look for more features to make the HomeBiogas household kit as effective and convenient for our customers."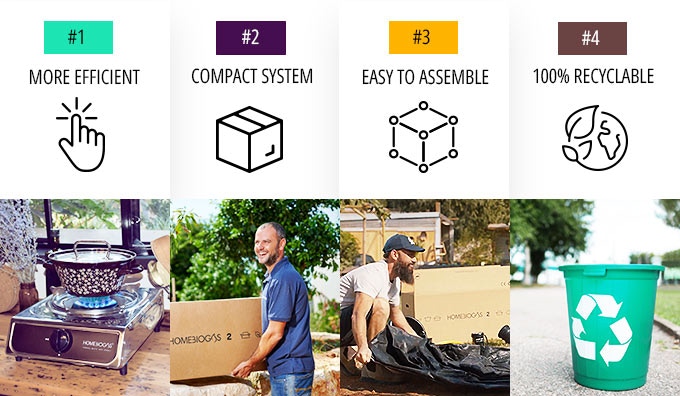 #1: All black material means that your New Generation will absorb more light and warm the bacteria up more efficiently. The material is also more durable and has a lifespan assessment of 15 years!
#2: We've enlarged the digester by 300 liters in height, not width, adding space for the bacteria to digest your waste without adding space to the system's footprint.
#3: With less parts, assembly of the system is as simple as can be. Set-up should take 1 hour at most.
#4 Because we believe in a circular economy, HomeBiogas developed custom-engineered materials that can be 100% recycled at the end of the product life cycle.

You don't need to be an expert to install HomeBiogas, you can do it by yourself! Setting it up is easy with our step-by-step assembly manual, and should only about half an hour.
Choose a location in your backyard for the HomeBiogas system. It can be up to 20 meters from the stove. Then assemble by following our assembly manual. After assembly, activate the appliance the old-fashioned way, using animal manure, or using our bacteria starter kit. Activation only needs to be done one time, and once activation is done, you will be able to feed the New Gen with your food scraps and produce free, renewable energy on a daily basis!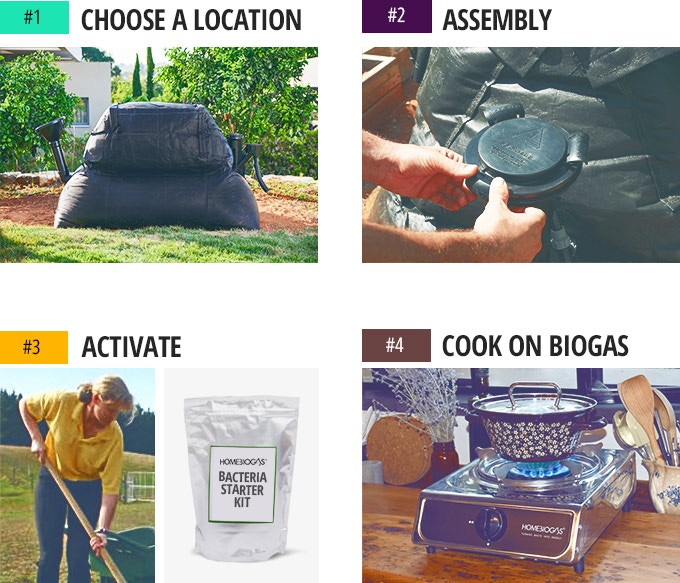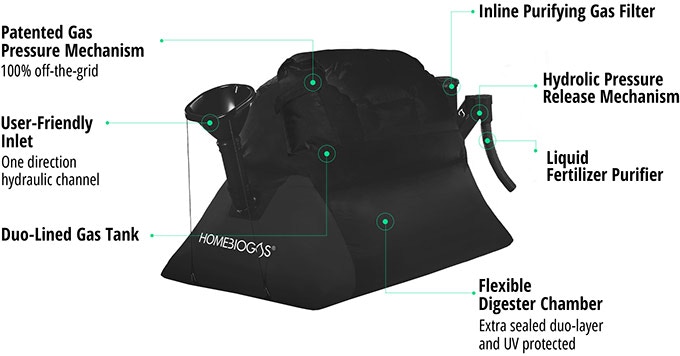 Great news for all farms, eco-centers, hostels and small restaurants- there is a larger size model that is perfect for you! This system treats 20 liters of food waste OR 60 liters of animal manure per day and produce 4-6 hours clean cooking gas per day with 2 steady, strong flames! ( 4MX1.5M floor space)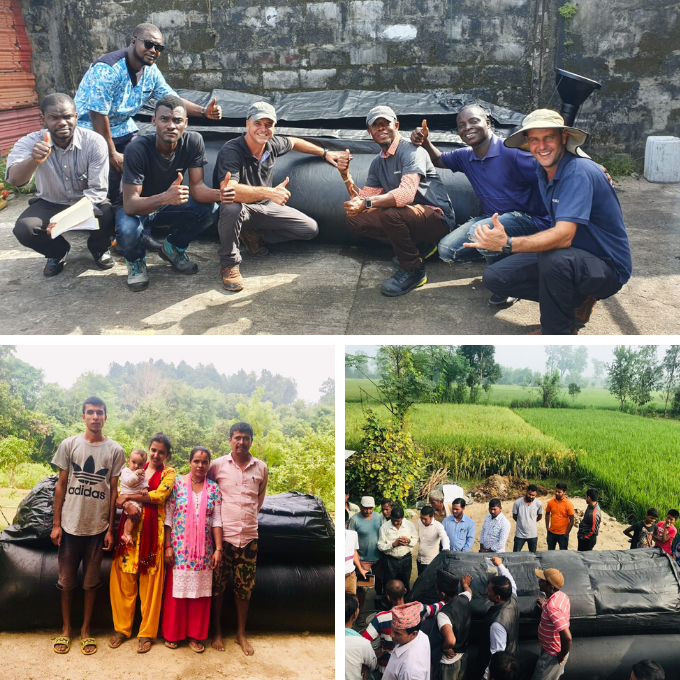 Add the Bio-Toilet as an accessory to your New HomeBiogas Generation. It will treat your toilet waste (up to 20 flushes) in addition to your food waste and animal manure! The Bio-Toilet connects directly to the biodigester, eliminating any hassle, mess or pests associated with other compost toilets. In this Bio-Toilet Bundle you get the New HomeBiogas Generation biodigester, the Bio-Toilet, the biogas stove and all the custom-built connecting parts for the toilet and stove.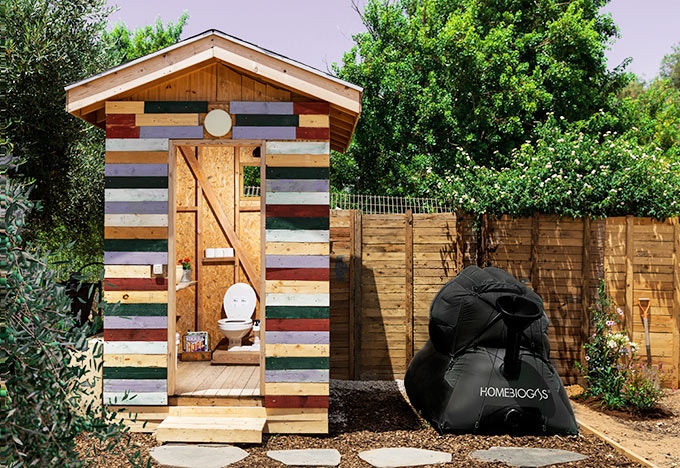 Why is the Bio-Toilet so groundbreaking in the sanitation industry?
Saves 40,000 liters/year
Only uses 1.2 liters of water per flush
No need for infrastructure
No need to be connected to the water or sewage grid
Reuses grey water for flushing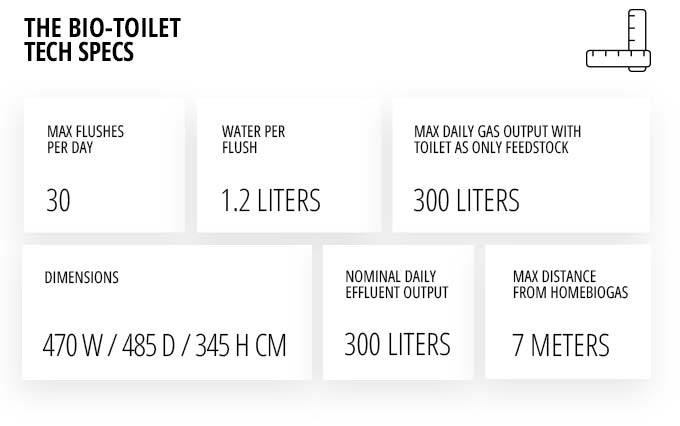 The HomeBiogas system performs best and is completely off-grid in areas with a temperature of above 20C / 65F. Winter time in northern USA, Europe, Australia and other countries / continents requires some adjustments in order to ensure 365 days a year of optimal operation. Remember: you can always decrease your waste feeding and pass the winter time with zero intervention. Always consult with us: [email protected] as we have so much experience :)


The New HomeBiogas Generation is a powerful tool that can help you live sustainably and mitigate climate change! It is an off-the-grid appliance, meaning that it does not depend on the use of any non-renewable power source.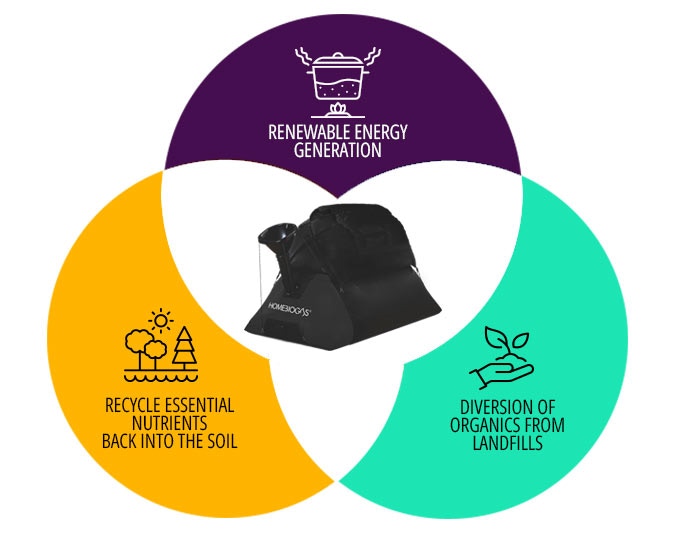 When you choose to cook on biogas that was made from your food waste, you are reducing the demand for fossil fuels, which are non-renewable resources. Mining, processing and transporting fossil fuels take a lot of energy and resources, which is harmful to the environment and is a leading contributor to climate change.

When food goes to the landfill, the nutrients in the food never return to the soil. But when you use HomeBiogas, the bacteria in the biodigester will break down the organic matter and convert it into biogas and fertilizer. The fertilizer can then be used to nourish plants, recycling essential nutrients back into the soil.

Local waste management with the HomeBiogas system diverts food scraps from becoming landfill waste. The wasted food rots and produces methane gas which is released into the atmosphere and contributes to global warming. When you use HomeBiogas you will be recycling your food scraps in your own backyard and recycling the methane your food produces.

Most people have already caught on that going green isn't only the right thing to do, but it also saves you money. Depending on how much you cook, your gardening habits, and your municipality's waste collection services, HomeBiogas can save you hundreds of dollars a year and have a return on investment of less than 2 years!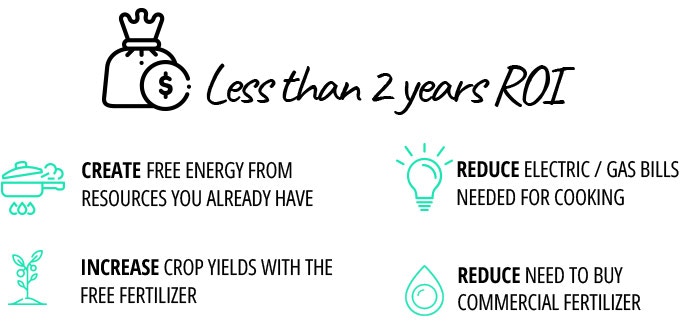 What's more? By up-cycling your food scraps instead of throwing them away, you are FULLY using and taking advantage of the groceries you buy every week. Wasting any food is wasting your money.

We started making biodigesters in 2012 with a mission to make free, renewable energy available to everyone. Since then, we've helped thousands of people to become self-reliant and sustainable.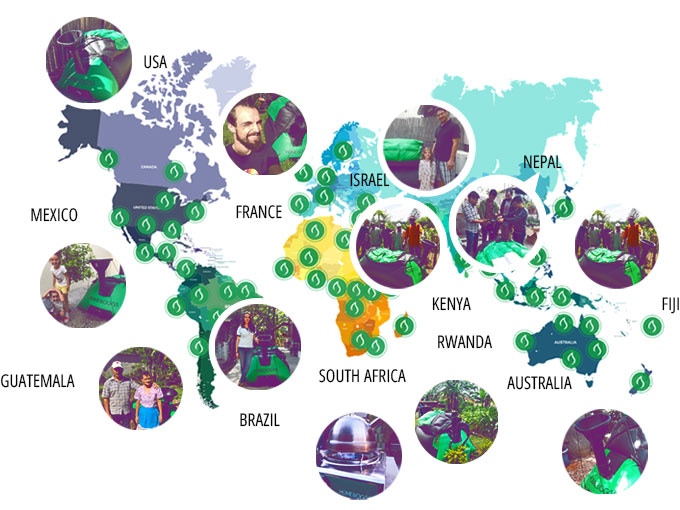 We keep receiving feedback from our current customers:
In what way do you feel the environmental impact of the system?
"I feel really proud of using biogas to reduce my environmental footprint. I also help others by taking and processing their meat scraps which would otherwise go to landfill and contribute methane to the greenhouse problem."
"The bins at the side of our houses don't emit a rotting odour like our neighbours do. We're using less electricity to cook on our stove. Rather than using different/separate modes of composting, it is all going into one system."
"We are using less LPG. Improved soil and garden. We live on a rocky sandstone outcrop with very poor soil, so I am thrilled with the liquid fert."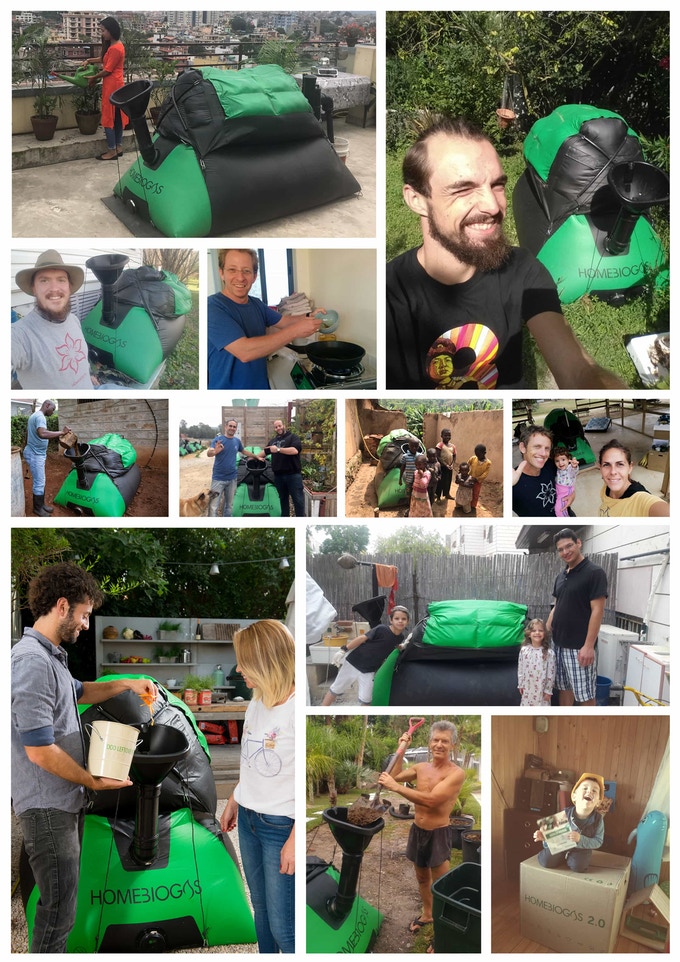 What is your overall feedback on gas production and use of liquid fertilizer?
"It just works as described on the website. It's simple and effective."
"We use the liquid fertilizer in our aquaponics system - which is great because we now don't need fish."
"Super easy to produce gas from Spring to Autumn. I'm not a regular cook so availability of scraps would go from nothing for a week to heaps with a big cook up. I was surprised by how well the system coped with my lack of regular care. The liquid fertiliser is great. I've mostly just poured it on a new garden bed I put in and the plants flourished. You could see a difference in plant growth between that bed and other beds.

"

We are 25 environmental enthusiasts who share core values and dream of make a meaningful change for the planet. We are passionate that backyard biogas production is the way of the future and an answer to so many global issues. In the years to come, we will continue educating and pushing for our vision to enable biogas for all! Thank you for supporting us and helping our dream become a reality.
Our Timeline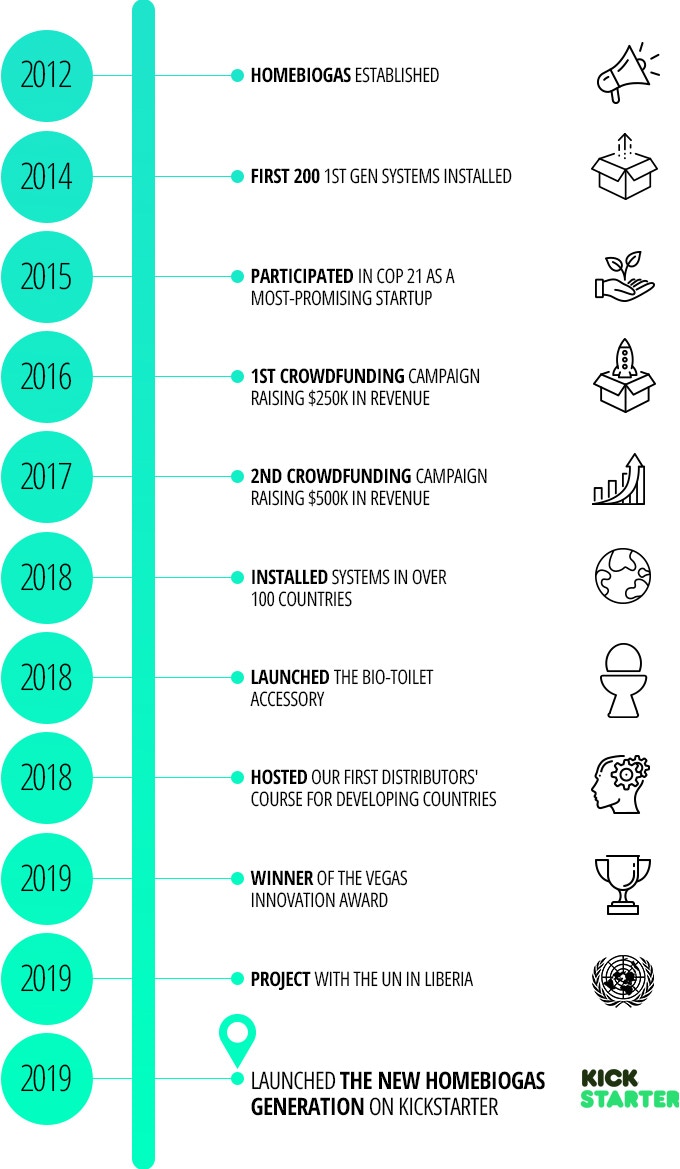 HomeBiogas is a socially oriented company that cares deeply about spreading biogas to all. Throughout the years, we have partnered with a network of talented distributors who are bringing the life-changing HomeBiogas technology to urban and rural areas in all regions of the world. We have done projects with notable organizations such as the UN, the Red Cross, the European Union and worked with governmental agencies in many countries such as Guatemala, Cameroon and El Salvador. Our goal is to help people across the socioeconomic spectrum by providing a tool that serves it's owners in waste management, sanitation, energy independence, health and safety.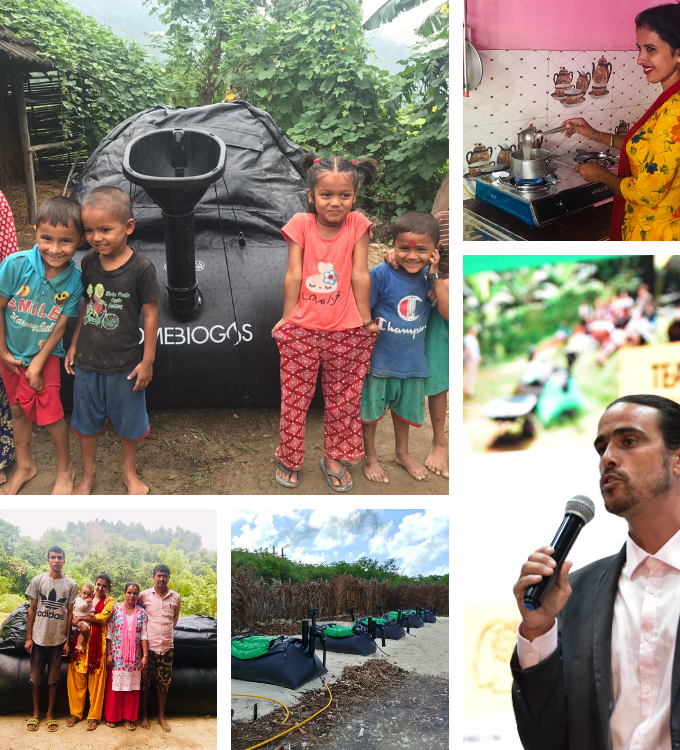 Not Only For Home Use
Did you know that HomeBiogas is useful in many settings besides private homes? Our customers place the system in various settings, including eco-villages, small restaurants, suburban offices, schools and universities. As long as there is waste and a need for cooking, HomeBiogas can be of use!

We were overwhelmingly happy with the success of HomeBiogas 2.0, and the quality feedback we received from our customers. Still, we are on a never-ending journey to make our customers have a perfect user experience. For the new model, we decided to take the ease-of-assembly to the next level. We unified individual parts of the system together, so that the customer has less set-up to do at home. We opened our own warehouses where we develop and manufacture all parts of the system according to our specific specifications and standards. In this way, we minimize any risk of faulty or sub-quality parts. Also, we were finally able to create and manufacture extremely durable, 100% recyclable materials for the New Generation, which is a longtime dream of the company that aligns with our company vision and character.